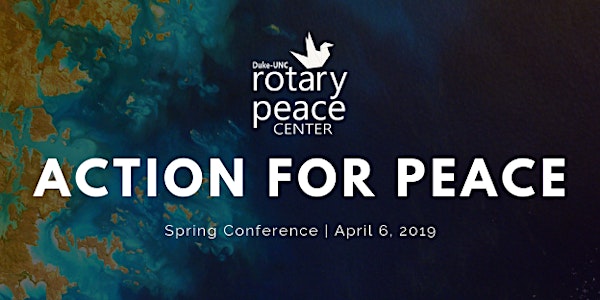 16th Annual Duke-UNC Rotary Peace Center Spring Conference
When and where
Location
Nelson Mandela Auditorium, FedEx Global Education Center 301 Pittsboro St Chapel Hill, NC 27516
Refund Policy
Refunds up to 7 days before event
Description
Please join us on April 6th, 2019 for the 16th Annual Rotary Spring Conference! The theme this year is "Action for Peace". Class XVI Rotary Peace Fellows will be presenting their research, sharing examples of hope, peace-making and positive change from every corner of the earth.
The conference will take place at the FedEx Global Education Center on UNC-Chapel Hill's campus, from 8.30 am to 4:00 pm.
Parking will be available for free in the McCauley Parking Deck, located underneath the FedEx Global Education Center. The entrance to the deck is on Pharmacy Lane, and you can take the elevator from parking straight to registration on the first floor.
SPEAKERS
Foreign Aid Flow and Aid Agencies' Adaptation Strategy
Mohammed Eid – Palestine

Transforming Conflict into Sustainable Peace by Educating Refugee Women and Girls
Natalie Emery – Italy

Education in Emergencies: Providing Context-Appropriate Education for Rohingya Refugees in Cox's Bazar
Sakun Gajurel – Nepal

A Story of Reconciliation in a Narrative of War
Nigel Heywood – Australia

Not your Pacifist Sufi: A Case of anti-Global Religious Movement
Sajjad Hussain – Pakistan

Connecting Dots and Building Bridges: Exploring the Science-Policy Nexus of Gold Mining in the Peruvian Amazon
Christian Lara – Colombia

Labor Mobility and the Right to Work. Pathways Out of Limbo for Refugees in Indonesia
Shannon Longhurst – Australia

Increasing Resilience to Climate Variability in Northern Mali
Alhousseyni Maiga – Mali

Early Mechanisms to Combat/Prevent Famine or Mass Starvation in Conflict Areas
Branka Panic – Serbia

Adolescent Health and Capacities
Venera Urbaeva – The Kyrgyz Republic


Please visit our website for more information.
For those of you coming from out of town to attend our conference, we have blocked out rooms at two area hotels. More information about the hotels can be found here.
Online registration closes on Friday, March 29 at 5:00pm EST. Registration cancellations received prior to Sunday, March 31st, 2019 are eligible to receive a full refund. All refund requests must be made by the attendee and addressed to Amy Cole at coleac@live.unc.edu. Refunds will be credited back to the original credit card used for purchase. Cancellations after March 31st, 2019 are not eligible for a refund.