Featuring Melvin Seals & JGB, John Kadlecik, Moon Hooch, Blind Owl Band, Willie Jack & the Northern Light, Dogs in a Pile & more tba!
About this event
We are really excited to announce the 16th Annual Bears Picnic Family Reunion back at Blain Picnic Grounds in Blain, PA on August 6-8, 2021. Blain Picnic Grounds is a gorgeous shaded campground along Sherman Creek with swimming holes and a playground. In addition to the great music, reuniting of friends and family, and the great food, there will be Children's Activites, and a Community Art Project for everyone to get involved. This is a rain or shine event.
Melvin Seals & JGB are back, featuring John Kadlecik plus Moon Hooch, Blind Owl Band, Willie Jack & the Northern Light, Dogs in a Pile, Moonlicker, Mysterytrain, Kind Bud, Joe Cirotti Trio, Seldom Said No, and more TBA! You will not be disappointed!
Gates open at 12 Noon Friday and close at 12 Noon Sunday. No admittance prior to noon Friday. This is a rain or shine event. BYOB
TICKETS/AVAILABILITY/LIMITATIONS will be based upon any guidelines for maintaining a safe occupancy level at time of event, and is subject to change. Attendees will be provided social distancing space to spread out.
Limited tickets available! We will not be running at the venue's full capacity. We are anticipating this being a sell out, so get your tickets early.
*Tickets can be purchased individually or as a group, but each ticket should list the person attending. As the purchaser, you are required to agree to the attached Waiver (this will be your digital signature). Your attendees will be required to download and sign the waiver on the website, www.bearspicnicevents.com and bring it with them.
When ordering tickets, choose between pickup in Will Call line or have Tickets Mailed. Mailed tickets will require a direct signature and insurance and require and you will be charged an additional fee.
Tier 1 General Admission- $100 [2 Day Pass , includes camping]
Tier 1 VIP Package -$150 [Includes preferred parking, a Commemorative Laminate, an event poster signed by the artist, and a surprise gift bag.]
Children Ages 12 and under are FREE!! All kids ages 17 and under MUST be accompanied by a parent or legal guardian.
ADD-ONS: When ordering tickets, completing the information as accurately as possible, will reduce check in time. You will have the opportunity to add on any of the following:
an RV/Camper/oversized vehicle permit (no hookups)
a pet permit - maximum 2 (while they last) - ONLINE ONLY

Please leave your pets with a caretaker. If you do not have that option, you must purchase a pet permit AND pet must have current rabies tags on their collar. All pets must be on a leash and secured by its owner at all times. Feces must be picked up and disposed of properly. Pets are NOT permitted in concert field or vending areas.

one of two numbered, limited edition silver pendants with stone/gem inlays, handcrafted by artist David Freeland Jr.
Original Bear Design or
Galaxy Bear
Pendants can be picked up at the Event Merch Tent to the right of the stage. If you prefer to have it mailed, send an email To bpeventgear@gmail.com
No Refunds. All Sales Final. All ticket transfers are subject to an additional fee and must be completed by the deadline. Details are on bottom of your confirmation email.
ADDITIONAL INFORMATION:
Porta potties, wash stations, and sanitizer will be on site to maintain healthy sanitation.
At the time of listing, we are planning to maintain the following requirements. *Before entering, everyone must be masked and have their temperature taken (with a touchless thermometer) by our nurses and EMT's. Once you are cleared, you are free to take your mask off if you choose, as long as you are respectful of everyone's personal space, and practice social distancing when possible.
VENDING:
All craft and food vendors must be pre-approved:
Please email subject "Bears Picnic Vending Request" to bpevending@gmail.com for an application. Include contact info, photo sampling of products, and links to online presence. (Last years vendors do not need to resend photos or links.)
No unauthorized vending – if you're not a registered vendor you may not sell or distribute anything on the festival grounds. Walk-around vending is NOT permitted. Unauthorized vendors will be removed without ticket refund.
PARK RULES:
PLEASE MAINTAIN A SAFE, KID / FAMILY FRIENDLY ENVIRONMENT!!
NO ILLEGAL, IMMORAL, or VIOLENT BEHAVIORS, No Fireworks or Fire Arms, No Weapons, No Bad Attitudes, B.Y.O.B., NO Glass, No Underage Drinking.
Fires permitted in Designated Areas with Portable Above Ground Fire Pits Only (bring your own). Subject to change by local fire restrictions, if any.
All patrons must abide by all local, state, and federal laws. NO ALCOHOL OR DRUG SALES tolerated anywhere on the festival grounds. Anyone caught selling or distributing illicit substances will immediately have their wristband cut and be ejected from the festival.
Do Not Litter, Please Be Kind!!
Check the website for updates.
Any questions, call the hotline 570-898-5525 between 12 N and 10 pm.
Original Bear (red, white, and blue):
Numbered, limited edition (of 108), this pendant is designed with inlays of apple coral, mother of pearl, and lapis, and is set in sterling silver. Artist: David Freeland Jr.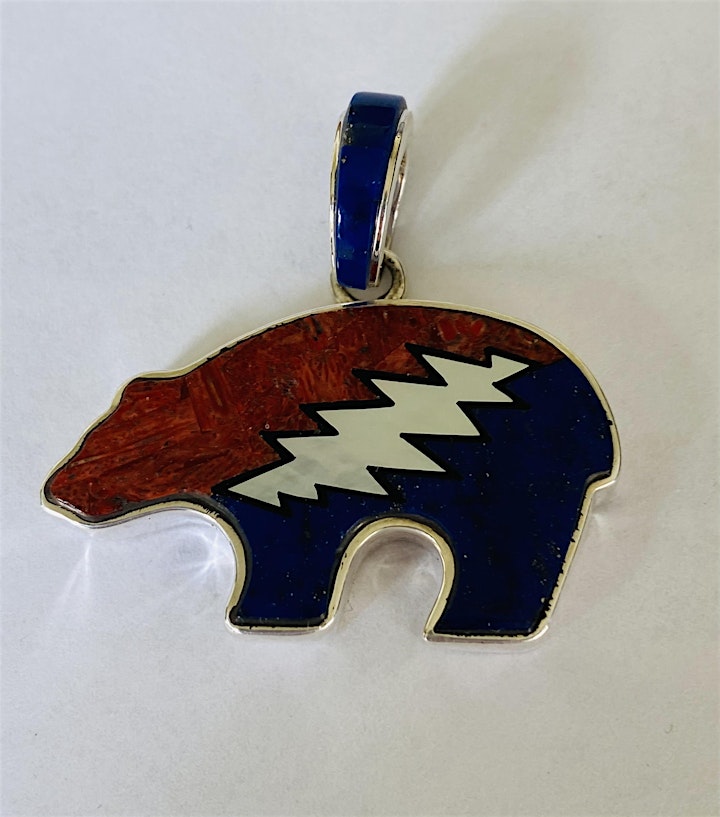 Galaxy Bear:
Numbered, limited edition (of 108), this pendant is designed with inlays of jet, lab opal, turquoise, and mother of pearl, and is set in sterling silver. Artist: David Freeland Jr.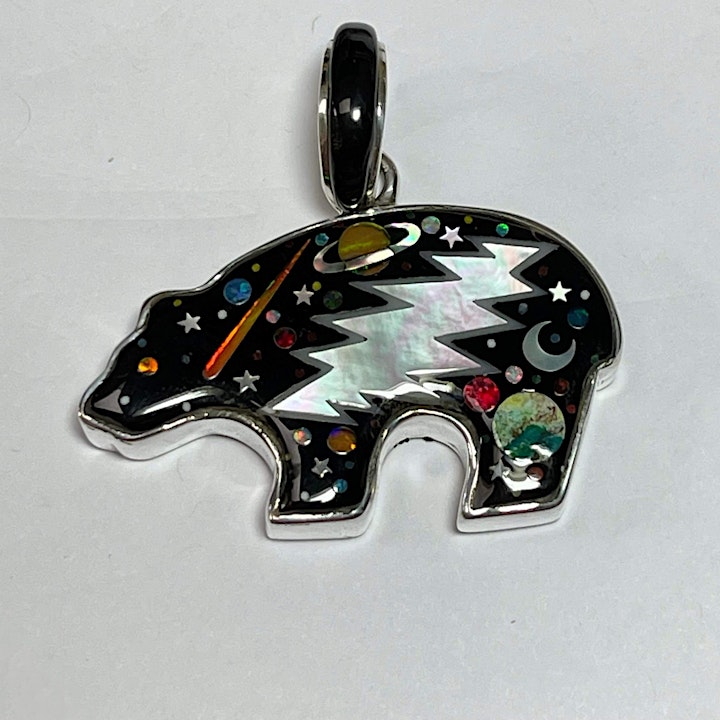 Sample of Back of Pendants.
Numbers will be random and cannot be selected.