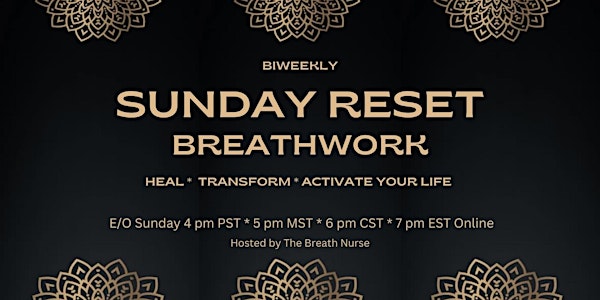 Sunday Reset Breathwork
Enter the new week ready to take on the world! Reset your mind and body with your breath to heal, transform, and activate your life.
Refund Policy
Contact the organizer to request a refund.
Eventbrite's fee is nonrefundable.
About this event
Biweekly Virtual Breathwork Class- 1 Hour
Enter the new week ready to take on the world! Reset your mind and body with your breath to heal, transform, and activate your life. Live + recorded with 15-day replay included!
Benefits
Are you feeling burned out, stressed out, overwhelmed, anxious, tired, wired, and all the things?! You're in the right place! In this online breathwork class, you'll breathe out stress and worry to breathe in peace and calm. Even if you're feeling totally fabulous, you can benefit from breathwork with...
Increased energy, clarity, creativity, and stamina
Enhanced concentration and flow
Improved sleep and mood
Decreased pain
Increased optimism, compassion, and joy
Reduced stress and better recovery
Decreased burnout, frustration, and overwhelm
Improved well-being and peace of mind
Anxiety relief
Reduced pain and inflammation
A deepened connection with yourself and others
Strengthened immune system functioning
And much more!
*If you are unable to attend live, a 15-day replay will be sent to you via email within 24 hours after class.*
RESET Breathwork
RESET Breathwork is an integrative breathwork method that creates lasting change from the inside out by...
Recalibrating your nervous system (regulate your body's communication and command center)
Elevating your vibration (shift your physical, mental, emotional, and spiritual state of well-being)
Somatically releasing stored emotions + trauma (release emotions and past experiences that are affecting your well-being)
Expanding your consciousness (access deeper states of consciousness + expand self-awareness + access your subconscious- where all of your negative thought patterns, stuck mindsets, limiting beliefs, habits, and addictions live)
Transforming you into your most authentic self (become a healthier, freer, more joyful you)
Breathe your way to a better you!
Simple Yet Powerful
This 3-part conscious connected breathing practice is a simple yet powerful way to empower and inspire. Let go of stress, anxiety, fear, anger, self-doubt, and more, so that you can feel lighter, calmer, energized, more at peace, and grounded moving forward.
Many describe their experience with this method as mind-blowing, transformational, life-changing, or better than therapy.
What To Expect
Learn the RESET Breathwork method and what to expect during class
Be guided through a RESET Breathwork journey with music while laying down
Q&A and voluntary sharing time
Experience the benefits
No prior experience is necessary. Join from anywhere in the world!
Whether you're new to breathwork or experienced, come experience the power of your breath ready and willing to potentially blow your mind and transform your life!
Testimonials
"I have attended dozens of sessions with Rachele at this point, and I am always impressed by her care in holding space, intentions, and musical journey selection. I attend her group classes regularly, and I have been fortunate to experience her private session as well. I was amazed at the visionary journey she guided me through during our private session, and I feel there is immense value in committing to a personalized journey. The clarity, emotional releases, and energy I have gained from working with Rachele are innumerable. Get ready to change your life fast with Rachele."- Alyson K.
"It's hard to put into words just how amazing Rachele is and how deeply transforming breathwork is, but I'll do my best. Rachele is so gifted at setting the intention for the experience, putting the music together and then skillfully guiding you through the journey. All you need is an open mind, open heart and a willingness to go deep into yourself and be transformed. I've done 2 classes so far and am signing up for one on one sessions. Breathwork will truly heal and transform your life!"- Bielka R.
"The Breath Nurse is the real deal. Qualified, committed, warm, and encouraging! I have felt safe and inspired to surrender to the Breathwork experience for my first two sessions. It's simple, yet so powerful, and Rachele knows how to hold a beautiful space for you to step in to your next best version. Sign up, heal, breathe through it, grow, enjoy!!"- John B.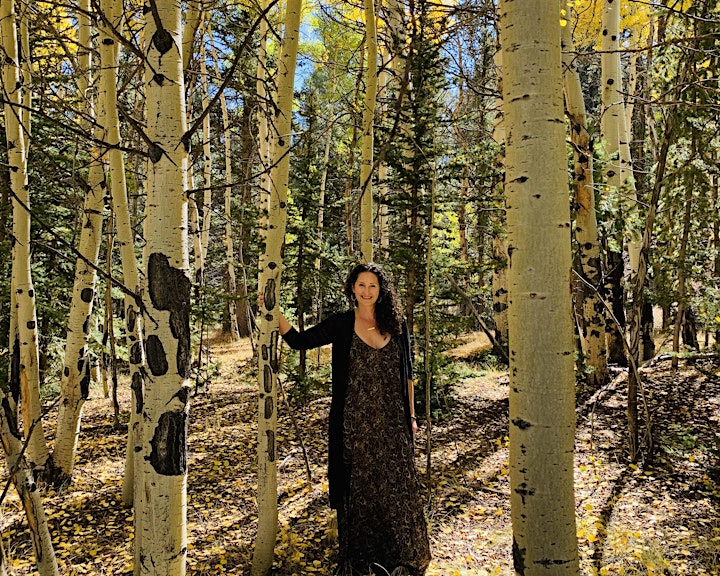 About The Breath Nurse
The Breath Nurse, Rachele Scevola, is a Registered Nurse turned international Certified Master Breathwork Facilitator. Her passion and mission lie in showing others how to heal, transform, and activate their lives with their breath.
With over a decade of bedside nursing experience under the umbrella of critical care, Rachele's own life journey through chronic health issues, trauma, PTSD, anxiety, depression, and extreme burnout led her out of her nursing career and into the healing power of the breath. She credits breathwork as being the most influential, life-changing wellness practice in her life.
Now, with nearly six years of personal experience, Rachele empowers others to create and live the life they desire through this deeply healing somatic work. She is also a Certified Professional Life Coach.
Follow The Breath Nurse on Instagram | Visit The Breath Nurse's website
**If you are/think you may be pregnant or have a severe uncontrolled physical/mental health condition, this practice is strongly not recommended.**