The Nebraska Forest Service will be hosting the 2021 Eastern Nebraska Wildland Fire Academy at Ponca State Park.
About this event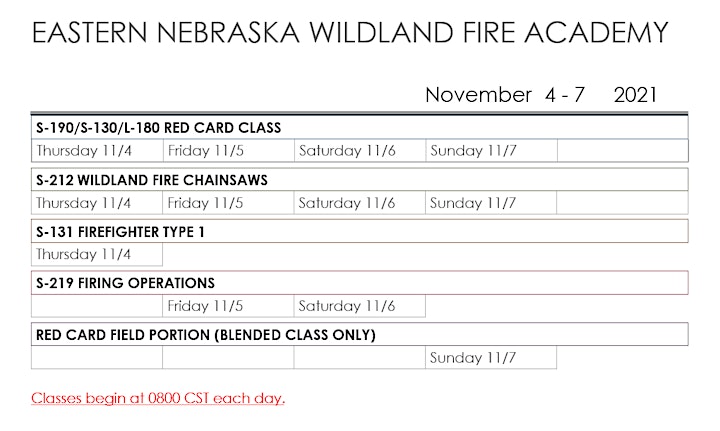 The Eastern Nebraska Wildland Fire Academy is an excellent and convenient opportunity for agencies, volunteer fire departments, and private individuals in the eastern half of Nebraska to benefit from training not readily available in their region. This academy provides quality training from highly respected and experienced instructors from agencies throughout the state and from around the country to ensure training needs for wildland firefighters are met. We encourage all agencies, volunteer fire departments, and private individuals from the surrounding states and regions to come and participate.
All classes are National Wildfire Coordinating Group (NWCG) accredited courses.
Classes being offered:
S-130/S-190/L-180 Basic Wildland Firefighter (Red Card) November 4-7, 2021
S-131 Advanced Wildland Firefighter (FFT1) November 4, 2021
S-212 Wildland Fire Chainsaws November 4-7, 2021
S-219 Firing Operations November 5-6, 2021
Red Card Field Portion (Blended Class Only) November 7, 2021
Tuition covers student materials and the rental of the classrooms.
In accordance with continued COVID-19 guidance from the University of Nebraska-Lincoln, any participants or attendees under the age of 18 must contact the Nebraska Forest Service prior to the event. Please email Wildland Training Coordinator Eric Moul at emoul2@unl.edu.
Facial coverings and social distancing practices will be required and implemented while indoors regardless of vaccination status.
Catering will not be provided this year due to agency policy restrictions concerning the COVID-19 pandemic. Attendees will need to either provide their own food supplies or plan to visit the nearby towns for meals. If staying in the Ponca State Park lodging be sure to ask if the lodging amenities provide for preparing and storage of your food supplies.
Please be sure to visit and become familiar with all local, state, and federal direct health measures (DHMs) while attending the event.
Ponca State Park offers a variety of lodging options. To reserve lodging at the state park go to http://outdoornebraska.gov/ponca/ or contact by phone (402) 755-2284. Lodging will be first come, first serve. If you intend to stay at Ponca State Park reserve your lodging early. Nearby towns offer a few hotel options. Sioux City has many options to choose from and is located just 30 miles away.