Podcasting Made Simple - Heather Rose
About this event
Podcasting is one of the fastest-growing forms of marketing in 2021. More than half of all US consumers above the age of 12 listen to podcasts, and three of every four say they tune in to learn new things.
We have always heard that you shouldn't scream to the masses, but instead whisper to your perfect customer... When they know you, like you, and trust you; that is when they will work with you. That is exactly what podcasting does!
While your ideal customer is washing dishes, going for a walk, or relaxing on their porch; they can listen to your voice and feel like you are talking directly to them. Your voice transforms into something so personal that you become part of their story. A best friend that gives them guidance or helps them understand their world a little better.
With a podcast, you can change someone's life and grow your business in a deeply personal way.
It's so simple to start a podcast, so let's start yours off right!
Join us to learn:
-Why podcasting establishes you as an expert
-The "subconscious" benefits of starting your own podcast
-How 'podcasting' can grow your business
-How to build and repurpose content
-Podcast must-haves - simpler than you'd think!
Cost is only $20
NEW LOCATION!
Sublime Wellness - Conference Room in Suite A
6025 Erin Park Dr.
Tuesday October 19th 5:30pm-7:30pm
Other Payment Options Are:
Venmo Niki directly at @Niki-Cicak
PayPal.Me/NikiKnowsBeauty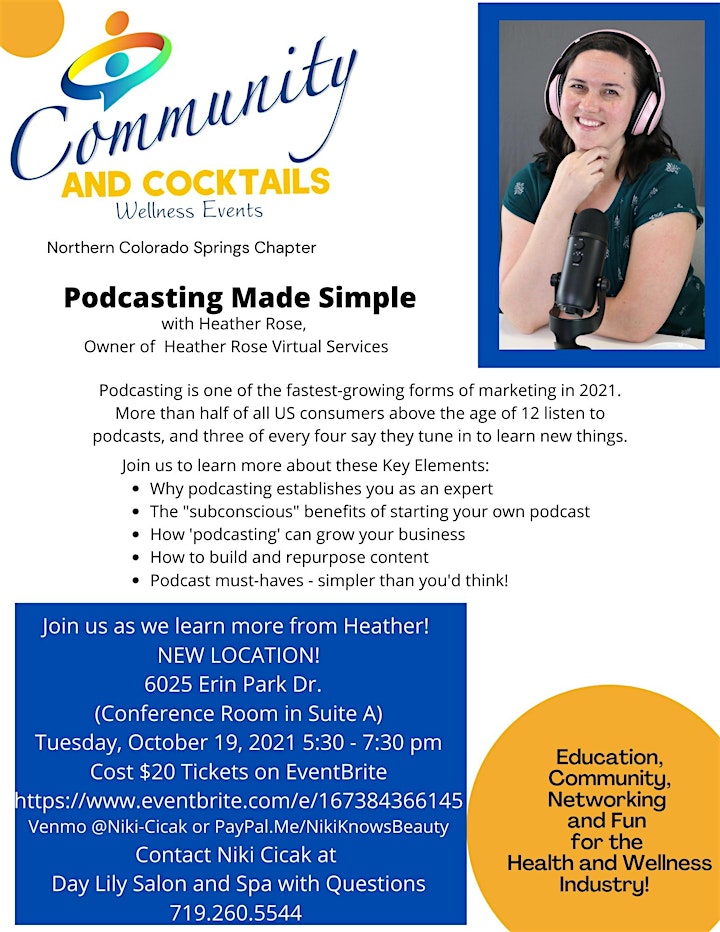 Organizer of Community and Cocktails - No. CS Chapter