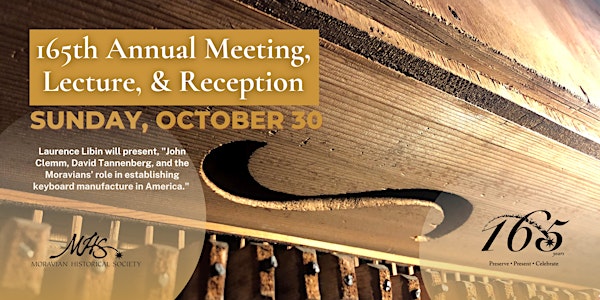 165th Annual Meeting, Lecture, and Reception
Join the Moravian Historical Society for its 165th Annual Meeting, Lecture, and Reception!
When and where
Location
Moravian Historical Society 214 East Center Street Nazareth, PA 18064
About this event
Laurence Libin, emeritus curator of musical instruments at the Metropolitan Museum of Art, will discuss how the roots of the American piano manufacturing industry can be traced to the early Moravians in Pennsylvania. Libin will highlight the keyboard instruments uniquely preserved by the Moravian Historical Society. Libin lectures and publishes internationally on organology and historical preservation, and has investigated Moravian instrument making for more than forty years.
The 165th Annual Lecture will begin at 3:00 p.m. in the museum of the historic Whitefield House. Please note, the museum is on the second floor which is accessible only by stairs.
A reception will follow the lecture.
The Annual Meeting for Members of the Moravian Historical Society will take place prior to the lecture at 2:30 p.m.
The talk is free to attend but seating is limited; advance reservation is required.