Sunset Sundays: Soulful & Eclectic Concerts on the Oakland Waterfront
Location
Rocky's Market Brooklyn Basin
288 9th Avenue
Oakland, CA 94606
Refund policy
Refunds up to 7 days before event
Eventbrite's fee is nonrefundable.
SUNSET SUNDAYS : Soulful & Eclectic Concerts on the Oakland Waterfront !
About this event
Enjoy the Bay Area's best bands and musicians in this open air covered patio set on the majestic Oakland waterfront . . .
"A beautiful space for Art, Music, Culture & Connection".
With it's spacious open air atmosphere and set right on the Oakland waterfront, this venue is an ideal place to enjoy a a beautiful concert, at sunset, with your loved ones or solo.
SUNSET SUNDAYS : Soulful & Eclectic Concerts on the Waterfront
at Rocky's Market Brooklyn Basin
288 Ninth Ave., Oakland, CA
ALL AGES SHOW!
Sunset Sundays is PROUD to be an ALL AGES show, and CHILDREN UNDER 12 ARE FREE! Bring the entire family to experience the beauty of live music on the waterfront.
Get tickets early - THEY WILL SELL OUT!
4pm : Doors Open
5-7pm : CONCERT!
7-8pm : Hang/Chill Time
8pm : Exit (Goodnight!)
New lineup of different Soulful & Eclectic artists every show!
Kitchen open until 8:00pm - Drinks served until 8:00pm
Wheelchair accessible. Dogs welcome (on leash & under voice control). No outside food or drink allowed (please support the venue).
GET YOUR TIX IN TWO EASY STEPS:
1. Scroll down to SUMMER 2022 SCHEDULE and choose your show
2. Click on red "SELECT A DATE" button and input your chosen date
ENJOY THE SHOW!
___________________________________________________________________
SUNDAY, July 24, 2022: OAKLAND RHYTHM
World Drummers UNITE!
Oakland, CA's long-running and highly-esteemed Rhythm Cafe presents: "OAKLAND RHYTHM -Beats From Our Streets"! Comprised of NINE drummers/dancers/singers from Oakland, CA, this explosive ensemble is a celebration of sound, color and energy! Featuring KIAZI MALONGA, BEN ISAACS, ABEL DAMASCENO, JAVIER NAVARRETTE, HALIMA MAHDEE, JESSE WEBER, REGINA WELLS, BOBBY WALLACE and special guest artist direct from the Congo!
The drums SPEAK in Oakland, CA!
Using the rhythmic language of Bembe, Kongo, Funk, Samba, Soul, Rumba, HipHop, Zebolah & Kuku, this esteemed ensemble represents the best of what's possible in all of us: mutual respect and creativity, cooperation and harmony, trust and communication.
We hope this concert may serve as an example that ALL OF US, no matter our background, race, religion or class can come together and create something beautiful. Together.
For "OAKLAND RHYTHM" show, click "Select a Date" & pick July 24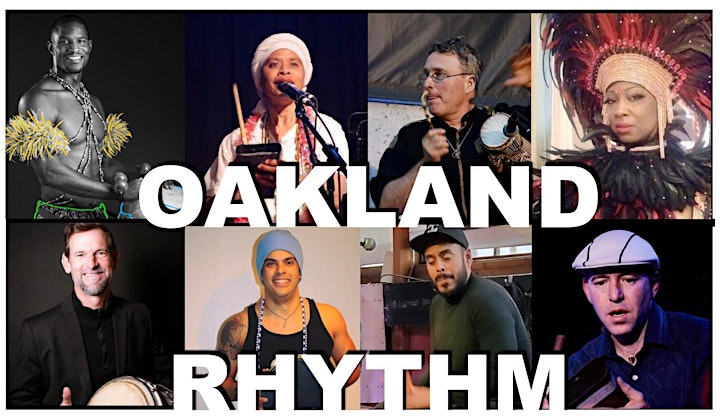 _________________________________________________________________________
SUNDAY, JULY 31, 2022: Soulful SAMBA with BOCA DO RIO
Soulful & Funky Samba on the Oakland Waterfront!
Originally hailing from the San Francisco Mission and led by singer/songwriter KEVIN WELCH and percussionist ALEX CALATAYUD, Boca do Rio is a Brazilian-American soulful-samba-funk explosion! Born of the mixing of waters of Brazil and the San Francisco Bay, Boca do Rio has created engaging samba – music that developed through the rhythm of living and working between the Americas. After a decade performing all original material during the heyday of San Francisco's live music scene, Boca do Rio has evolved into a multi-layered band with a sound that is fluid and edgy, adaptable and free.
NOTE: This show is a BENEFIT CONCERT for Boca do Rio's front man, KEVIN WELCH, whose home and land were burned to the ground in the June 28, 2022 wildfire that ripped through the North San Juan mountain above the Yuba river near Grass Valley, CA. ALL PROCEEDS from this uplifting concert will go to Kevin and his restoration efforts.
For "Soulful SAMBA with Boca do Rio" show, click "Select a Date" & pick July 31
___________________________________________________________________
SUNDAY, August 14, 2022: OAKLAND INTERFAITH GOSPEL CHOIR
Sweet Sounds of Gospel
OIGC, a "treasured Bay Area institution," was named "Best Gospel Choir" in 2006 and was the winner in the "Best Church Music" category in 2009 in the East Bay Express Reader's Polls. OIGC Director Terrance Kelly was awarded the Dr. Edwin Hawkins Excellence Award in 2013. Come hear this fantastic Oakland Multi-Cultural, Multi-Faith Choir at their open-air concert on the Oakland Waterfront!
For Oakland Interfaith Gospel Choir show, click "Select a Date" & pick Aug. 14
___________________________________________________________________
SUNDAY, August 28, 2022: AFRO + SOUL = GROOVE
Africa to Brazil to Oakland : FAREWELL CONCERT AT ROCKY'S MARKET with the Brooklyn Basin All-Stars
For the past two years, All-Star musicians Mamadou Sidibe (Fula Brothers, Radio Afro-Funk), Catia Machado Lund (Oakland Samba Revue, Brazil:BLESS), Regina Wells (Oakland Rhythm, INTER:Woven), Wade Peterson (Rhythm Cafe, IMAGINE:Nation) and Robert "Bobby" Wallace (Radio Afro-Funk, Brazil:BLESS, Rhythm Cafe) have collectively performed over 50 CONCERTS at Rocky's Market in Brooklyn Basin.
Alas, the final curtain is dropping as Rocky's is closing it's doors Aug. 31, 2022.
These All-Star musicians are combining their talent, energy and LOVE for one Final, Blow-Out Concert presenting timeless classics from Mali, Brazil and the USA alongside innovative original compositions "Made in Oakland."
Expect a large turnout of Special Guest Musicians as we explore the African Musical Diaspora through the rhythms of Samba, Soul, Bembe, Funk & Reggae.
For "AFRO + SOUL + GROOVE" show, click "Select a Date" & pick August 28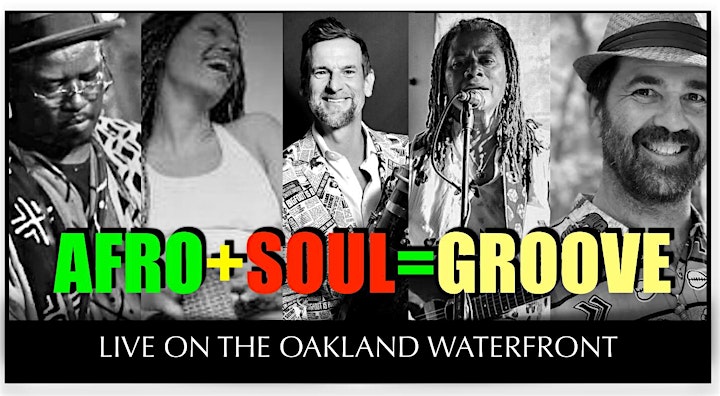 _______________________________________________________________________________________
LIVE ENTERTAINMENT IN THESE PANDEMIC TIMES:
Yes, we think it IS possible to have "nice things" again like live performance events, IF we all work together!
SEATS/TABLES/BENCHES will be socially distanced. All tickets are general admission and will be seated first come first serve. DANCE FLOOR OPEN!
Masks required for entry. You may remove them at your table.
Come and Enjoy beautiful music and the Oakland Sunset with Us!!!!
SCROLL UP and SELECT DATE to book your tickets now!