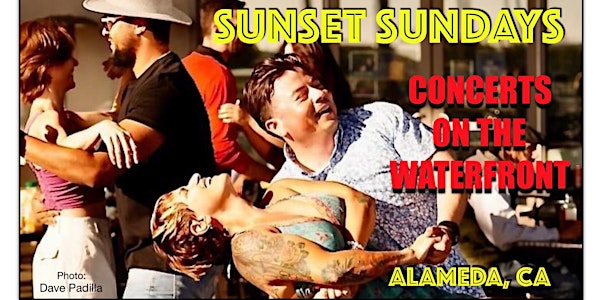 Sunset Sundays: Soulful & Eclectic Concerts on the Alameda Waterfront
Location
Faction Brewing
2501 Monarch Street
Alameda, CA 94501
Refund policy
Refunds up to 7 days before event
Eventbrite's fee is nonrefundable.
SUNSET SUNDAYS : Soulful & Eclectic Concerts on the Waterfront in the East Bay, CA!
About this event
Our FIRST SHOW at our NEW LOCATION on the Alameda Waterfront is SUNDAY, OCT. 16, 2022, from 5-7pm.
SCROLL DOWN for complete FALL/WINTER 2022 SCHEDULE
"The best late-afternoon, early-Sunday evening Music Hang in the Bay Area!"
"A beautiful & welcoming space for Art, Music, Culture & Connection"
After two years of epic, sold-out shows at our former location at Rocky's Market in Oakland's Brooklyn Basin, we have moved into our NEW HOME at Faction Brewery in Alameda, CA.
It's GORGEOUS! Enjoy bay breezes and epic sunsets on our spacious patio embracing the San Francisco skyline. Comfortable seating for 100!
If the weather is bad, we move the party INSIDE to our Open Air & Art-Filled taproom! Either way, the SHOW WILL GO ON!
*** World-Class Music - International Artists - Local Stars ***
Sunset Sundays = A place where YOU are always WELCOME = A place where you BELONG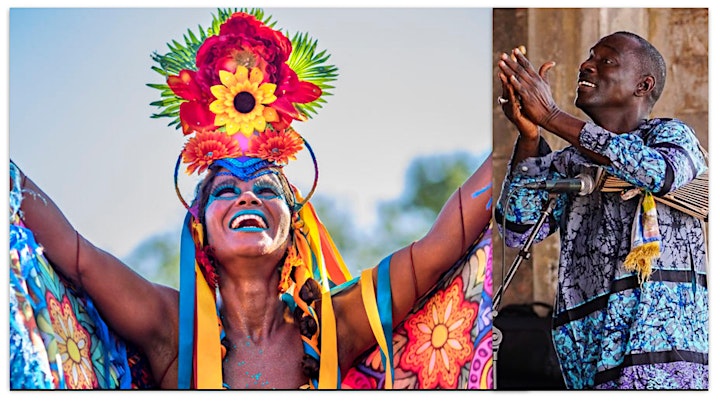 Get tickets early - MANY SHOWS SELL OUT!
4pm : Doors Open (Grab a beer, enjoy the View)
5-7pm : CONCERT!
7-8pm : Hang/Chill Time
8pm : Exit (Goodnight! Drive home safely!)
New lineup of different Soulful & Eclectic artists every show! Positive Vibes and Good Energy always.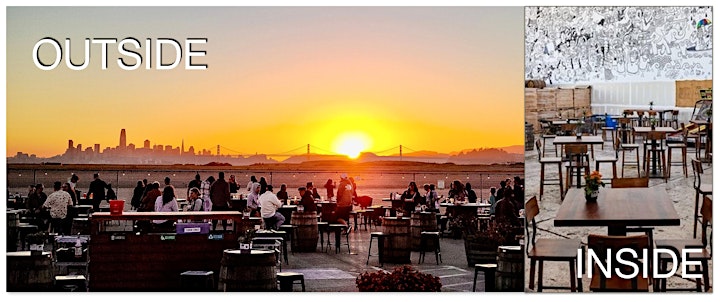 OVER 20 Craft Beers on tap:
IPAs, Pilsners, Double IPAs, Pale Ales, Lagers, Witbiers, Saisons, Stouts
Rotating Food Trucks: Momolicous (Flavors from Nepal) - Stew the LLama (Peruvian HotDogs), Tacos Sincero (Mexican); Sip & Slide (Sliders); Locos Only (Hawaiian/Mexican Fusion)
Check Faction Brewery for schedule: https://www.factionbrewing.com/visit
Non-Alcoholic beverages available. (Sorry no wine or cocktails.)

Kitchen open until 7:00pm - Drinks served until 7:00pm
Wheelchair accessible. Dogs welcome on outside patio. No outside drinks but you may bring in your own food (or support the onsite food trucks).
GET YOUR TIX IN TWO EASY STEPS:
1. Scroll down to Fall/Winter 2022 SCHEDULE and choose your show, then
2. Click on red "SELECT A DATE" button and input your chosen date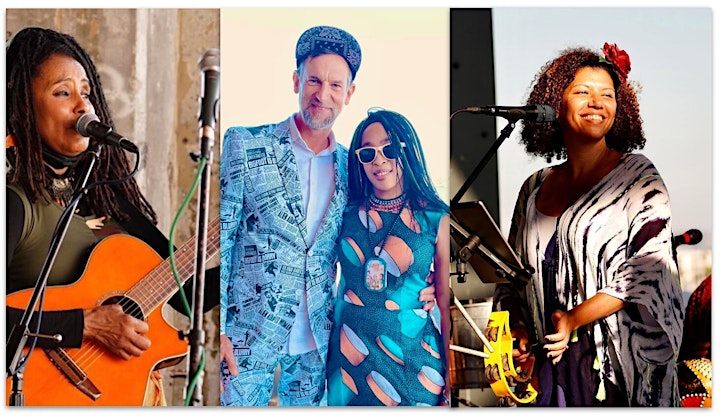 ENJOY THE SHOW!
Fall/Winter 2022 SCHEDULE:
_________________________________________________________________________
SUNDAY, OCTOBER 16, 2022: CUMBIA Dance Party!
Fall 2022 KickOff at our New Location with Los Bahianatos!
Oakland, CA - based LOS BAHIANATOS kick off our Fall Season with a feel-good CUMBIA Dance Party! One of the best things about Cumbia music from Colombia is that it's accessible for everyone, whether you're Colombian or have never been south of Hayward. No fancy dance moves needed - dance solo or with a partner - be free, be yourself. Everyone is WELCOME at this Colombian Cumbia y Vallenato fiesta! Gritty roots music and popular dance tunes by some of Colombia's most influential artists of the 20th century, including Andres Landero, Alejo Durán, Calixto Ochoa, Lisandro Meza, Alfredo Gutierrez, Miguel Durán, Romualdo Brito, Enrique Diaz and many more! Dance Floor OPEN.
For "CUMBIA Dance Party with Los Bahianatos" show, click "Select a Date" & pick Oct. 16
_________________________________________________________________________
SUNDAY, OCTOBER 23, 2022: Imagine:NATION
AFRO-FUNK!
If you have a heartbeat, you hear the call of the Drum. Anchored by kora virtuoso KARAMO SUSSO from Mali, and featuring the driving percussion of WADE PETERSON and BOBBY WALLACE, this feel-good mix of African classics & funky originals has won acclaim across the California musical landscape. Adding to the soulful mix are guitar star NICCO TYSON and dance diva HALIMA MAHDEE. (Note: The last three Imagine:NATION shows in the Sunset Sundays Concert Series have sold out so advance tix highly recommended.)
For "Imagine:NATION" show, click "Select a Date" & pick Oct. 23
_________________________________________________________________________
SUNDAY, NOVEMBER 6, 2022: Brazil:BLESS
Samba, Soul & Brazilian Beach Music
The infectious grooves of samba, pagode, afoxe and samba reggae form the backbone of this freewheeling and innovative Oakland-based Brazilian ensemble. Seamlessly blending Brazilian classics with soul and funk-influenced originals, this breezy and fun-loving ensemble features CATIA MACHADO LUND (vocals), DIOGO SABRE (guitar, vocals), and All-Star percussionists BRIAN RICE and BOBBY WALLACE. Expect a large turnout of Guest Artists for this Brazilian Beach Party!
For "Brazil:BLESS" show, click "Select a Date" & pick Nov. 6
_________________________________________________________________________
SUNDAY, NOVEMBER 20, 2022: Al Lazard & The World Street Players
New Orleans Party Music!
New Orleans native and saxophonist Al Lazard leads this rambunctious crew of funked-up musicians through the back streets of New Orleans, and beyond: Soul, Brass Band, Second Line, Blues, Rock...it's all there... delivered with a wink and a smile, N.O. style. Get your hair did up & your party shoes on for this one.
For "Al Lazard & the World Street Players" show, click "Select a Date" & pick Nov. 20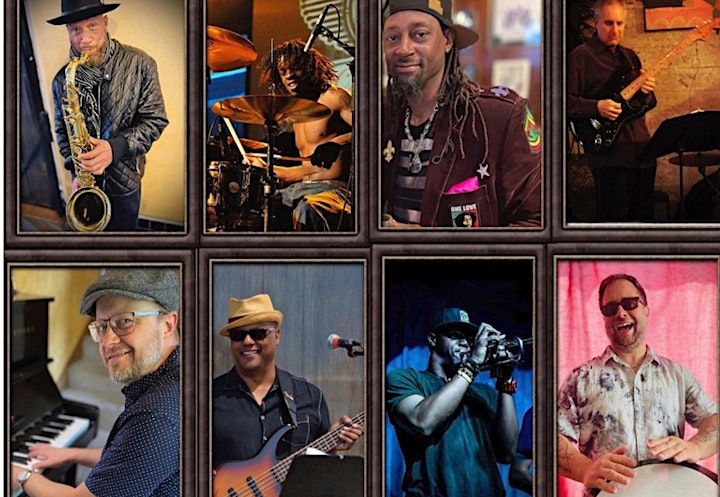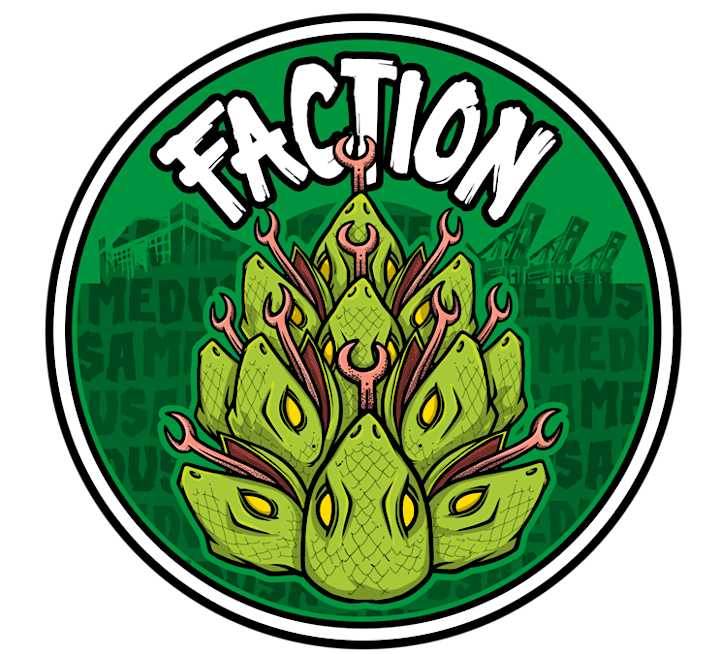 BANDS & MUSICIANS! Would you like to play in the Sunset Sundays Concert Series?
Send email captioned "Submissions" with link to bios, photos, social media, videos (live performances) to Robert@TotalRhythm.com. Thank you!