为了帮助跨境创业者和想要进入创投领域的朋友们。我们一直不遗余力从不同角度为创业者提供资源和帮助:有定期举办的科创活动, 也有我们多年搭建的创新生态和跨国举办的科技峰会等等。这一次,我们又邀请到三位行业专家来跟大家聊一聊"初创公司的财务、税务、法律规划"
About this event
此次讲座旨在帮助想跨境的早期创业者了解如何在公司成立初期更加合理的规划公司的财务架构,如何处理公司的财务管理和税务申报,跨国公司/外国人在美国注册需要考虑的因素,如何使用财务分析/预算作为商业工具以及初创企业的知识产权保护等,本期我们邀请到了实操经验丰富的注册会计师 Jamie Chang 女士、Celia Zhu 女士和 Connie Dai 律师来给大家讲解和答疑。
演讲嘉宾:
Jamie Chang
J Chang CPA LLC的所有者和创始人
美国注册会计师、工商管理硕士
超过20年的税务、会计和财务经验。 Jamie 的职业生涯始于新光投资证券公司,担任内部审计师,后来加入台湾证券公司担任 IPO 承销商。她于2012年创立了J Chang CPA LLC。
专长领域:金融、私募股权、生物科技、医药、科技,以及高净值个人资产管理。
讨论话题:组建公司 101
选择业务结构和比较
公司如何征税
跨国公司/外国人在美国注册,需要考虑的因素
Celia Zhu
中国注册会计师
从事金融领域20余年,曾任职单位包括:普华永道会计师事务所、雅诗兰黛、陆逊梯卡、匡威等。
目前在J Chang CPA公司担任财务总监。
专长领域:会计、财务报告与分析、预算编制
讨论话题:为什么财务在公司中发挥着关键作用
会计的重要性
如何使用财务分析/预算作为商业工具
Connie C. Dai
为企业提供投资、商业交易、商标、商业机密和雇佣事宜等方面的咨询服务。
业务范围涵盖公司结构、组建以及起草和谈判各种商业协议​​。
聘用事宜提供建议,如提供信函、工资和工时、就业分类、遣散费和竞业禁止
她还代表州和联邦法院以及私人仲裁和调解的客户。
讨论话题:涵盖初创公司的公司注册、就业、商业租赁和初创企业的知识产权保护等主题。
活动流程:
活动主要分成三位嘉宾的内容讲解及Q&A:
讲座(90 min)
​​组建公司怎么选择业务结构和比较
公司如何征税
跨国公司/外国人在美国注册公司需要考虑的因素
为什么财务在公司中发挥着关键作用
如何使用财务分析/预算作为商业工具
初创公司的注册、雇佣员工、商业租赁和企业的知识产权保护等
Q&A (30 min)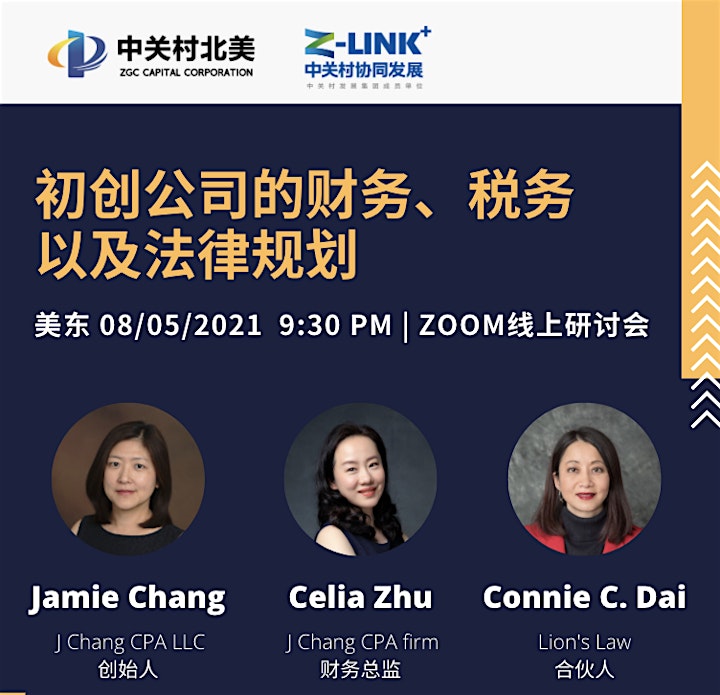 Organizer of 初创公司的财务、税务、法律规划
Located at 1000 Mass Ave, in the heart of Cambridge, Z-Park's three-floor, 66,209-square-foot center is a hub for innovation and research. Our newly renovated building is creatively designed with multiple functional spaces, featuring start-up incubator, co-working space, private offices, scientific laboratory, and large event center. 
To establish an innovation community that creates synergies, Z-Park provides the most cooperative work environment to startups, corporations and research institutions, with full entrepreneurial resources and business services to accelerate their ways to success.
WORKSPACE | STARTUP INCUBATOR | EVENTS & CLASSES | INVESTMENT & FUND
Learn More About Z-Park: www.zpark.space

Please follow us for future updates on more events!