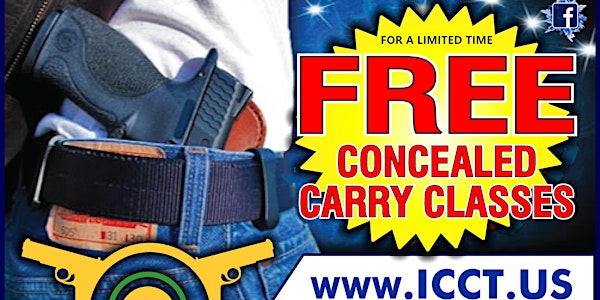 16 Hour Concealed Carry Class Saturday & Sunday 9:30 A.M. to 6:00 P.M.
Location
Illinois Concealed Carry Training
Mid-Oak Plaza
4828 148th Street
Midlothian, IL 60445
The class is FREE, but there are two fees that will be required for licensing.
About this event
Your 16 hour concealed carry class will include; Illinois and Florida firearms training for 39 State reciprocity, a copy of Concealed Carry Class Review, a self-defense legal plan presentation and discounted advanced training at Front Sight Training Institute.
A $20.00 deposit will reserve your seat. We will apply this deposit towards your range fee for licensing or we will return it to you if you only want the FREE class.
A range fee of $35.00 and a gun rental fee of $35.00 will be collected on day 2 less your deposit. These fees are required for licensing and include: access to the range, eye and ear protection, B-27 certified targets, 30 rounds of 9 mm ammunition and a school firearm.
Class starts promptly at 9:30 AM you MUST BE IN YOUR SEAT and fully registered by 9:15 AM. Students arriving late will have to reschedule at their own expense.
Fingerprints and Illinois State Police license fees are not included.
Class size will be limited. Onsite fingerprint services available.For more information call 708) 926-2524.
Registration: 8:45 A.M.
Module #1 Saturday's 9:30 A.M. to 2:00 P.M.
Module #2 Saturday's 2:30 P.M. to 6:00 P.M.
Registration: 9:00 A.M.
Module #3 Sunday's 9:30 A.M. to 2:00 P.M.
Module #4 Sunday's 2:30 P.M. to 6:00 P.M. (range is 10 minutes from the classroom)
You Must Attend Both Consecutive Days
Student registration starts 45 minutes prior to class.