16. 2019 Lights, Sights & Lasers Workshop 8, Session 2 (LSL - Rochester MA - 2)

Friday, September 20, 2019 from 12:00 PM to 8:00 PM (EDT)
Event Details

 TARGET AUDIENCE: This program is a comprehensive study of rapid acquisition sight systems and there tactical application with white light for better, faster and more efficient decision making under demanding and austere conditions. This program is intended for certified and reserve police officers and those currently working in firearms training, tactical or specialty unit assignments.
PROGRAM: In this intensive hands-on workshop, attendees will delve into basic through advanced techniques for Lights, Sights and Lasers and their application in today's modern combat weapons under demanding real-world conditions. Build psychological, physiological and firearm handling skills effectively and efficiently in actual engagement considering real-world scenarios that unfold quickly. Aided by the use of dynamic rapid acquisition sighting systems and tactical light sources, this program focuses on dynamic movement, reaction time enhancement, compressed distance, and unconventional shooting positions.
Through hands-on training and demanding drills, many proprietary to Khyber, attendees will train on techniques far outside their current comfort zone, confronting them with new challenges, forcing them to solve problems rapidly and maximizing skills.
TOPICS: Train to Win™ Mindset, Alternate/Unconventional shooting positions, Cover & Concealment, Multiple shot delivery, Close quarters techniques, Confined space skills, Initiative based problem-solving drills.
REQUIRED EQUIPMENT: Handgun (w/minimum of 3 magazines), Duty/combat Carbine (w/minimum of 3 magazines and a sling) (if you dont have a carbine please plan on running drills handgun only), Holster/magazine carrier (for both handgun and carbine), Eye protection/hearing protection (include clear eye protection for night/low light drills), Hydration, In-climate clothing (as needed), Elbow/knee pads and gloves (recommended), Minimum 400 rounds of ammunition for  your duty handgun and if your bringing a carbine bring 100 rounds of ammunition for the carbine, Handheld tactical/duty flashlight (and weapons mounted lights if applicable).
SPECIAL NOTE: 2019 LSL Tour is a New Format, with less classroom and more range programs. There will be no time for a scheduled meal break, the daily schedule will have us working through any mealtime in order to accomplish this year's training mission. Please come prepared with meal, snacks, and water.
When & Where

Rochester Police Department
Sippican Rod & Gun Club
216 Dexter Lane
Rochester, MA 02770


Friday, September 20, 2019 from 12:00 PM to 8:00 PM (EDT)
Add to my calendar
Organizer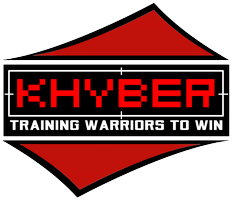 Arizona based Khyber Interactive Associates LLC (Khyber), founded in 1992, is a world-class emergency response training, research and consulting company recognized world-wide for delivering unparalleled tactical training services to Law Enforcement, Military, Security and Private sector clients. The company, led by world-renowned tactical subject matter expert, Wes Doss, has been providing comprehensive training and operational support to warriors in the United States, Canada, Central America, Asia and Europe for over two decades.
Khyber's proven real-world training tactics are designed to enhance the conditioning, mechanical skills and psychological performance of the warriors that they train. Khyber programs, available for both individuals and teams, are offered at seleect training facilities and host agencies world-wide. Khyber's specialized services range from precision weapons and VIP security courses to defensive tactics and K9 operations programs, For more information on Khyber, or to view the full range of programs that they offer, please log on to www.khybertraining.com