15th New York Turkish Film Festival - *Remake Remix Rip-Off: About Copy Cul...
Actions and Detail Panel
15th New York Turkish Film Festival - *Remake Remix Rip-Off: About Copy Cul...
Sat, April 2, 2016, 12:30 PM – 2:30 PM EDT
Description
Remake Remix Rip-Off: About Copy Culture & Turkish Pop Cinema



Turkish with English Subtitles, 96 minutes, 2014
Saturday, April 2, 2016
12:30pm
Directed by Cem Kaya

Turkey once had one of the most productive film industries in the world, with an annual production of 250 to 300 films a year. The popular films made in this 'Yeşilçam period' elevated copying and mixing well-known genre conventions almost to an art form. In addition, partly because of the lack of laws on copyright, many remakes of Hollywood classics emerged. From Rocky to The Exorcist and from The Wizard of Oz to Star Wars: all acquired an often bizarre Turkish version that was literally and metaphorically translated to meet local needs.
In an industry where Turkish actors could easily play in several hundred films, every trick of the trade was fully exploited: genre clichés, borrowed soundtracks, even plagiarism. Messy rush jobs or self-conscious B-movies? Appropriating visual motifs can be either a way of establishing a dialogue with the other or holding up a fairground mirror to them.
In his documentary essay, Cem Kaya investigates this Turkish copy culture and shows how inventively local studios tackled foreign film material; the minimum of means was used to still the continuous film appetites of Turkish audiences. In addition, he looks at the relationship between this film industry and historic and topical Turkish subjects such as internationalisation, censorship and the advent of television.
Post-screening Q&A with director Cem Kaya!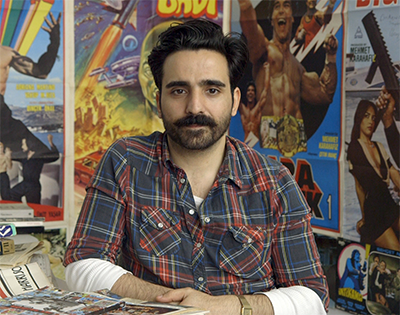 Click here to receive announcements and new releases
Click here to buy festival passes