This is your year to gain exposure to new audiences, learn from the leaders, find new opportunities, and become inspired!
About this event
COVID-19 UPDATE: Please note that we will be requiring proof of vaccination to attend this year's conference. If you are not vaccinated, you may show a negative COVID-19 test result taken no more than 72 hours before Oct 22. We will verify credentials in-person upon your arrival, prior to attendee check in. In addition, as is mandated in Washington, DC, masks must be worn at all times when indoors, except when eating/drinking.
If you are no longer able to attend the conference and would like to request a refund, you may do so by Friday, October 1. Please send an email to WIC Conference Manager, Jesse Garchik at jesse@garchikconsulting.com and to WIC Registration Co-Chairs, Lynn Maia at lmaia@clunegc.com and Lexie Mayewski at lmayewski@mgac.com to request a refund. Thank you for your understanding.
___________________________________________
We're celebrating our 15th year and our "Extraordinary Partners In Construction." We invite you to join us for the BEST conference yet -- It's going to be EPIC!
The Women in Construction (WIC) Conference is the Mid-Atlantic region's premiere forum for education, professional development and networking for women in the build industry. Since 2006, the conference has provided an avenue for women to learn from senior executives and industry professionals and offers networking and mentoring opportunities to all attendees. More than 450 men and women attend the event each year. Representing every discipline, the attendees include general contractors, subcontractors, developers, architects, engineers, representatives from trade associations, nonprofits, construction consulting companies and law firms from across the U.S. and Canada. The feedback has been enthusiastic, heartfelt and consistent: The Women in Construction Conference is an incredible experience!
Prominent keynote speakers have included: Lelia Gowland, Gowland LLC; Laura Fredricks, Expert on the ASK; Tamika Tremaglio, Forensics & Investigations, Deloitte; Judge Marian Blank Horn, US Court of Federal Claims; Paul Choquette lll, President ACE Mentor program; Cathy Lanier, Chief of Police of the District of Columbia; Muriel Bowser, Mayor of Washington, D.C.; Courtney DeBord, Director of Design & Construction at U.S. GSA; Deryl McKissack, Founder, President and CEO of McKissack & McKissack; Barbara Bennett, Chief Financial Officer of the Environmental Protection Agency; and Senator Mary Landrieu of Louisiana.
A portion of the conference proceeds will be donated toward mission-aligned causes, including the ACE Mentoring Program, which provides scholarship and mentoring opportunities to high-school and college students interested in architecture, construction and engineering. Overall, WIC has donated more than $30,000 to the ACE program and similar organizations.
This year, WIC has generously approved a request to support COVID-19 vaccine delivery and distribution in the most vulnerable populations and places. As part of a "Vaccine it Forward" program, WIC will donate five dollars from every registration toward Energize the Chain, a nonprofit founded to "solve the missing link in vaccine delivery--the cold chain, and to ensure that children around the world receive uncompromised, effective, live-saving vaccines." You can learn more about the organization at https://www.energizethechain.org/donate.
Regarding COVID-19: Please note that Women In Construction is moving forward with hosting an in-person event and will comply with all Washington, DC mandates. Though we will do our best to mitigate risk, please consider your personal circumstances before purchasing a ticket. Everyone's situation and risk tolerance is different and as we all know, there is some risk involved any time a group gathers together, especially indoors.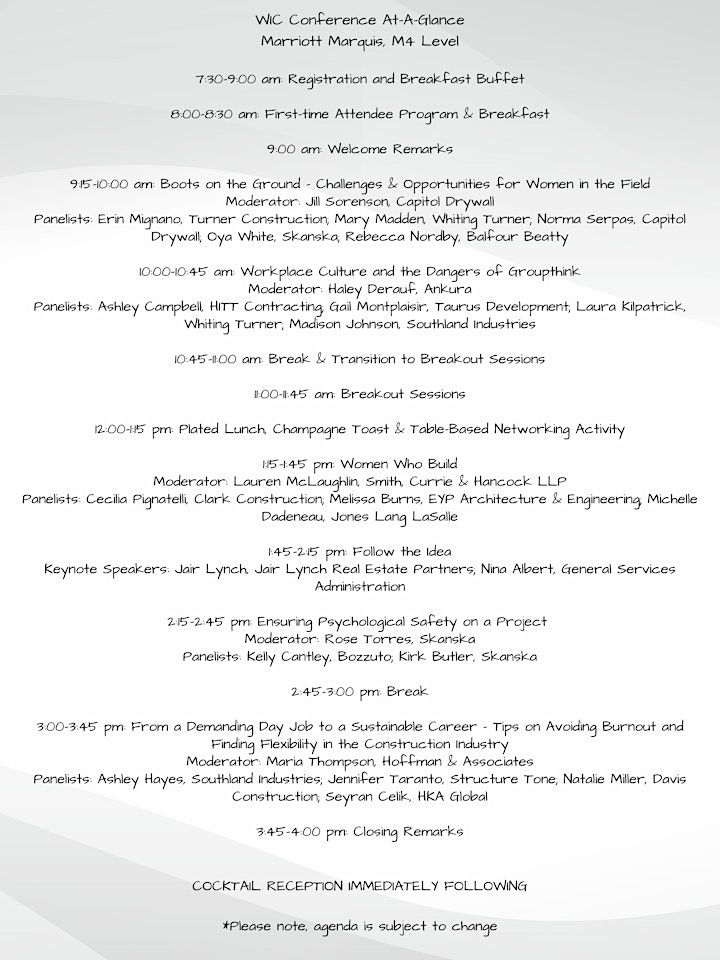 Hotel Room Block Reservation Information:
Marriott Marquis, $209 per night
(Oct 21, 2021 to Oct 23, 2021)
MAKING RESERVATIONS: A dedicated website is now available for attendees to book their hotel rooms online. Reservations can be made until September 23 at this web address: https://book.passkey.com/e/50197323
Other registration-related questions can be directed to WIC Registration Co-Chairs, Lynn Maia at lmaia@clunegc.com; and Lexie Mayewski at lmayewski@mgac.com, or to Conference Manager, Jesse Garchik at jesse@garchikconsulting.com. Thank you!
Organizer of 15th Annual Women In Construction Conference
OUR PURPOSE
The intent and goal of Women in Construction, Inc is to help women in architecture, engineering, construction, the trades, real estate, lawyers, and consultants build skills and develop relationships that will help both their firms and themselves in their continued success. To fulfill the organization's purpose, the group organizes an annual conference dedicated to empowering women in the industry. 
The Association empowers women to continue to grow and achieve success in the community with a motto of: "By Women, for Women."