November 22 - 28, NASP hosts the 15th Annual Spirit of the Tribes 5K! Log those miles, track your times, and join in this community event!
About this event
Normally, the Annual Spirit of the Tribes 5K is hosted by Native American Student Programs office of the University of California Riverside and honors the Native American spirit and culture with a Saturday morning full of fun and exercise for students, family, and friends. We would invite everyone to come out and enjoy this fundraising event for UC Riverside student scholarships.
However, as we move into the 8th month of campus closures and quarantine due to COVID-19 (Coronavirus) we are all experiencing anything but "normal." Nevertheless, we adapt and overcome. With the changes in routines and everyday life, it is vital now more than ever for self-care and safely getting out for some fresh air, physical activity, and fun competition.
This year, we've adapted the 15th Annual Spirit of the Tribes "5K" to this virtual terrain and invite you to join us from your neck of the woods! There are some changes from our previously held Spirit of the Tribes 5K so please read carefully to be fully informed.
Firstly, this year Spirit of the Tribes Virtual 5K will be FREE to register! (DONATIONS will gladly be accepted, for more information please visit the following link and select the Native American Student Programs Scholarship Fund. Select the amount you wish to donate and Add to Basket:
https://myadv.ucr.edu/VCSA/Native%20American
Next, as we recognize the importance of physical activity and being flexible during these times, we've expanded this one-day event for the week of November 22 –28, 2020. During this time, you may participate and submit your activity via a provided survey link with a screenshot of a Fitness Tracker App (Strava, Samsung Health, etc...).
In order to successfully participate and receive your Spirit of the Tribes Swag Bag, you must use a Fitness Tracker App to complete a minimum distance of 5 kilometers (3.1 miles). Only submissions with screenshots of the Fitness Tracker App that displays your distance and time will be accepted. This is to keep it consistent, fair, and transparent for all participants.
For more information and guidelines please visit our website:
Spiritofthetribes5k.com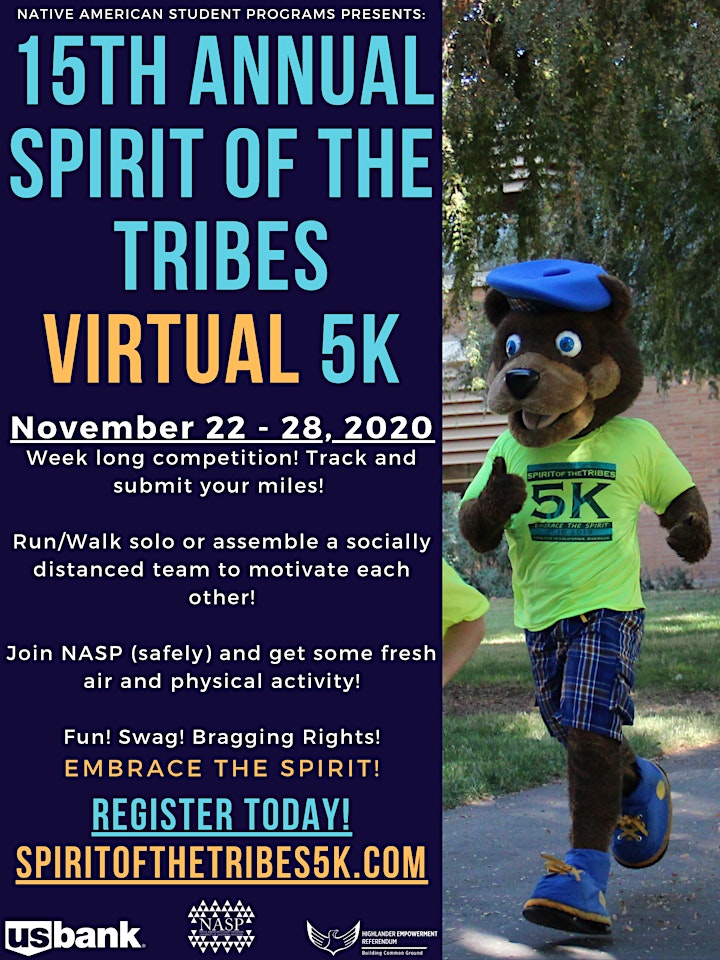 Organizer of 15th Annual Spirit of the Tribes Virtual 5K
Native American Student Programs (NASP) provides educational, cultural, and social support for Native American students. This office coordinates a variety of activities designed to expand educational awareness for American Indian students as well as the campus community. NASP encourages the development and enhancement of leadership and interpersonal communication skills through active participation. Student participation makes it possible to plan and implement innovative programs, which promote and educate the campus and local community about the uniqueness of American Indians. NASP functions as a liaison between the University and the Indian community and reservations, creating opportunities and developing pathways for prospective students to pursue higher education. NASP serves as a "home away from home" for many of our students and creates a place on campus where students can receive support, find resources, and achieve their college and career goals while at the same time celebrating their heritage and culture. NASP offers many programs and services to help Native American students succeed and connect with student organizations, alumni, Native faculty, staff, peers friends, national organizations, and local tribes to offer support and opportunities.
Native American Student Programs  UC Riverside, 229 Costo Hall Riverside, CA 92521   Office Hours: M-F 8am - 5pm  Phone: (951) 827-3850  Director: Joshua Gonzales