Sales Have Ended
Registrations are closed
Thank you for registering for the 15th Annual Meth & Substance Abuse Conference! We look forward to seeing you!
Sales Have Ended
Registrations are closed
Thank you for registering for the 15th Annual Meth & Substance Abuse Conference! We look forward to seeing you!
Description
THE BIG QUESTION: What about CEUs? We recognize the importance of educational credits and have been working with the Wyoming Board of Mental Health Professionals to ensure that CEUs are credible. Therefore, our presenters either have or will be speaking with another professional with a Master's level or higher. We are striving to make sure that your attendance hours count. We have not yet been notified how many CEUs will be available. We are also finalizing POST credit for law enforcement. Thank you all for your patience.
15th ANNUAL METH & SUBSTANCE ABUSE CONFERENCE AGENDA: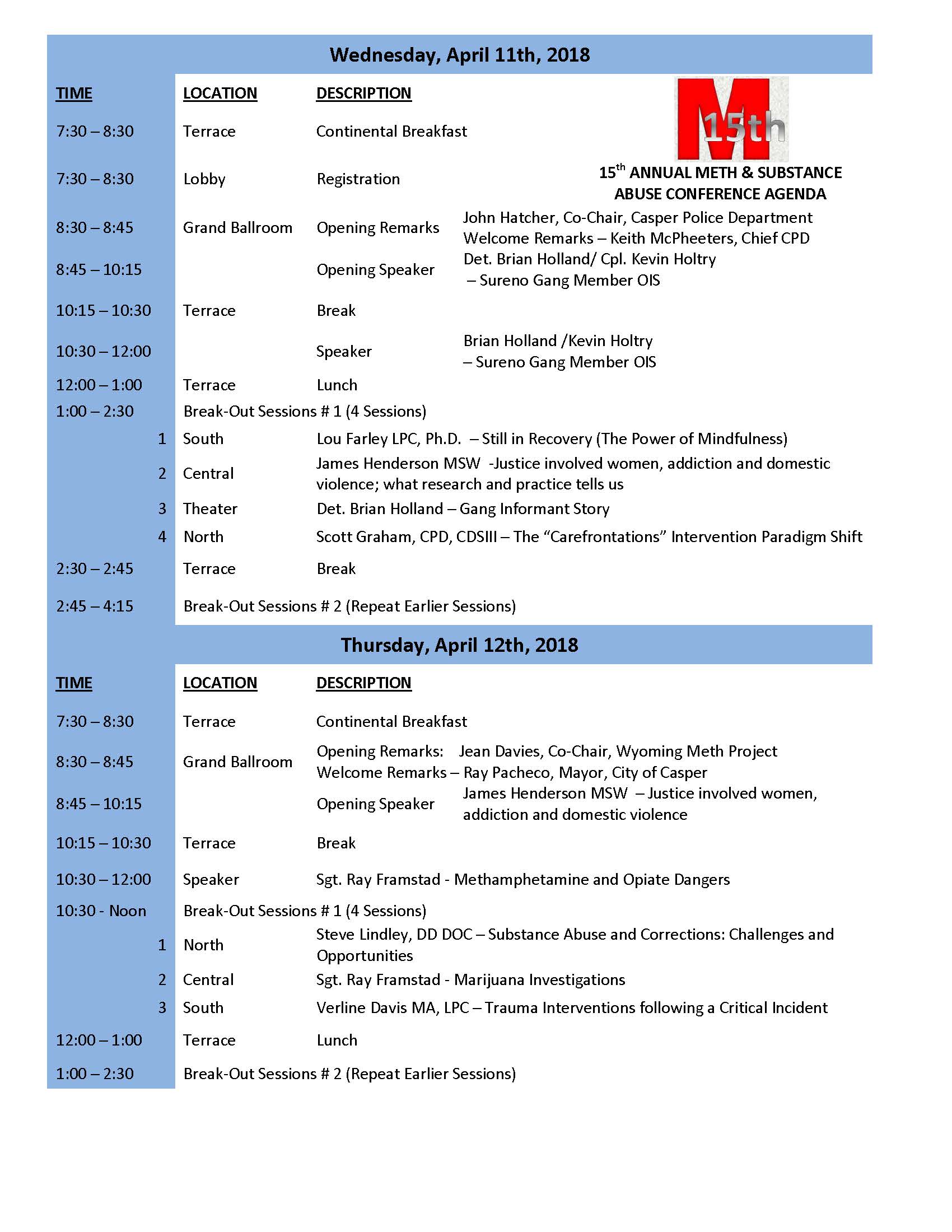 SPEAKER BIOGRAPHIES:
THE 15TH ANNUAL METH & SUBSTANCE ABUSE CONFERENCE IS PROUD TO BRING YOU THE FOLLOWING SPEAKERS -
Ray Framstad, M.S.
Sergeant Framstad has worked drug related investigations specific to prescription medication, marijuana, methamphetamine, cocaine and heroin the majority of his 22 year career. He has many years of experience as a narcotics agent, marijuana eradication team supervisor, crisis negotiation tactical support supervisor and teaches courses which include Drug Abuse Recognition, Emerging Drug Trends and DTO Marijuana Investigations. He holds a Bachelor of Science in Criminal Management and Master of Science in Organizational Leadership from Union Institute and University.
Cpl. Kevin Holtry
Cpl. Kevin Holtry is a seventeen year veteran of the Boise Police Department, a former Ada County Sheriff Deputy and a veteran of the U.S. Army. He has held the positions of entry operator, Scout and breacher on the Boise Police Special Operations Unit (SWAT) over his thirteen plus years on the team. He has also held positions as Defensive Tactics Instructor, Neighborhood Contact Officer, K9 Handler and Narcotics Detective. As a Narcotics Detective, he conducted numerous undercover operations, specifically as one of the lead undercover detectives in a large state and federal Outlaw Motorcycle investigation. Cpl. Holtry holds a degree in English literature, a master's certificate with the Idaho POST Academy and teaches patrol, SWAT and defensive tactics on a local and state level.
Det. Brian Holland
Det. Brian Holland is a fifteen year veteran of the Boise Police Department, currently working in the Boise Police Gang Unit where he has been assigned for the past 11 years. He has worked gang members and investigated gang crimes for approximately 20 years as a juvenile probation officer, Idaho state parole officer and with Boise Police. He is recognized as a gang expert in the Ada County and Canyon County courts as well as the U.S. District Court of Idaho. As a gang detective, he has investigated and documented hundreds of gang members as well as been the primary case agent on numerous state and federal organized crime investigations. Det. Holland holds a Bachelor's Degree in Social Work and an advanced certificate with the Idaho POST Academy. He teaches gangs and tactics for the academy and for regional gang conferences.
James Henderson, M.S.
Jim Henderson is a technical assistance provider for the U.S. Department of Justice Office on Violence against Women through the Battered Women's Justice Project since 2008. From 1991-2010 he was a probation officer responsible for overseeing the policies and practices of Intensive Probation for Stalking and Domestic Violence offenders in Ann Arbor, MI. He was assigned to the Washtenaw County Domestic Violence Unit as part of the Judicial Oversight Demonstration Initiative from 1999 to 2005 and works from a system perspective to enhance victim's safety and defendant accountability. He has provided batterer intervention within the Detroit metropolitan area since 1995. Before joining the criminal justice system in 1991, he worked as clinical director of Straight, Inc. a family oriented substance abuse program for drug using young people and their families. Jim has been a Certified Addiction Counselor II since 1987 and an Internationally Certified Alcohol and Drug Counselor since 1990. He received his Master's degree in social work from the University of Michigan in 1995.
Lou Farley, Ph.D.
Lou is a Licensed Professional Counselor in Wyoming. He earned his Ph.D. in Counselor Education and Supervision from the University of Wyoming in 2000. He has worked as a counselor to children, adults, marriages and families since 1985. Since 1991 he has counseled in his private practice. Lou has significant training and experience in mindfulness practice and Cognitive Behavioral Therapy as they pertain to among other issues, chemical dependence, suicidality, criminal thinking, depression, self-esteem issues, anxiety, anger management, effective communication and conflict resolution skills. He serves as an educator and consultant to organizations from the local to the international level.
Steve Lindley
In addition to formal education from the University of South Dakota and the University of Wyoming, Steve has worked with juveniles, adults and as an administrator in the justice system for 41 years. With the exception of one year, all of that time has been spent in the Wyoming justice and corrections system. That has included administering the probation and parole system; overseeing the Wyoming Board of Parole before it became a separate agency; and as deputy director of the Department of Corrections for the past 14 years.
Verline Davis, L.P.C.
Verline is a Wyoming native. She provides mental health services at her solo private practice in Casper, WY. While Verline is a generalist and provides many different services for her patients, she specializes in trauma treatment and child counseling. Verline earned a graduate certificate in early childhood mental health from University of Wyoming. Her trauma training includes Eye Movement Desensitization and Reprocessing (EMDR) through an MDRIA approved trainer, many added EMDR training sessions including national meetings, and individual and group crisis intervention training for first responders from International Crisis Incident Stress Foundation (ICISF) with focus on first responders. Her child counseling training includes 48 hours of Experiential Play Therapy Intensive Training, multiple added trainings for sand play, puppet play, use of art in therapy.
Scott Graham, CDP, CDSIII, Masters Level Counselor
Since 1988, Scott Graham, along with his wife Jenny, have been helping families intervene across the U.S. and internationally through Carefrontations ™. Scott and Jenny are seasoned and trusted intervention specialists who've worked with thousands of families with a ninety percent and greater success rate. Scott is certified as both a counselor in the mental health field, and in chemical dependency. Prior to Scott's work in this field, he was an undercover vice/narcotics deputy in the West Hollywood area for the Los Angeles County Sheriff's Department.
Statement of intended outcomes/objectives of the professional development:
Attendees will receive information on gang involvement, how to recognize and deal with signs and development, information on effective interventions with regard to alcohol and drug addiction/dependence, addiction and domestic violence and how it affects students and other family members. They will receive education and information on opiate and methamphetamine dangers as well as what new trends are being seen in with these drugs. New legislative updates on substance abuse and corrections as well as trauma interventions following a critical incident.
All of these presentations will enable educators to understand and work with students who are either living with these issues themselves or have family members who are living with these issues.
Some speakers will also go to local high schools to speak with students.
---
---
This is a BIG YEAR for the Meth & Substance Abuse Conference. It's hard to believe we have been organizing this conference for 15 years!
THE 15TH ANNUAL METH & SUBSTANCE ABUSE CONFERENCE HELD AT THE RAMKOTA HOTEL IN CASPER WYOMING BRINGS TOGETHER A WEALTH OF INFORMATION TO ASSIST EDUCATORS, COUNSELORS AND THE PUBLIC REGARDING THE TRENDS AND TREATMENT OF SUBSTANCE ABUSE.
HOW SUBSTANCE ABUSE IMPACTS THE COMMUNITIES WHERE WE LIVE, OUR BUSINESSES AND OUR FAMILIES WILL BE ADDRESSED BY EXPERT SPEAKERS IN THE FIELDS OF MEDICINE, COUNSELING, AND LAW ENFORCEMENT.