Description
ABOUT THIS CONFERENCE
The Maryland Association of Floodplain and Stormwater Managers (MAFSM) Annual Conference draws attendees from local, state, and federal government as well as the private sector throughout Maryland, attracting over 150 engineers, planners, water resource professionals and NFIP Coordinators, annually.
This year's conference will feature Keynote Speakers Anna Sierra, Deputy Director, Caroline County Emergency Services and Brian Soper, Environmental Planner, Dorchester County. We will also have networking opportunities, vendor exhibits, optional floodplain management training and a packed agenda with over 25 technical presentations. The conference is expected to be approved by ASFPM for 6 CECs for CFM certification.
Click "TICKETS" to register, or see below for more information on:
Floodplain Management Pre-Training Class

CFM Exam Information

Conference Scholarships

Sponsorship and Exhibitor Opportunities

More Info!
A conference agenda will be posted by mid- to late September.
---
FLOODPLAIN MANAGEMENT TRAINING CLASS - November 6, 2019
The Floodplain Management Training Class will cover topics such as the National Flood Insurance Program (NFIP) regulations, community participation in the NFIP, reading and using Flood Insurance Rate Maps, insurance, mitigation, and other topics.
The training costs $50 (includes lunch and refreshments) and will take place the day before the Annual Conference from 9:30am to 3:30pm at the National Wildlife Visitor Center at 10901 Scarlet Tanager Loop in Laurel, MD 20708. Click "TICKETS" to register. Only 40 seats available!
---
TAKE YOUR CFM EXAM - November 8, 2019
The Certified Floodplain Managers CFM exam will be offered on November 8, 2019, from 10am to 1pm at the National Wildlife Visitor Center at 10901 Scarlet Tanager Loop in Laurel, MD 20708. The CFM exam is being hosted independent of the Annual Conference which is not a preparatory course for the exam. For more information, click here.
---
SCHOLARSHIPS
MAFSM supports the education of its members by offering up to 10 conference scholarships/association memberships to its 15th Annual Conference.These scholarships are aimed towards community officials who would not otherwise have an opportunity to attend and would benefit greatly by implementing lessons learned upon their return to their communities. Those who are presenting increase their chances of being selected for the scholarship, however presenting is not a requirement to apply.
To apply for a scholarship, please visit this link. The deadline to submit a scholarship request is October 1. Scholarship recipients will be notified on or before October 7.
---
SPONSORSHIP OPPORTUNITIES
Interested in Sponsoring or being an Exhibitor at the Annual Conference?
Gain experience and expand your network of planners, floodplain managers, stormwater engineers and water resource professionals from around the state

Reach the decision-makers who need your products and services

Enforce your brand awareness and maximize visibility

Get CECs and maintain your CFM certification
Sponsors will receive recognition through a variety of channels. Numerous sponsorship opportunities are designed to help you maximize exposure. Below you will find the unique opportunities from which to choose:
To register as a sponsor or a tabletop exhibitor, click on "TICKETS."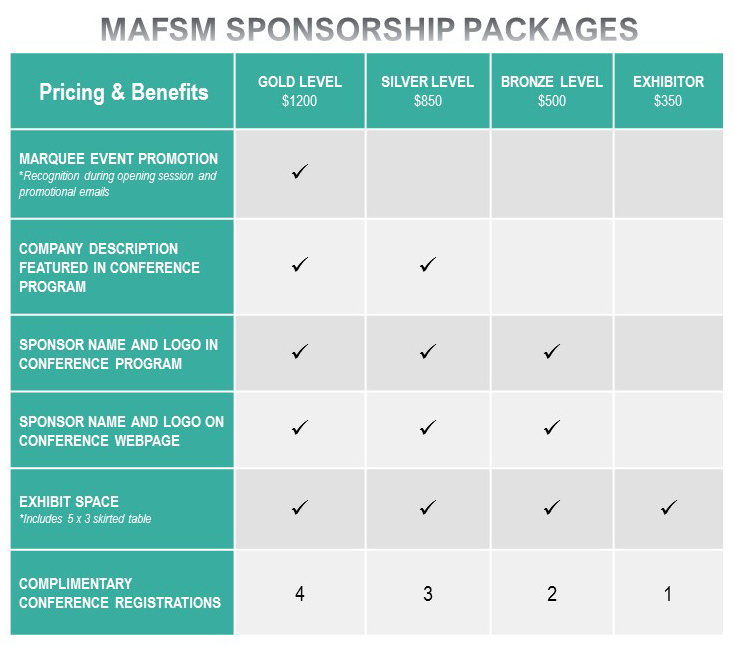 ---
CONTACT
For questions about this Conference, please email Conference Director Laura Johnson at Laura@MAFSM.org, or call (301) 257-7439.
---