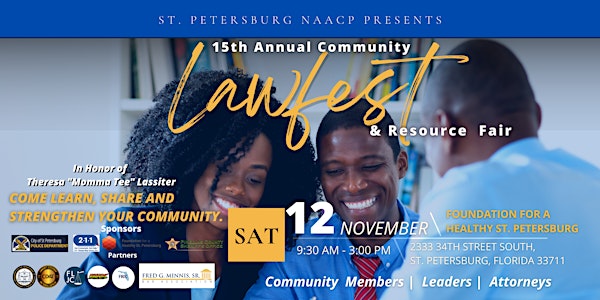 15th Annual Community Lawfest & Resource Fair
Are you in need of legal or social services? The Community Lawfest and Resource Fair is just for you!
When and where
Location
Foundation for a Healthy St. Petersburg 2333 34th Street South St. Petersburg, FL 33711
About this event
Attendees, Attorneys, and Leaders,
Please join us Saturday, November 12th from 9:30 am to 3:00 pm for the Fifteenth Annual Community Lawfest and Resource Fair at the Foundation for a Healthy St. Petersburg located at 2333-34th Street South, St. Petersburg, Florida 33711. The St. Petersburg NAACP remains dedicated to securing the political, educational, social, and economic equality of rights for all citizens in order to eliminate race-based discrimination
We will be joined by legal and social service providers to increase access to services to promote individual resiliency and community strengthening. They will address a variety of unmet needs with information and consultation. Please provide the information below for registration purposes so we can better serve you and ensure access to breakfast and lunch.
Additionally, we will be honoring Community Lawfest founder, Theresa "Momma Tee" Lassiter.