15th Annual Brunson Invitational Golf Scholarship Fund Tournament (A&T Homecoming Weekend)

Friday, October 6, 2017 from 7:00 AM to 3:00 PM (EDT)
Event Details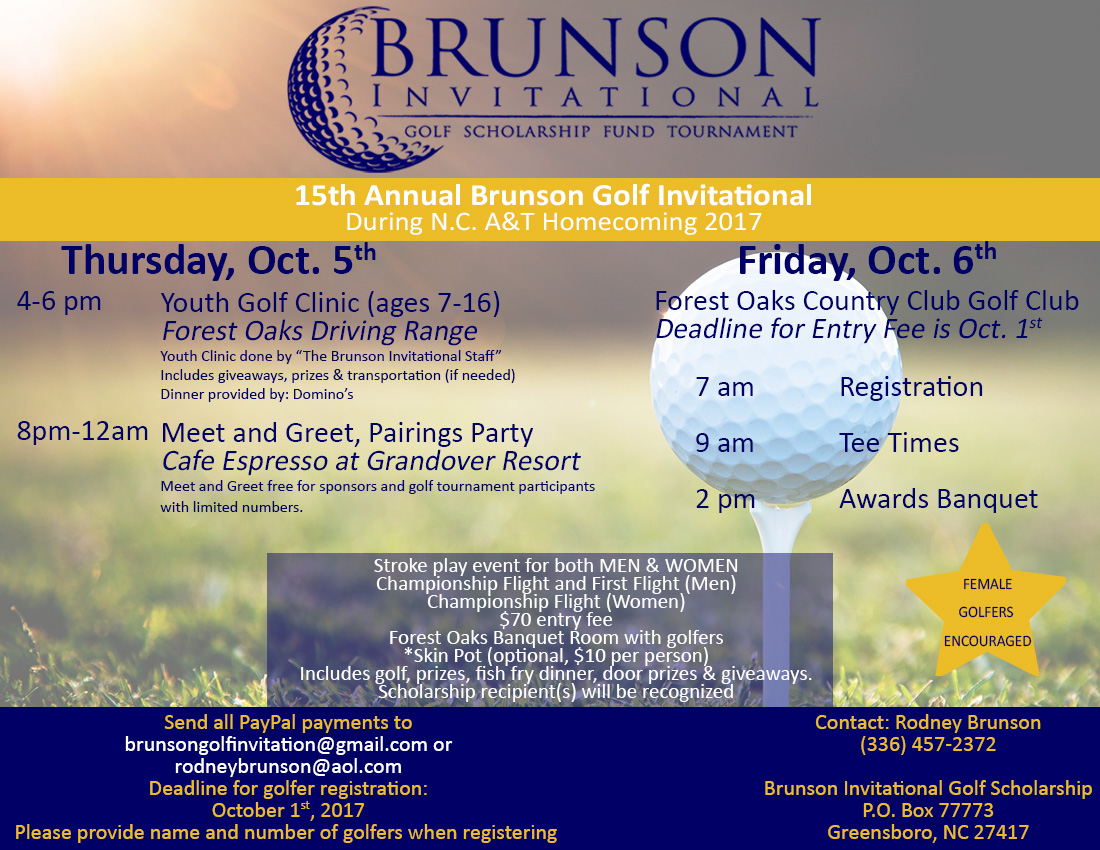 15th Annual Brunson Invitational Golf Scholarship Fund Tournament North Carolina A&T State University
Homecoming Weekend Golf Events:
Thursday-October 5th:
 4:00pm-6:00pm- 4th Annual Youth  Golf Clinic (AGES 7-16) at Forest  Oaks Country Club-Driving range  Area.        Free Admission!!  
 Please provide T-Shirt Size when  registering!
 Brunson Invitational Youth Golf Clinic
Includes: Pizza Dinner provided by
Domino's-Greensboro
8:30pm-12:00pm -
 Meet & Greet/Pairings Party at Colony Bar. Raffle and Door prizes, light food reception, complimentary cigars, silent auction, on-site photographer. Golfers and alumni are welcome!
                Friday-October 6th:
                                     
 Golf Tournament@ Forest Oaks Country Club- former sight of both the Greater Greensboro Chrysler Classic and the Wyndham Campionship-PGA Tournaments (space is limited) Early Registration is Encouraged!
4600 Forest Oaks Drive (Guilford County)
$70.00 for Entry fee
    Format: Stroke Play (Men and Women)
  Championship and First Flight-Men
  Championship Flight-Women
7:00 am- Registration
9:00 am Tee off (Shotgun Start)
2:30 pm-Awards Banquet (held at the course banquet room) Traditional Menu ( incl. Hot Fish and chicken) and presentations of scholarships to recepient(s).
             Saturday- October 7th:
Tailgate party for all sponsors, golfers and Alumni are welcome during day of the football game. Free admission! Tips are welcomed!
Sponsorship packages are available! Please call 336-457-2372 for more details.
When & Where

Forest Oaks Country Club
4600 Forest Oaks Dr
Greensboro, NC 27406


Friday, October 6, 2017 from 7:00 AM to 3:00 PM (EDT)
Add to my calendar
Organizer
                                                                        Our Vision
 The Brunson Invitational Golf Scholarship Fund's vision is to financially assist college students who are struggling in their pursuit of a college degree.
                                                                        Our History
The Brunson Invitational Golf Scholarship Fund was founded in 2000 by Rodney L Brunson.  Mr. Brunson created the organization after seeing financially challenged college students struggle to obtain their college degree due to lack of resources and scholarship opportunities.  Mr. Brunson and other avid golfers who love the game decided to make a difference.  As former students and athletes, we understand the struggle that these students go through.  We inspired our fellow golfing peers and other classmates to have a tournament during the North Carolina A & T State University's Annual Homecoming weekend.