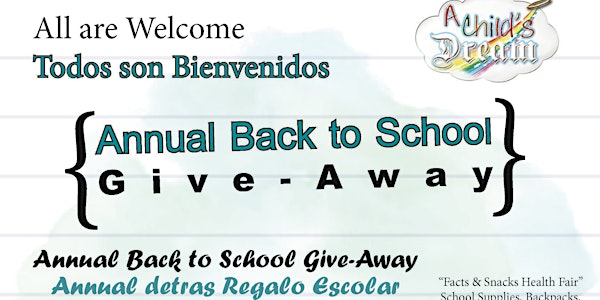 15th ANNUAL BACK TO SCHOOL OUTREACH
15th ANNUAL B2S GIVEAWAY SCHOOL SUPPLIES GIVE-AWAY!!!! Please share with your friends, family, staff, and colleagues….
When and where
Location
Culver City Teen Center @ Veterans Memorial Park 4153 Overland Avenue Culver City, CA 90230
About this event
SCHOOL SUPPLIES GIVE-AWAY!!!!
Please share with your friends, family, staff, and colleagues….
 "A CHILD'S DREAM" organization is again sponsoring their Annual Back to School Event on Saturday, August 6, 2022, and they are prepared to provide backpacks, school supplies, and other items to 800 school-age children.  You are invited to participate.  If you know of youth/families that can and will attend, they will have an enjoyable day and receive much-needed school supplies and backpacks!!!!
This is a great opportunity for our youth to receive school supplies…
CHILDREN MUST BE PRESENT TO ACCEPT THE ITEMS – no deliveries!  This event is open to the community, so let's make sure that your families are there!
The event details are as follows:
                                   Date:           Saturday, August 6, 2022
                                   Time:          11:00 am until 2:00 pm (Arrive Early)
                                   Place:        CULVER CITY TEEN CENTER
                                                      @ Veterans Memorial Park
                                                      4153 South Overland Avenue
                                                      Culver City, California 90230
                                  Cost:           FREE
Mask are required.
"Preferred Entrance" for families who register via Eventbrite. Proof of registration is required (for every family that does not register, we will admit (3) families that do). FIRST COME, FIRST SERVE.
Transportation:
Due to limited parking......
We encourage attendees to try transit. Veterans Memorial is serviced by Culver CityBus Line 3 which connects to the Metro Expo station at Westwood. Visit www.culvercitybus.com for schedules and information.
Animamos a los asistentes intentar a usar tránsito. Culver CityBus Línea 3 tiene servicio al Veterans Memorial y conecta con la estación de Metro Expo en Westwood. Visite www.culvercitybus.com para más información y horarios.
Details and additional information may be found on:
www.achildsdream-ca.org  or at (424) 209-2352