15th Annual AfrICANDO US-Africa Trade & Investment Symposium/Expo

Wednesday, October 2, 2013 at 8:00 AM

-

Friday, October 4, 2013 at 10:30 PM (EDT)
Event Details
You're invited to the
15th Annual Africando Trade & Investment Symposium/Trade Expo: 
"Using the Africa Trade Development Center (ATDC) to Strengthen the Supply Chain for Africa's Micro, Small and Medium Enterprises (MSMEs) in the Americas"
 Concurrently in attendance, will be several Florida State-wide participating Chambers of Commerce.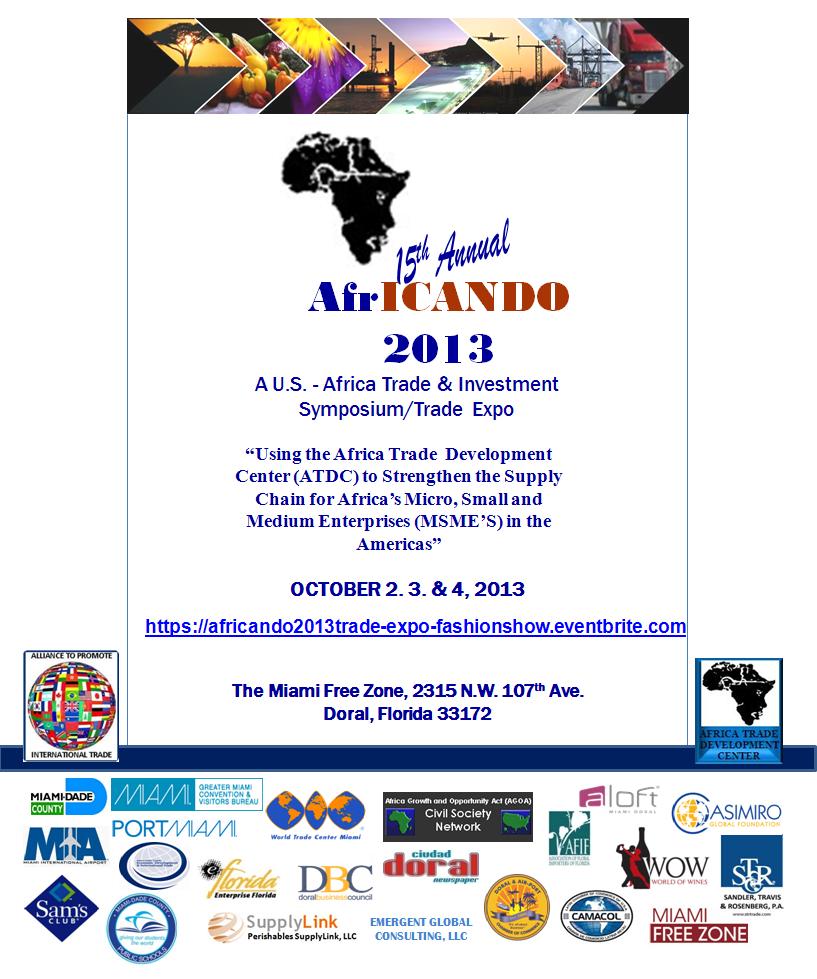 __________________________________________________________________________

#AfrICANDO2013 will focus on the following sectors: textile and apparel; cultural products, including handicrafts, ethnic foods and spices; cut flowers and other perishables; and wines.  The 3-day event will include a Trade Expo, seminar/workshop, fashion show, and more!
On Thursday, October 3, join us for Africando 2013:  Textiles of Africa, featuring an exciting arrary of African apparel and designs created from fabric of the Diaspora!  Come and enjoy complimentary hors d'oeuvres, sample extraordinary wines from the vineyards of South Africa and more!  Fashion Show presented by ATDC and Ankara Miami, Inc.
#AfrICANDO2013 will focus on promoting bilateral Trade and Investment opportunities between Africa and the Americas.
Over the past decade, U.S. trade to and from Africa has tripled and U.S. exports to Sub-Sahara Africa now tops $21 billion. The International Monetary Fund projects that GDP for most Sub-Saharan African countries will grow between 5% and 6%, annually, over the next two years. South Africa, Kenya, and Nigeria are important markets for U.S. companies to enter the African continent.
For business and entrepreneurs looking for growth opportunities, Africa presents a compelling and underserved market for U.S. products.  This is an opportunity for U.S.  investors to expand into Africa's emerging economy.  Africa commands six of the ten fastest growing economies of the world.  Come and network with local, national and international companies involved in global trade and commerce.
Presently, Africa provides a growing consumer based opportunity for U.S. small, and medium enterprises (SMEs). However, trade facilitation is key to providing a competitive advantage, and efficient transactions; utilizing a technology based trade platform can help facilitate this process.   The Africa Trade Development Center (ATDC) is designed to provide the platform to strengthen the Supply Chain link to Africa's micro, small, and medium enterprises (MSMEs) in order to meet the projected increase in trade demands.
________________________________________________________________ 
 Who Should Attend?
Trading Companies ∙ Businessmen and Businesswomen ∙ Trade Ministers ∙ Government Policy Makers ∙ NGOs ∙ Trade Law Firms ∙ Logistics Companies ∙ Investment Companies ∙ U.S. Import & Export Companies ∙ Regional Economic Development Organizations ∙ Export Finance Agencies ∙ Technology Companies ∙ Apparel/fashion designers and buyers, and Handicraft Distributors ∙ Flower and other Perishable Commodities Wholesalers∙ Construction Companies ∙ Wine Buyers/ Sommeliers and Universities and Colleges, etc.
For inquries, contact: DMcKinney@AfricaTDC.com or (305) 416-9201. #AfrICANDO2013
________________________________________________________________
The tentative agenda follows:
OCTOBER 2, 2013   AfrICANDO Trade Expo Event
Day One:   Wednesday, October 2, 2013   (Miami Free Zone)
  8:00 am – 9:00 am      Registration
  9:00 am – 1:00 pm      Seminar  
  10:00 am – 2:00 pm    Booth Setup  
  3:00 pm – 9:00 pm      Exhibit Hall Open
  9:00 pm – 9:30 pm      Trade Expo Breakdown
 Day Two:   Thursday, October 3, 2013   (Miami Free Zone)
  10:00 am – 5:00 pm     Registration
  10:00 am – 12:00 pm  Tour of Perishable Supply Links, LLC -Refrigerated
                                          Warehouse in the City of Doral
  10:00 am – 12:00 pm  Tour of ATDC, and the Miami Free Zone
   4:30 pm -   6:00 pm     Setup for Fashion Show
   5:00 pm – 6:00 pm      Reception
   6:00 pm – 8:00 pm      Fashion Show*  
  *Tickets available for non-registered attendees
  Day Three: Friday, October 4, 2013 (Aloft W Hotel/Miami Doral)
   9:00 am – 12:00 pm   Buyers – Sellers Meeting
   1:00 pm – 2:30 pm     Closing Remarks
   5:30 pm – 11:00 pm   Evening Under the Moon where the City of Doral Meets
                                         Africa at the Aloft W Hotel (by Invitation Only)
________________________________________________________________
#AfrICANDO2013: Textiles of Africa
(Click flyer for more details)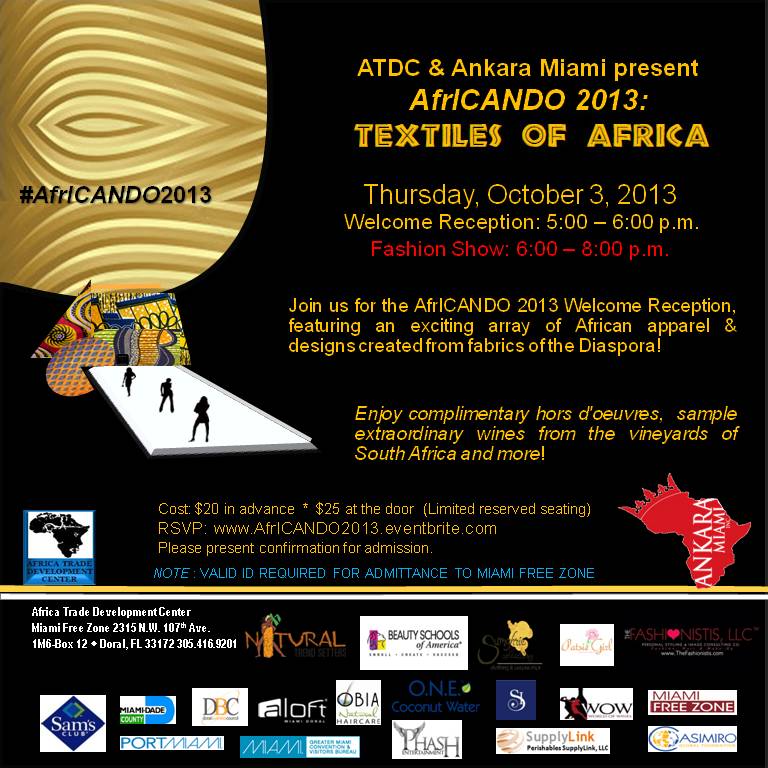 ________________________________________________________________ 
When & Where

Miami Free Zone / Aloft W Hotel
2315 Northwest 107th Avenue
Miami, FL 33172


Wednesday, October 2, 2013 at 8:00 AM

-

Friday, October 4, 2013 at 10:30 PM (EDT)
Add to my calendar