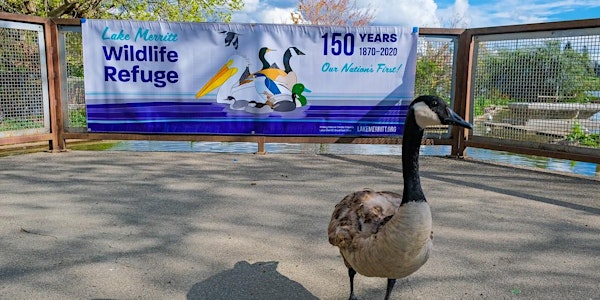 150th Anniversary of the Lake Merritt Wildlife Refuge Virtual Celebration!
JOIN US IN CELEBRATING THE 150th BIRTHDAY OF NORTH AMERICA'S FIRST WILDLIFE REFUGE -- LAKE MERRITT!!
About this event
Oakland is commemorating a unique 150th anniversary that took place on March 18th, 2020 – the 150th anniversary of the North America's first wildlife refuge. Our public gathering in Lakeside Park was cancelled by Covid-19. On October 23rd, we will recreate the in-person gathering online with ceremony, salutations by government, science, education and community leaders -- and a chance for you to participate via questions and games.
An overarching theme will be addressing the challenges of Conservation, Environmentalism and Racial Justice in the 21st Century amid homelessness, population density, climate change, and human needs in the Bay Area and beyond.
Invited Guests and Organizations: Mayor of Oakland Libby Schaaf; Councilmembers Lynette McElhaney, Dan Kalb and Nikki Bas; Allison Chan, Save SFBay; Olga Bolotina, Sierra Club; Dick Bailey, Lake Merritt Institute; Joel Parrott, Oakland Zoo; Dee Rosario and Ellen Corbett, EBRPD; Pam Young, Golden Gate Audubon Society; Susan Schwartzenberg, Bay Observatory at the San Francisco Exploratorium; Andrew Cohen, San Francisco Estuary Institute; Jim Covel, Monterey Bay Aquarium; Jim Carlton, Williams College and Smithsonian Environmental Research Center; Robert Raburn, BART District 4; California Center for Natural History; Corrina Gould, Ohlone People, Carl Anthony, architect, author and urban / suburban / regional design strategist, Joe Senn, Oakland Tech Teacher and Environmental Justice Caucus of O.E.A., Janice Lord Walker, Regional Social Justice and Science Educator, Andrew Alden, Geology Blog.
The webinar will be live-streamed on Oakland's KTOP Channel 10 from 7-8 pm and will be moderated by John Sasaki, Communications Director for the Oakland Unified School District. Zoom link will be emailed to participants before the gathering.