Points of You® are tools created to be used with individuals or groups.
About this Event
What is the Points of You® ?
Points of You is a powerful tool for coaching, training, and therapy. It is designed to help professionals around the world to enhance their work. The usage of these tools conditions for quality communication between people. When we work with these cards, we are inspired to say some things that we do not normally (or dare to) say in our ordinary life.
Participants are given the opportunity to look at their issues from different perspectives and the process instigates a change (at least temporarily) to their usual reactions, approaches to their lives, thoughts, and actions in a conscious manner.
Based on phototherapy principles, Points of You tools (when used by trained practitioners) has the potential to bring clients into deep processes of therapeutic change.
However, these tools can also be used in other contexts such as Leadership and Communication training or even visioning processes for corporations.
The possibilities are endless.
POINTS OF YOU® L.1 — HELLO POINTS WORKSHOP
Are you a coach, corporate trainer, human resource professional, talent developer, therapist, counselor, teacher, facilitator, consultant, leader, or just a human being with a curious mind?
Welcome to the world of Points of You®. In this exciting workshop you will get a taste of the dynamic and versatile Points of You® methodology, processes and tools, experience unique forms of self reflection, communication and storytelling, while adding new skills to your professional tool kit.
POINTS OF YOU® METHOD..
We use innovative, fun and engaging methods and tools to facilitate meaningful dialogue, reduce conflict , create self awareness and build bridges between people. A cornerstone of the Points of You® method is the interaction between the right brain (the intuitive and emotional part of the brain), and the left brain (the part that focuses on logic and critical analysis). This intriguing process occurs when we look at a photograph and a word at the same time. You will have the opportunity to discover and learn how to use our innovative photographs and tools to gain new perspectives on some of your most complex challenges in life and leadership. We will empower you to bring these tools into your life and profession to better serve you and those around you.
CERTIFICATION BENEFITS
L.1 continued education credits in the form of 6 CCEUs from International Coach Federation (ICF) or 6 PDCs from the Society for Human Resource Management (SHRM).
Certificate of attendance, and certification title, Points of You® Explorer
WHAT WILL YOU LEARN?
Points of You® concept
The world of Points of You® and the way it works.
Points of You® cards
Learn how to use an innovative technique of photo observation to gain new points of view for yourself and others.
"Zooming In" with The Coaching Game
Go on a speed date with your thoughts and insights. Experience a fun and easy-going process that is surprisingly deep and meaningful.
"MyStory" with Punctum
Re-frame an empowering life story with the brilliance of Punctum.
Layout Charts
Map your thoughts and feelings with a customizable, tailor-made, one-on-one coaching tool for self-exploration.
Points of You® Tools
The Coaching Game (Retail Value SGD$255)
Punctum (Retail Value SGD$120)
L.1 Concept Pack
Workshop Booklet
Notebook
L.1 Exclusive set of cards
Canvas Bag
POINTS OF YOU® METHOD continued...
The photographs we use stimulates the creative, right side of the brain, while the word activates the analytical left side of the brain. The simultaneous activation of both hemispheres of the brain creates a struggle between the emotional and the rational, momentarily "shorting out" the vigilant defense mechanisms of our mind. This "deliberate confusion" gives the mind a short respite from our preconceived ideas about how things "should" or "ought" to be, and allows our mind to open up to new places inside of us, shifting our points of view.
Our games are based on associative links between the photograph, theme and whatever issue we have chosen to examine more closely. Each photograph depicted on the Points of You® cards was selected out of thousands of available images to achieve this one purpose — to stimulate the cognitive dissonance that arises when we see a word and image paired together, without an obvious connection between them. As a result, we intentionally create a space for personal interpretation, a personal inter-space. This unique inner motion creates new and unexpected responses, resulting in insights and emotions that are new to our minds and hearts.
The Points of You® method is designed like a sine wave. At its starting point, we are wide open and exposed too many points of view regarding our chosen theme — relationships, parenting, career, health or any other issue. After taking time to expand our points of view, it is time to be precise and focus on the most meaningful or significant insight related to our chosen issue. In the final stage, we make our insights more practical, by turning them into action plans — "tachles" that will help us achieve our goals and dreams.

Are you ready to learn, and be inspired?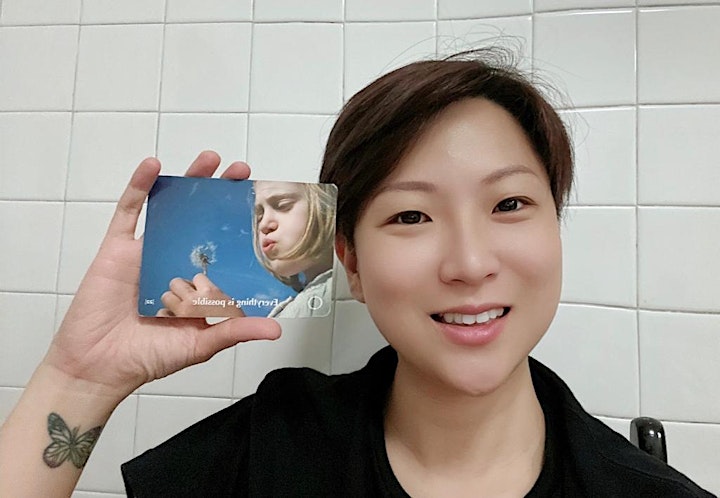 About Jennifer Lim
Author of "Know Thy Self, Thy Dreams Matter®️. Got For It."
Professional Certified Coach (International Coach Federation)
Newfield®️ Certified Coach (Ontological Coaching)
Certified NLP (Neuro-Linguistic Programming) Master Coach
Certified Master Practitioner of NLP (American Board of NLP)
Certificate Tetramap®️ Facilitator
Points of You®️ Certified Trainer (Expert)