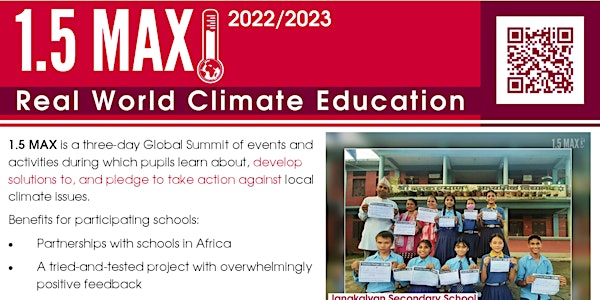 1.5 MAX Global Schools' Climate Summit
This webinar is for interested schools, local authorities and teachers to hear about the upcoming 1.5 MAX summit in October 2022.
About this event
This webinar is for schools, local authorities and teachers to hear about the upcoming 1.5 MAX Global Schools' Climate Summit to be held in October 2022.
1.5 MAX is a three-day Global Schools Climate Education Summit which brings together schools from around Scotland with schools from Least Developed and Most Climate Vulnerable countries. Pupils from opposite sides of the globe get to meet and work on local sustainability problems, learning, reflecting and planning actions together. The summit activities involve brainstorming, critical analysis and creative activities, leading ultimately to a session in which the young people prepare sustainability pledges. The event itself provides a space for emotion, for empathy and for building international solidarity.
The first 1.5 MAX summit, which was held in Oct 2021 in the lead up to COP26, included 9 schools from around Scotland and 4 schools from Mozambique, Malawi and Nepal. For all involved, the encounters were engaging and powerful personal experiences. Feedback on the event from both pupils and teacher was overwhelmingly positive. Participation was highly valued, and commitment to taking action on climate and sustainability problems was boosted.
Following the success of the first summit, plans are being put in place to substantially scale up 1.5 MAX summits in 2022 and 2023, bringing together more schools, teachers and pupils from more countries.
The webinar is an opportunity to find out, from the event organisers and teachers who took part, about last year's summit and what is involved in running 1.5 MAX in your school, wherever you are in the world! It is also an opportunity to ask any questions you may have about your own potential participation in the forthcoming summits.