15 Invaluable Laws of Growth Johns Creek August 2017 Master Mind Group
Description
A Master Mind Group to study and apply John Maxwell's life-changing book, The 15 Invaluable Laws of Growth over six 1.5 hour sessions every Thursday from 11:30 pm to 1:00 pm beginning Wednesday, August 9, 2017 and ending Wednesday, September 20, 2017.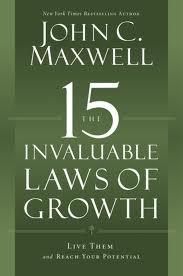 No reading or preparation is needed for the first introductory session, where books will be provided. Each of the remaining 5 sessions will cover three of the fifteen laws.
Total price of $139 includes six facilitated Master Mind Group sessions, hardback autographed copy of the book The 15 Invaluable Laws of Growth, and additional material and handouts that are not in the book.
Note that the event date above only includes the first of six sessions to allow for limitations on this web site. All six sessions will be held on consecutive Wednesdays (skipping August 23) starting at 11:30 am starting August 9.