14th International Conference on Informatics in Control, Automation and Rob...
Description
The purpose of the 14th International Conference on Informatics in Control, Automation and Robotics (ICINCO) is to bring together researchers, engineers and practitioners interested in the application of informatics to Control, Automation and Robotics. Four simultaneous tracks will be held, covering Intelligent Control Systems, Optimization, Robotics, Automation, Signal Processing, Sensors, Systems Modelling and Control, and Industrial Informatics. Informatics applications are pervasive in many areas of Control, Automation and Robotics; This conference intends to emphasize this connection.
Conference Areas
1 . Intelligent Control Systems and Optimization
2 . Robotics and Automation
3 . Signal Processing, Sensors, Systems Modelling and Control
4 . Industrial Informatics

Conference
CHAIR
PROGRAM CHAIR
Keynote Speakers
Soft Evolutionary Robotics: Adapting morphology and control to the world around us
Andre Rosendo
University of Cambridge
United Kingdom
Brief Bio
Dr. Andre Rosendo received his Bachelor at Bahia Federal University, and Master and Ph.D. degrees from Hokkaido University and Osaka university, in 2011 and 2014, respectively. In 2014 he was hired as a Specially Appointed Assistant Professor by the Adaptive Robotics Laboratory in Osaka University, and in 2015 he started his role as a Research Associate at the Bio-inspired Robotics Laboratory at the University of Cambridge.
His research interests are related to evolutionary robotic systems and to robotic locomotion by means of hopping, walking and running. When studying the morphological evolution of robots, he seeks to understand how machines can create other machines, the influence of evolution and development on the performance of robots and the results of "human-free" robotic design. From a locomotion perspective, he studies the contribution of soft actuators, such as muscles and springs, to a higher stability and energy efficiency, and the positive influence of such "bio-inspired" designs to locomotion.

Abstract
Biological forms started primitively and, eventually, some of these forms evolved and reached intelligence. Although current artificial intelligence (AI) explores learning techniques to create thinking machines, is "thinking" really a condition for "existence"? Instead of creating intelligent computer programs to later interact with the physical world, my research will start with physical interactions and create intelligence from there, as achieved by humans. I will present our latest results with Mother Robot, a robot capable of creating children robots, which are smaller robots with the capacity of growing their bodies according to cues from the interaction with the environment. Additionally, I will talk about robots capable of simultaneously altering their morphology and control and compare this method with other design ramifications, such as solely altering control parameters. The future of robotics remains uncertain, but the capacity of adapting their self-design and altering their morphology to fulfill tasks more effectively can be a driving force for future Evolutionary Robotics.
Topic to be announced soon.
Vitor Santos
Universidade de Aveiro
Portugal
Brief Bio

Dr. Vitor Santos obtained a 5-year degree in Electronics Engineering and Telecommunications in 1989, at the University of Aveiro, Portugal, where he later obtained a PhD in Electrical Engineering in 1995. He was awarded fellowships to pursue research in mobile robotics during 1990-1994 at the Joint Research Center, Italy. He his currently Associate Professor at the University of Aveiro and lectures courses related to advanced perception and robotics, and has carried out research activity on mobile robotics, advanced perception and humanoid robotics. At the University of Aveiro he has coordinated the ATLAS project for mobile robot competition that achieved 6 first prizes in the annual Autonomous Driving competition and has coordinated the development of ATLASCAR the first real car with autonomous navigation capabilities in Portugal. He is one of the founders of the Portuguese Robotics Open in 2001 where he maintained active participation for more than 12 years. He his also co-founder of the Portuguese Society of Robotics, and participated several times in its management since its foundation in 2006. His current interests extend to hybrid humanoid robotics and the application of techniques from perception and mobile robotics to autonomy and safety in ADAS contexts.

Abstract
Available soon.

AGENDA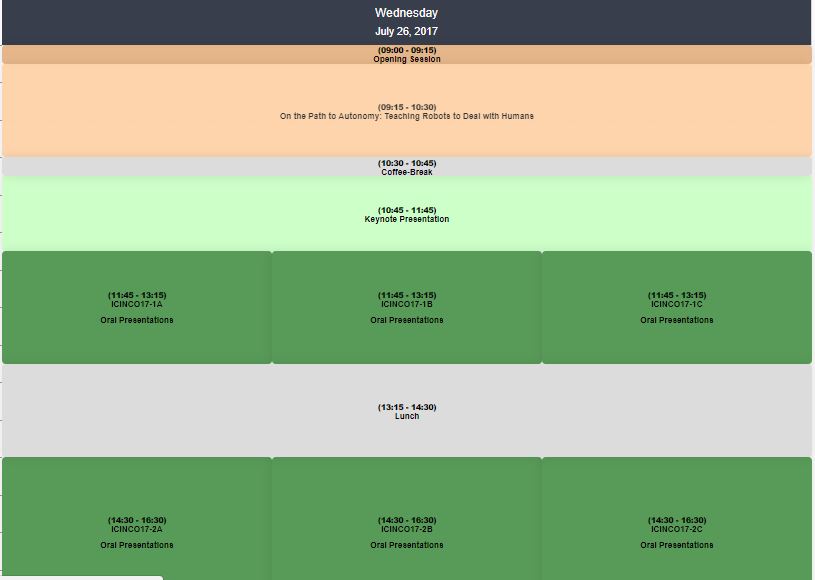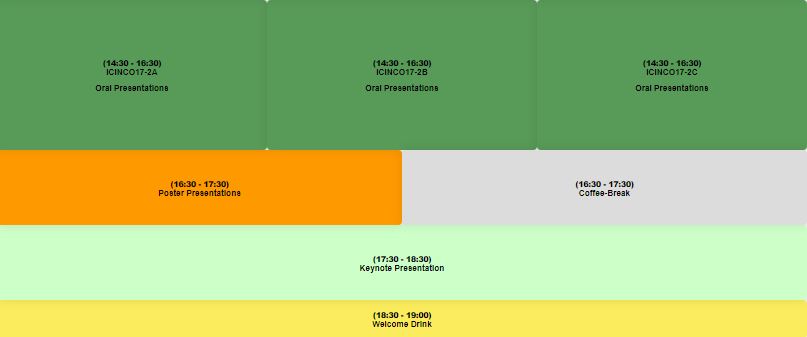 Important Dates
Regular Papers
Paper Submission: March 9, 2017
Authors Notification: May 3, 2017
Camera Ready and Registration: May 17, 2017

Position Papers
Paper Submission: April 18, 2017
Authors Notification: May 24, 2017
Camera Ready and Registration: June 6, 2017

Workshops
Workshop Proposal: April 10, 2017

Doctoral Consortium
Paper Submission: May 30, 2017
Authors Notification: June 12, 2017
Camera Ready and Registration: June 23, 2017

Special Sessions
Special Session Proposal: April 28, 2017

Tutorials
Tutorial Proposal: June 2, 2017

Demos
Demo Proposal: June 2, 2017

Panels
Panel Proposal: June 2, 2017


NO REFUNDS ON REGISTRATIONS ALLOWED

NO TRANSFER ON REGISTRATIONS ALLOWED

-----------------------------------------------------------------
This Event Listing is Promoted by
New York Media Technologies LLC in association
with INSTICC.
http://www.NyEventsList.com
http://www.BostonEventsList.com
http://www.SFBayEventsList.com
-----------------------------------------------------------------
SHU170213CEV PRI170710UPD
Date and Time
Location
Rey Juan Carlos University Campus of Madrid-Vicálvaro
s/n Paseo de los Artilleros
28032 Madrid
Spain