College readiness experience for 8th-12th grade students and supportive adults designed to give you a leg up in college admissions
About this event
DUE TO COVID-19, THE 14TH ANNUAL COLLEGE PREP CONFERENCE & COLLEGE FAIR WILL BE FIRST COME, FIRST SERVED TO THE FIRST 1,000 REGISTRANTS. THE EVENT HAS BEEN SHORTENED TO 5 HOURS, BREAKFAST IS NOT BEING PROVIDED AND GROUP RATES ARE NOT AVAILABLE AT THIS TIME.
Imagine 1,000 students and parents gathered in one place gaining a comprehensive understanding of the entire college readiness process – how to work hard in school, how to apply for admission, from learning how to seek scholarships, and apply for financial aid, to gaining tips on how to excel and graduate from college. This is exactly what the CLD Annual College Prep Conference & College Fair plans to provide.
In collaboration with college and university administrators, CLD will expose students and parents throughout the state of Indiana to the idea of college as an available option and to the many opportunities that a college education affords. Breakout sessions such as Your Character Closet: Choosing the Right Character, College Essay Workshop and Know Your Financial Worth, are just a few of the informative and interactive sessions that will be presented during this conference.
This conference will provide resources for youth and parents to help change behavior and values while guiding them to a self-directed path that will help them achieve in high school, enroll in and graduate from college, and gain employment in their career choice.
What: 14th Annual College Prep Conference & College Fair
Who: the first 1,000 registrants from grades 8-12th and supportive adults; grade limits apply, see below for grade groupings. Do not wait, available seats go quick!
8*-9th Graders
10-11th Graders
12th Graders
8th Grade supportive adults
9-12th Grade supportive adults
When: Saturday, September 11, 2021
Time: 10:00AM – 3:00PM , check-in begins at 9:15
Where: Indiana Convention Center – Sagamore Ballroom
Fee: $15 (includes lunch)
*NOTE: 8th graders MUST be accompanied by an adult 21 or older
NO REFUNDS. NO WALK-INS. NO EXCEPTIONS.
DISCLAIMER: Due to the nature of this conference, tickets are non-transferable. We appreciate your understanding as we work to build this unique college readiness experience.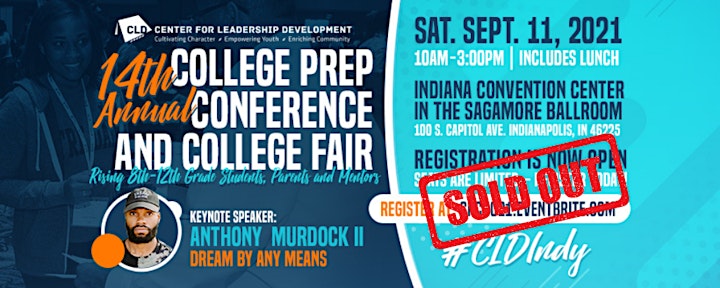 Center for Leadership Development's COVID-19 Safety Measures for the Upcoming College Prep Conference and College Fair
Dear College Prep Conference participants:
As Marion County continues to progress toward reopening, Center for Leadership Development (CLD) looks forward to welcoming 1,000 students, supportive adults, presenters and volunteers to the 14th Annual College Prep Conference and College Fair taking place on September 11, 2021 at the Indiana Convention Center.
The health and safety of our participants and staff remain our highest priority, and in the spirit of community, we commit to minimize any potential exposure by taking the following precautionary measures derived from Back on Track Indiana's Guidelines and Centers for Disease Control and Prevention Guidance for Child Care Programs:
Participation will be capped at the first 1,000 to register
Limited tickets available for each grade
Participants will remain in sessions while presenters rotate
Session sizes will be limited
Masks will be required for all participants, staff and presenters
Boxed lunches will be provided
Temperature checks will be required
In addition, the Indiana Convention Center is hard at work to ensure the cleanliness of their facilities and developing new policies and procedures including:
Built-in six-foot social distancing measures added to floor plans, seating areas and crowd management
Limited and designated entries and exits
One-way travel markers in hallways
Additional hand sanitizing stations
Hospital-grade air filters and 24/7 air circulation
We look forward to welcoming our students and families at this one-of-a-kind event; we have missed each and every one of our young future leaders!
IMPORTANT: COVID-19 is a new virus that spreads from person to person through contact and bodily fluids. It can cause illness as mild as the common cold and lead to complications as serious as death. If you or your child is sick or displaying symptoms* of being sick, such as a fever or chills, cough, sore throat, shortness of breath, runny or stuffy nose, headache, and/or muscle aches, PLEASE STAY AT HOME. INDIVIDUALS DISPLAYING SIGNS OF ILLNESS WILL BE EXCUSED FROM THE CONFERENCE FOR THE SAFETY OF ALL GUESTS.
*List of symptoms is not inclusive. You or your child may exhibit other symptoms of being sick not listed in this statement.
Organizer of 14th CLD College Prep Conference & College Fair (#CLDIndy)
The mission of the Center for Leadership Development is to foster the advancement of minority youth in Central Indiana as future professional, business and community leaders by providing experiences that encourage personal development and educational attainment.  
Establish the Center for Leadership Development as one of the most preeminent centers in the nation for inspiring the highest character and leadership skills and the highest academic, college and career achievement in African American youth.