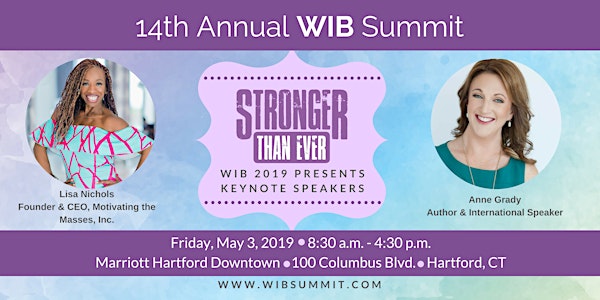 14th Annual Women in Business Summit
When and where
Location
Hartford Marriott Downtown 200 Columbus Boulevard Hartford, CT 06103
Description
Agenda
8:30 a.m. – Continental Breakfast/Networking/Exhibits
9:30 a.m. - Anne Grady – Keynote
10:45 am:
Breakout I: Emily W. Liu – "Inspire, Influence & Impact: The Science of Self-leadership, Success and Self-Actualization"
Breakout II: Joelle Murchison – "Navigating Difficult Conversations"
Breakout III: Entrepreneur Panel with Susan Lane; Lenore Braun and Diane Ripstein with Moderator Maryann Cruz
11:30 a.m. – Exhibits/Lunch/Networking
12:45 p.m. - 2:15 p.m. – SPECIAL SESSION: Lisa Nichols session with VIP guests (guests who registered at the VIP level)
Breakout I: The Money Panel with Selette Jemison, Belinda Rosenblum, Sabine Gideon with Moderator Patrina Dixon
Breakout II: Brandi Mazesticeon – How to Win Like a Woman
Breakout III: Linda Stacy - O Captain! Wait - Who's My Captain?! H.O.W. to Manage it All When You are Managing it All in Distracted, Constantly Connected, Professional and Personal Environments
2:30 p.m. – Lisa Nichols – Keynote
3:30 p.m. – Exhibits/Networking/Autograph Signing/Book Signing
4:30 p.m. – Event Ends
Visit www.wibsummit.com for more details.
HOTEL ACCOMMODATIONS:
A discounted rate has been reserved for WIB Summit at the Marriott Hartford Downtown. There are limited number of rooms available. ROOM BLOCK IS CLOSED
Marriott Hartford Downtown. https://book.passkey.com/event/49697766/owner/21838/home
Cut off Date for special group rate for overnight rooms at the hotel is April 2, 2019.