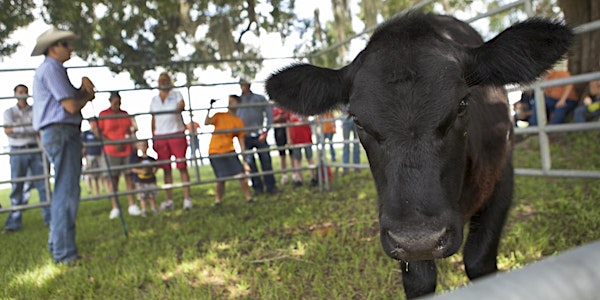 14th Annual UF/IFAS Range Cattle REC Youth Field Day
UF/IFAS Range Cattle Research and Education Center's Youth Field Day is an educational event for students with youth leaders and families.
Date and time
Thursday, June 29 · 8:30am - 1:45pm EDT
Location
UF/IFAS Range Cattle REC 3401 Experiment Station Ona, FL 33865
Refund Policy
Refunds up to 1 day before event
Eventbrite's fee is nonrefundable.
About this event
5 hours 15 minutes

Mobile eTicket
If you prefer to avoid Eventbrite registration fees (nonrefundable) contact us directly to register and pay by check:
ona@ifas.ufl.edu or 863-245-4656
2023 theme -
"Florida's Land and Cattle, Treasures Worth Protecting"
Our goal is to excite students about agriculture and science, reveal future opportunities in those fields, and foster a love of learning which will promote agriculture and good stewardship in this and future generations. 
For this in-person event, everyone attending must purchase a ticket (students and adults), so we have plenty of space for the groups to travel by wagon and space in classrooms. Adults who don't want to purchase a ticket are welcome to wait on their students at the assembly area.
Schedule -
Optional early morning birding tour. Space is limited. To register for this special outing, scroll down after you pick your group to see the 'extra things to add to your ticket.'
Bird Lovers!! You are invited to join us for an early morning wagon ride, birding tour around the Range Cattle REC with Zach Holmes, a graduate student in the Rangeland Wildlife Ecology Lab. Ride through pine flatwoods, hardwood hammocks, and pastures searching for birds of all types! Bring binoculars if you have some and arrive by 6:45 a.m. to check-in so the tour can depart on time at 7:00 a.m. The tour will return by 8:30 a.m.
8:00 a.m. - Check in, complete the pre-quiz, and enjoy some refreshments
8:30 a.m. - Visit booths on your own at the 'Education Expo'! There will be a variety of booths with lots of hands-on activities. These are the booth participants who have confirmed so far. More will be added!
Visit each of these awesome booths, participate in their activity, get your bingo card stamped by each one, then turn your filled card to be included in the closing assembly prize drawing!
EXPO Booths
Weather Education – with Florida Automated Weather Network (FAWN), Rick Lusher, Project Manager
Farm & Outdoor Safety – Rod Greder, UF/IFAS Sarasota Co. Ext. Sustainable Ag Agent and Serap Gorucu, UF/IFAS Ag and Biological Engineering, Ag Safety and Health Specialist
Florida AgrAbility Program and Undergraduate Recruitment - Serap Gorucu, UF/IFAS Ag and Biological Engineering, Ag Safety and Health Specialist
Poisonous Plants – Sarasota Co. Master Gardener Volunteers, Mary Brown and Carol Holmes
Cattle Nutrition – Allie Williams, UF/IFAS Hillsborough Co. Ext., Small Farms & Alternative Enterprises Agent -- Interactive activities to understand feeding cattle.
Corn Breeders – UF/IFAS Everglades REC, Robert Beiriger, Biological Scientist Learn about corn and how varieties are developed (bred). See an assortment of corn ears and popcorn.
Manure analysis – Lauren Butler
Rumen Dissection – Colleen Larson
Florida Forestry Service – Richard Larsen, Myakka River District Co. Forester Learn about dendrology, identification of trees, and prescribed fire.
UF/IFAS CALS at Plant City – Jason Steward, Academic Advisor -- We are a transfer only center that offers undergraduate degrees through the College of Agricultural and Life Sciences in Agricultural Education and Communication and Geomatics. Many students graduate debt free because of the flexible scheduling that allows students to work, while benefitting from one of the lowest tuition rates in the country. Students have scholarship opportunities in Plant City at the college and department level, as well as Plant City location. All students complete internships and have a 100% job placement after graduation. UF/IFAS CALS at Plant City is living out the Land Grant mission by providing access to the College of Agricultural and Life Sciences degree programs throughout Florida from a top 5 University in the nation.
Warner University – Abby Crawford, Coordinator of Advancement and Ag Programming -- We offer a diversified agriculture degree allowing students to explore all entities of Florida ag while finding their niche in an ever-changing industry. Between a hands-on learning approach, mandated internships, industry tours and more, students are sure to find their "area." Did I mention over $6 million in scholarships are awarded annually to our students?!
Toxicology Quest – Caetano (Ky) Sales and Brent Sellers, UF/IFAS RCREC, Pasture and Rangeland Weed Management -- Learn about toxicity and how pesticides compare to other household products. Rank products from least toxic to most toxic. Can you guess correctly?
History and Importance of Horses in Florida – Sheri Trent, UF/IFAS Seminole Tribe, 4-H/Agriculture Agent -- Learn though displays and activities about the 500-year history of horses in Florida and how use has evolved in cattle herding, farming, transportation, and wars. Give whip cracking and roping a try, see horses, and tack.
Agriculture Education Services & Technology, Inc. (AEST) - Destiny Cornelius, Industry Relations Manager -- Learn about animal science certification.
10:00 a.m. - Attendees will assemble and break up into their groups to begin their class rotations. Groups will rotate through 5, 25-minute class sessions and a 25 min lunch break. .
Sessions:
Wild Weed Hunt with Dr. Brent Sellers and M.S. student Caetano Sales - Learn about weed identification and the negative impacts of invasive weeds on natural habitats and agricultural productivity through presentation and a scavenger bingo game.
Horses on the Ranch with Sheri Trent - Through educational displays and live demonstrations, learn how horses are used today on Florida ranches and more.
Forage Management Benefits with Dr. Joao Vendramini - Learn all about pasture grass, it's uses on the ranch, and how ranch land conservation benefits everyone.
Florida Water Ways with Dr. Golmar Golmohammadi, Don Rainey, and Seyed Mostafa - Through hands-on activities, learn how different soil types affect water and nutrient movement on agricultural lands.
Wild Pigs in Florida with Dr. Hance Ellington and M.S. student Brier Ryver - After a short presentation on Florida's invasive wild pigs, students will participate in a fun interactive activity and learn about some new techniques for management.
Lunch Break – a hamburger or hot dog meal with chips and ice cream
Attendees will complete the post-quiz and event evaluation at their last class site.
T-Shirts
This year's shirts will be sand color with a really cool brown imprint. Youth shirts are $12 and adult shirts are $15. Order by 6/9 to get yours at the field day. Additional shirts can be ordered at the field day (cash or check only; same cost, plus shipping).
Sizes:
Youth: XS, S, M, L, XL      Adult: S, M, L, XL, XXL, and XXXL
2024 T-SHIRT DESIGN CONTEST
Like to draw? Take part in our t-shirt design contest by submitting your design by June 15! For all the details and the submission form, click here.
General Consent and Release
After you register you will receive a form to complete for each attendee (students and adults) which is a general consent and release for photography and video that will be recorded at the event. Please complete this and return it to us shortly after registering. Return your completed form(s) to ona@ifas.ufl.edu.
Link to the form online: https://ics.ifas.ufl.edu/media/brandingifasufledu/UF-IFAS-Video-Photo-Release.pdf
Accommodations
Persons requiring special accommodations, per the Americans with Disabilities Act, should contact Andrea Dunlap at (863) 245-4656 or ona@ifas.ufl.edu at least (5) five working days prior to the field day.
Range Cattle Research and Education Center
3401 Experiment Station – Ona, FL 33865
(863) 735-1314
An Equal Opportunity Institution. UF/IFAS Extension, University of Florida, Institute of Food and Agricultural Sciences, Nick T. Place, dean for UF/IFAS Extension. Single copies of UF/IFAS Extension publications (excluding 4-H and youth publications) are available free to Florida residents from county UF/IFAS Extension offices.
Last year's winning t-shirt design that will be on the back of this year's shirts...
An example of a previous shirt, showing how the front and back design typically looks.