14th Annual Rikers Island 5K

Saturday, June 3, 2017 from 10:00 AM to 1:00 PM (EDT)
Event Details
On Saturday, June 3rd 2017 you can be part of a group of runners that will bolt across the island's bridge.
The race will start at the foot of the Francis R. Buono Memorial Bridge and runners will head onto the island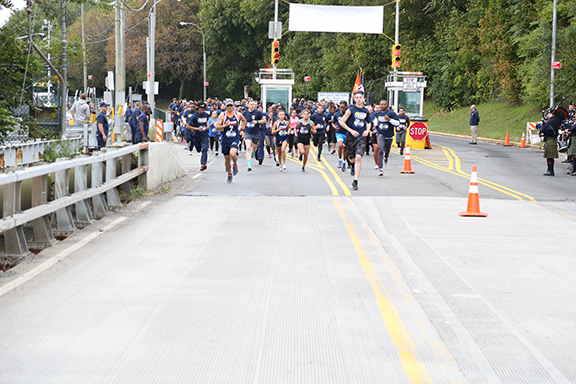 to complete the challenging 5K course. The course is a point to point with the finish line being in the center of the island. There will be an award ceremony and BBQ directly after the race. You are invited to have up to 3 spectators join you at the finish line to cheer you on and enjoy the ceremony and BBQ afterwards. All runners and guests must be pre-registered, there will be no day of registration for this event.
The race was brought back last year and only opened to Department of Corrections and their families. This year we are pleased to announce that the race will be allowing members from other city agencies to participant and additionally members from running clubs across the City are invited to participate in the event.
Registration pick-up will take place from 0700- 0900 hrs. at the Bullova building located at 75-20 Astoria Blvd 11370. There will be absolutely no registration at Riker's island. Please know all runners and guest will be bussed from the Bullova building. Guest will be taken to the finish line and registered runner's will be taken to the start line.
The Registration fee is $23.00
Date: June 3, 2017
Time: 10:00 Sharp
Location: FRANCIS R. BUONO MEMORIAL BRIDGE
There will be day of registration at the Bullova building located at 75-20 Astoria Blvd 11370 (shirts are not gaurenteed for day of registrations)

Check-in will be held for all runners between 0700-0900 hours at the Bulova building.

Shuttle service will be provided for all registered runners and their registered guest between the Bulova building and Rikers Island (Pre/Post Race)

This is a Rain or Shine event

Event Details:
AGE GROUPS

  

Awards for:


5 – 14


 

Top 3 Male and Female Finishers

 

15 – 19


 

Top 3 Male and Female Finishers in each Age Group

 

20 – 29


 

Top 3 Male and Female Finishers in each Age Group for Corrections Facilities

 

 

30 – 39


 

 

40 – 49


 

 

 

50 – 59


 

 

 

60+


 

 

 
When & Where
FRANCIS R. BUONO MEMORIAL BRIDGE
Rikers Island



Saturday, June 3, 2017 from 10:00 AM to 1:00 PM (EDT)
Add to my calendar
Organizer
New York City Department of Corrections
14th Annual Rikers Island 5K