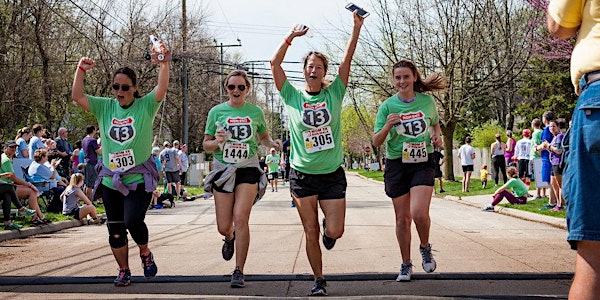 14th Annual MOM 5K Race for Mental Health Awareness & Suicide Prevention
When and where
Location
Starr Jaycee Park 1101 W. 13 Mile Rd. Starr Jaycee Park Royal Oak, MI 48073
Description
Has your life been touched by mental illness or suicide? Are you looking to connect with others to help erase the stigma, or just participate in a local 5K for a good cause? If so, please join us on Saturday, May 4 in Royal Oak for the 14th Annual MOM Race for Mental Health Awareness and Suicide Prevention. The 5K run/walk starts at 10 AM from Starr Jaycee Park and takes place in the beautiful Vinsetta neighborhoods between 12 Mile and Main St. The MOM Race is a USATF-certified 5K featuring age group awards, a team challenge competition, fundraising opportunities, raffle prizes, plentiful refreshments, live music and more! MOM Race proceeds benefit brain research at The University of Michigan Depression Center, suicide prevention programming by KnowResolve, and crisis intervention services provided by Common Ground. A portion of the 2019 funds will also be used to modernize momrace.org and restart the Royal Oak SAFE suicide prevention taskforce.
FAQs
Do I need to register my children?
Children 12 and under are free to participate in the MOM Race, but must be accompanied by a registered parent or guardian. Non-registered children will not receive a commemorative race shirt, official racing bib, or finisher time. If you'd like your child to enjoy the full participant experience, please register them.
Are there other ways to register besides using Eventbrite?
Sorry, we do not offer mail-in or in-person registration. Please register online by Tuesday, April 30 at 11:59 PM EST to secure your spot at the 2019 MOM Race!
Do I need a ticket to participate?
Advanced online registration is required for the MOM Race. After Eventbrite registration closes on 4/30/19, you will be assigned a bib number. That is your "ticket" into the event. An email containing bib look-up instructions will be sent out the week leading up to the MOM Race. There will also be a large display board at packet pick-up to look up bib numbers in person. In the rare event that there are problems finding your bib number by last/first name, we can look up your registration using the 9-digit order number included in your Eventbrite confirmation email.
Can my child ride a bicycle or a scooter?
Bicycles and scooters are prohibited in the MOM Race due to the many hazards they can pose on the race course, especially when operated by children. If your child is unable to complete the 5K on foot, please consider pushing them in a stroller or pulling them in a wagon. Thank you for your cooperation.
Can I run with a dog or stroller?
Dogs on leashes and jogging strollers are permitted in the MOM Race, but we ask that you please be courteous and line up behind the more competitive runners at the starting line at Cedar & Butternut. Also, please respect our neighbors by cleaning up after your pets on the race course.
What about wheelchair participants?
Persons with disabilities are more than welcome to participate in the MOM Race. Please contact the Race Director at director@momrace.org if you're interested in competing via handcycle or need wheelchair assistance. As a courtesy to impacted residents, all MOM Race participants must complete the 5K by 11 AM, or move to the sidewalk, so streets can be reopened.
Are there finisher awards?
The top three overall male and female finishers will be recognized during the awards ceremony and awarded Hansons Running Shop gift certificates. Age group awards will also be issued to the top male and female finishers in each of the following categories: under 15, 15-19, 20-24, 25-29, 30-34, 35-39, 40-44, 45-49, 50-54, 55-59, 60-64, 65-69, 70 and over. All winners must be present during the awards ceremony to receive awards.
What's the MOM course record?
We modified our 5K race path and had it recertified by USA Track & Field on April 21, 2016. Since that time, the fastest recorded male and female finisher times are 16:39 (5:22/mile) set by Scott Smith, age 24, of Warren and 18:31 (5:58/mile) set by Maggie Priebe, age 25, of Ann Arbor. Both course records were set in 2017.
Is there advanced packet pick-up for the MOM Race?
Yes. For those who are interested, advanced packet pick-up will take place on Friday, May 3 from 5-7 PM at the First Congregational Church of Royal Oak located at 1314 Northwood Blvd, just west of Crooks Rd. Please park in the large lot behind the building, follow MOM Race signs to the main entrance, and proceed to the Social Hall.
Can someone else pick up my race packet for me?
Yes, it's ok to send someone else to pick up your MOM Race packet for you. If you're planning on picking up other people's packets, please make sure 1.) they know so they don't also show up and wait in line and 2.) you look up all associated bib numbers before proceeding to the packet pick-up area. Jot down the bib number(s) or snap a pic on your phone and be prepared to present your driver's license upon request. If you're the captain of a large 20+ person team and would like to pick up all of your teams packets together, please send a request to director@momrace.org by no later than Thursday, May 2. We will have your entire team's racing bibs, t-shirts, etc. boxed up and ready for your pick up on Fri/Sat.
What does the weather normally look like for the event?
Weather in Michigan the first weekend in May can be a little unpredictable. Many MOM Races have been dry, but we have had a few rainy events, or races that have come off the tails of extremely wet weather. So please do not plan on wearing brand new running shoes, because the walk through Starr Jaycee Park to the start/finish line can be muddy! Temperatures are generally pretty mild and comfortable for running/walking with historical averages between 43 and 64 degrees.
What is the inclement weather policy for the MOM Race?
In the event of thunder, lightening and/or a torrential downpour on race morning, the start time will be postponed until 10:15 AM in hopes that the weather improves. If inclement weather persists and prevents organizers from putting on a safe MOM Race, the event will be cancelled. Due to upfront expenses, permitting, and other arrangements, no rain-checks or refunds will be issued in the event of cancellation. Thank you for your understanding.