Description
14th Annual Library Dinner
Brooklyn Historical Society
Monday, April 30, 2018, 6:00 - 10:00 PM
Brooklyn Historical Society's (BHS) Library Dinner is held annually every spring at its landmark building located on Pierrepont Street. The evening features cocktails in the Othmer Library, which houses a world-renowned archives and special collections library, and dinner in the Great Hall. The event honors active community members, philantropists, and generous supporters of BHS, and concludes with a special presentation from an accomplished artist, educator, author, and/or historian. Renowned past speakers have included Ron Chernow, Eric Foner, Annette Gordon Reade, Nell Irvin Painter, and Brian Purnell, to name a few.
2018 Library Dinner Committee
Michael Adams-Liebman
Constance L. Christensen
Lisa Melmed Cohen
Lauren Glant
Robin Ottaway
Eugena Oh
James R. Rossman
Samuel W. Seymour
Joanne Witty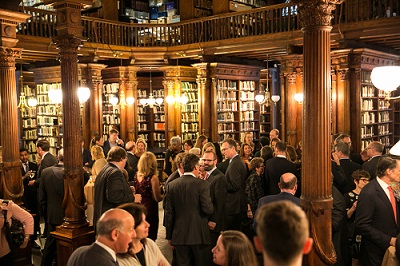 About the Othmer Library
Brooklyn Historical Society's (BHS) Othmer Library is a research library comprised of special collections, archives and manuscripts, images, and oral history collections. The library possesses a unique collection of Brooklyn and Long Island materials, which provide important insights into our nation's history and heritage. All proceeds from the Library Dinner benefit BHS's efforts to preserve, digitize, and make these collections increasingly available to the public.