Description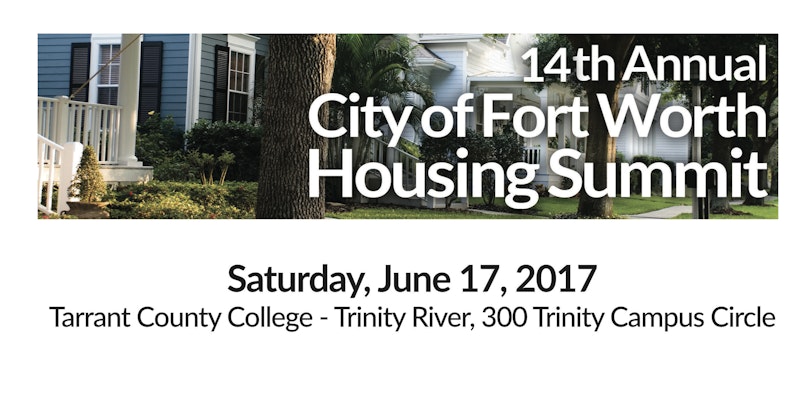 14th Annual Housing Summit, sponsored by the City of Fort Worth, Housing and Urban Development (HUD) and Fort Worth Housing Solutions.
Saturday, June 17, 2017
Tarrant County College - Trinity River
300 Trinity Campus Circle, Fort Worth TX 76102

Parking is located on the fourth floor of the TCC Parking Garage.

Download TCC PARKING PASS.

Lunch and refreshments provided to all registered attendees.
Door Prizes will be awarded.
9-10 a.m. Registration & Check-in
10 a.m.-2 p.m. Workshops
Attendance is free and open to the public.
How to Become a Homeowner in a Challenging Market
Workshops:
Home Buying 101: "Ready to buy in today's Real Estate Market
Obtaining a Mortgage Loan
Down Payment Assistance & Homeownership Counseling
Sponsored by:
City of Fort Worth
U.S. Department of Housing & Urban Development
Fort Worth Housing Solutions
LegacyTexas
Tarrant County College
Bank of America
Greater Fort Worth Association of Realtors
Wells Fargo
Berkshire Hathaway
Housing Channel
Kensington Vanguard
JH Moore
Farmers Insurance Group
Lifting the Soul
Day Realty
Fort Worth Association of Realtist
Housing Opportunities of Fort Worth