All business professionals are invited to attend the Women's Networking Alliance's 14th Annual Fall Mixer and Small Business Summit!​
About this event
Our event will be virtual again this year! Join us for two half-days of learning and inspiration for your small business. Our theme for the year is PERSEVERANCE.
The first 100 registrants will get an event swag box!
Our fantastic line-up of speakers will provide helpful, actionable content to help you move forward in your business, and the event will be filled with great fun, amazing prizes, and several opportunities to network and connect. This event has it all – Exceptional Content, a fun Raffle, Presenter Interviews, Sponsor Spotlights, Live Q&A Sessions, and SWAG. All from the comfort of your own home!
Agenda
Thursday, September 23:
9:00 Welcome
9:15 Jessica Elix - Go around the wall and forge a new path
9:45 Break
10:00: Kerry Rosado - How to Persevere as an Inclusive Leader
10:30 Break
10:45 Networking Activity
11:15 Break
11:30 Amy Graves - How To Turn Digital Tools Into Dollars (even when overwhelmed by tech)
12:00 Open Networking
Friday, September 24:
9:00 Welcome
9:05: Melinda Wells - Resistance The Key to Sustainable Change
9:35 Break
9:50 Rayna Neises - When You Care So Much it Hurts~ Avoiding Compassion Fatigue
10:20 Break
10:35 Networking Activity
11:05 Break
11:15 Kristina Rust - Your Personal Brand--Why It Is Important & How to Build It
11:45 Raffle and Close
Learn More: https://www.womensnetworkingalliance.com/fall-mixer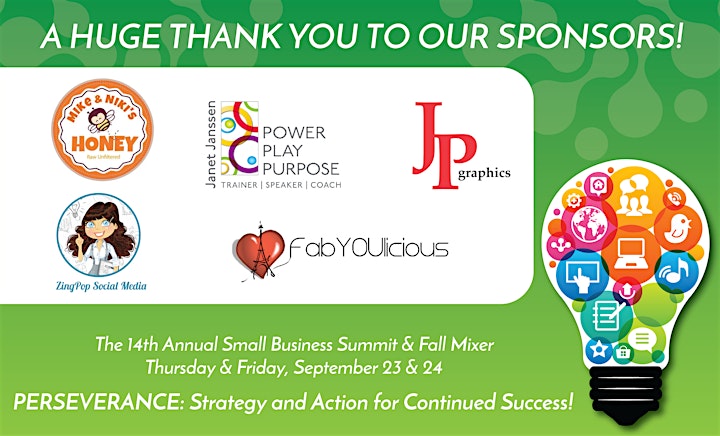 Organizer of 14th Annual Fall Mixer and Small Business Summit
The Women's Networking Alliance (founded in 2007) is built on a solid foundation of enabling, empowering and supporting growth. As we continue to grow, maintaining this foundation and ensuring we stay true to our mission is critical.
If you are a business owner looking for a real networking organization that demonstrates care, interest, and support, we just might be the perfect networking group for you.