Location
DoubleTree by Hilton Hotel Sacramento
2001 Point West Way
Sacramento, CA 95815
Don't miss the 2022 RED CARPET EWOC Experience for the 14th Annual Exceptional Women of Color (EWOC) Awards & Expo
About this event
Don't miss this the 14th Annual Exceptional Women of Color (EWOC) Awards & Expo!
This year's EWOC Awards & Expo is taking place on Tuesday, September 20th from 5:00 pm to 9:00 pm at DoubleTree Hotel, 2001 Point West Way, Sacramento, CA 95815 . MC/Host for our annual EWOC event is Actress - Neketia Henry - Sacculturalhub.com Media Correspondent. This will be a red carpet event so come in your best dressed for lots of photos. Be prepared to and there will be a special guest performance. The Sac Cultural Hub Media Foundation will recognize and present the 2022 EWOC Excellence Awards with a keynote presentation and attendees will enjoy dinner, networking and the Exhibitors Pavilion.
Tickets and table reservations to attend the 14th Annual EWOC Expo & Awards are available for purchase online at http://ewoc2022.eventbrite.com
For sponsorship and vendor opportunities call (916) 234-3589 or e-mail contact@sacculturalhub.com.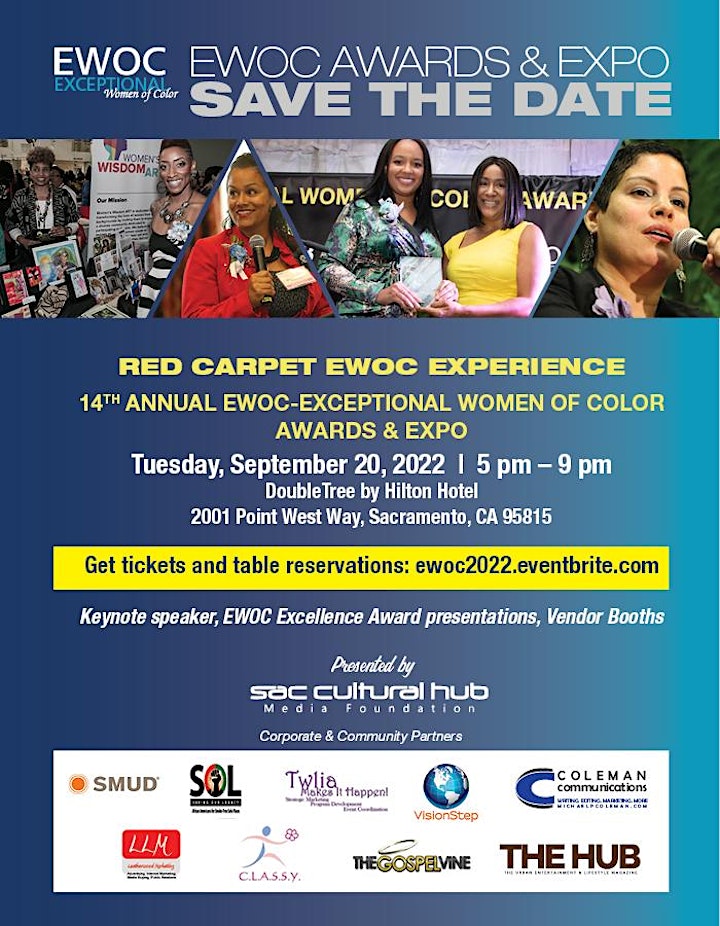 ***All guests attending will be required read /accept the COVID-19 Safety Acknowledgment.***An inherent risk of exposure to COVID-19 exists in any place where people gather. COVID-19 is an extremely contagious disease that can lead to severe illness and death. You assume all risks, hazards, and dangers arising from or relating in any way to the risk of contracting a communicable disease or illness-including, without limitation, exposure to COVID-19 or any other bacteria, virus, or other pathogen capable of causing a communicable disease or illness, whether that exposure occurs before, during, or after the event, and regardless of how caused or contracted. By attending this event of your own free will, and choosing to wear or not wear a mask, you hereby waive any and all claims and potential claims against Sac Cultural Hub Media Company and Foundation, volunteers, subcontractors, event organizers, vendors, speakers and against any companies affiliated with Sac Cultural Hub-relating to such risks, hazards, and dangers.