Description
Dear Design Colleagues:
We are pleased to invite you to participate in the 14th Annual Interior Design Awards competition sponsored by the PA|NJ|DE Chapter of the International Interior Design Association.
Project digital and payment deadline has been extended to Friday, May 25th by 12:00pm. The physical board submissions must be delivered to The Franklin Institute between Monday, June 18th and Wednesday, June 20th by 5:00pm.
Each year the Interior Design Awards recognizes outstanding interior environments designed by IIDA members in Pennsylvania, New Jersey, and Delaware. The awards offer an opportunity to celebrate design excellence in our region and highlight the individuals and project teams responsible for the success of these noteworthy projects. Projects will continue to not be judged in competition with each other, but rather by measuring the designer's performance against each project's potential.
As in past years, competition entries will be judged by a panel of interior design professionals from across the country and all entries will be publicly displayed within the Franklin Institute's gallery space during the awards ceremony. The jurors will review the entries as a slide show of projects and select the award winners. Award winners will be announced at a reception on June 21, 2018. The jury will have sole discretion to determine whether to select a recipient for an award. Awards will be given in the best overall submission in the following categories:
• Corporate (under 20,000 SF/ over 20,000 SF)
• Hospitality (under 30,000 SF/ over 30,000 SF)
• Retail (under 30,000 SF/ over 30,000 SF)
• Education/Institution (under 30,000 SF/ over 30,000 SF)
• Healthcare (under 50,000 SF/ over 50,000 SF)
• Residential (under 10,000 SF/ over 10,000 SF)
• Viewer's Choice Award (via Facebook album 'reaction' voting)
We look forward to receiving your competition entry and hope you will join us on Thursday, June 21, 2018 at The Franklin Institute.

Sincerely,
The IIDA PA|NJ|DE Chapter Interior Design Awards Committee
---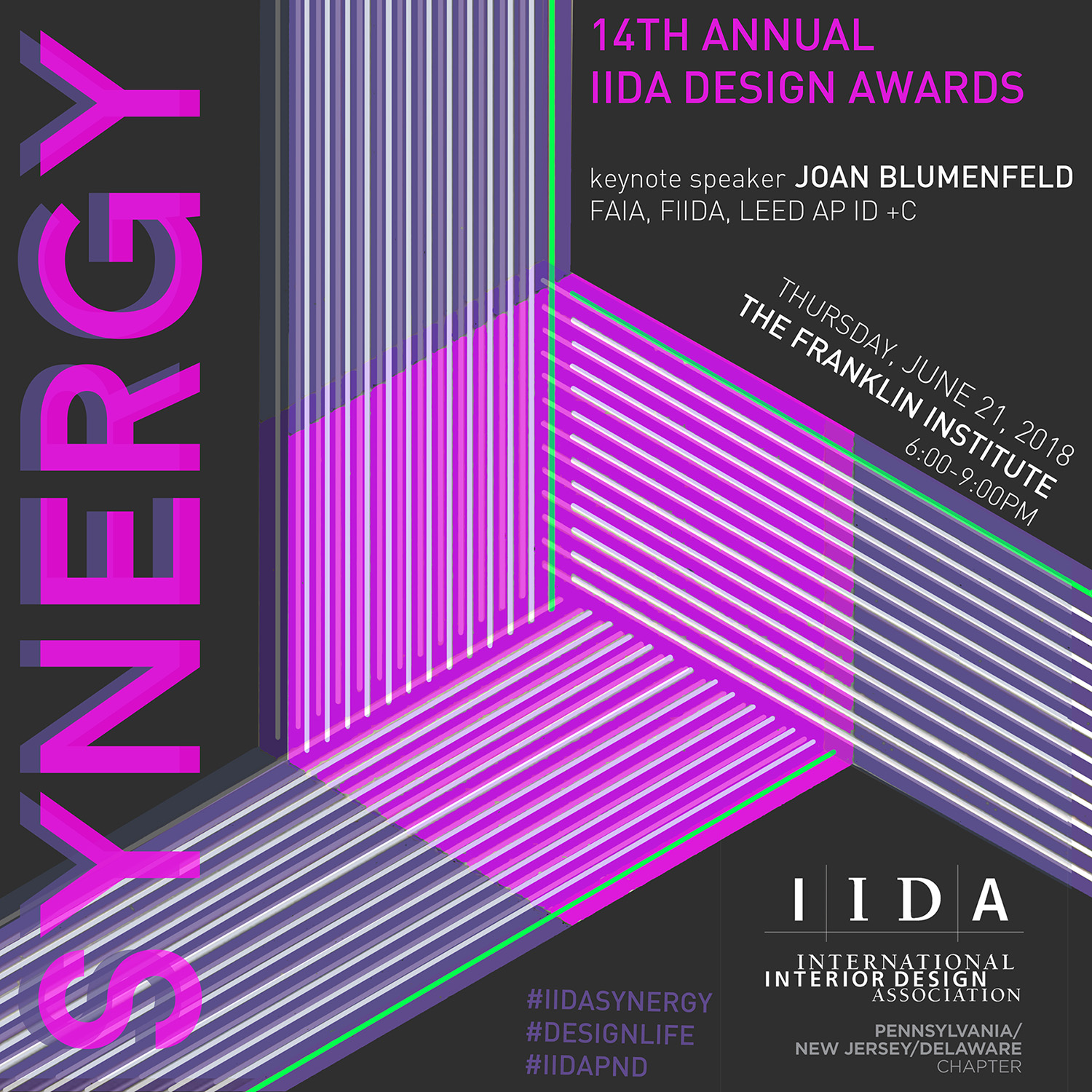 ---
SCHEDULE SUMMARY - (Full details can be found in the Submissions Packet - UPDATED)
FRIDAY, MAY 25th: Deadline EXTENDED for Competition Registration, Payment, and Digital Submission.
MONDAY, JUNE 18th - WEDNESDAY JUNE 20th: Exhibit Boards arrive at The Franklin Institute.

No boards will be received at the museum before June 18th.
All boards MUST be at the museum no later than 5:00 PM on June 20th for verification. Boards arriving after June 20th may not be gauranteed display during the event reception.
All board MUST be removed from the museum on the night of the reception. Please make arrangements accordingly to remove your project board(s) on June 21st. The Franklin Institute and the IIDA PA/NJ/DE Chapter cannot store any unclaimed project boards and will not be responsible for any boards left after the event concludes.
THURSDAY, JUNE 21st: Awards Ceremony and Reception
6:00 PM – 9:00 PM
The Franklin Institute
222 North 20th Street
Philadelphia, PA 19103
---
Please note that regardless of the total number of project submissions, each participating firm will receive one (1) Complimentary ticket to attend the awards ceremony. Completed Project Submission forms DO NOT count as admission tickets to this event. All additional tickets to attend the ceremony must be purchased separately via Eventbrite once they go on sale here: https://2018designawards-tickets.eventbrite.com.
In an effort to encourage a wide range of design professionals to attend the 2018 Design Awards, each firm or company may purchase a maximum of five (5) additional tickets to this event. IIDA reserves the right to cancel and refund any purchases made by a sole proprieter or individual beyond this limit.
Note that tickets for this event are limited. The IIDA PA/NJ/DE Chapter encourages the early purchase of tickets to ensure the ability of team members to attend. IIDA PA/NJ /DE Chapter is not responsible if tickets for the event have sold out before all interested parties have purchased tickets.
---
Host Sponsorship Opportunities can be found here: https://2018-designawardshost.eventbrite.com