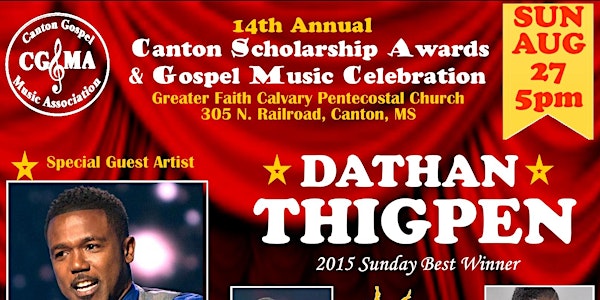 14th Annual Canton Scholarship Awards & Gospel Music Celebration
When and where
Location
Greater Faith Calvary Pentecostal Church 305 North Railroad Street Canton, MS 39046
Refund Policy
Refunds up to 7 days before event
Description
The 14th Annual Scholarship Awards & Gospel Music Celebration will take place on Sunday, August 27, 2017, 5:00 p. m. at the Greater Faith Calvary Church, 305 N. Railroad St., Canton, MS. "The purpose of this music celebration each year is to recognize individuals who have made significant musical contributions to Madison County and abroad", says Cynthia Goodloe Palmer, Founder and President of the Canton Gospel Music Association. "It is fitting that Canton with its rich heritage, deep spiritual roots and strong church affiliations hosts an event to honor one of music's finest genres."
This Celebration is sponsored by the Canton Gospel Music Association (CGMA). CGMA consists of choir directors, choir or group presidents, musicians, songwriters, recording artists, song leaders, soloists, radio announcers, ministers of music and pastors of Madison County. This year the association will present Lifetime Achievement Music Awards to The Brothers In Christ, The Rembert Washington Memorial Chorale and the Canton Community Fellowship Choir (The Ship). Rev. Clyde Tate will be presented the Mayor's award by Mayor William Truly. These musicians have used their gifts & talents locally, statewide and nationally.
It is unique this year that we will honor 3 groups that have such a diverse membership, appeal and style of music. "The Brothers in Christ" consists of men from various churches and specializes in good old fashion quartet music. The Rembert Washington Memorial Choir also consists of members from various churches and specializes in traditional/contemporary choir gospel music, always with a "special and unique blend and twist." TheCanton Community Fellowship Choir, better known as "The Ship", were well remembered for their strong vocals, precision and great harmony. Although "The Ship" is no longer together, their fans are still around.
Special musical guest features 2015 Sunday Best Award Winner Dathan Thigpen. Pastor John Woodard, Jr. of the Ark of Safety Ministry serves as musical director.
The highlight of the celebration is the awarding of 13 music scholarships to up and coming musicians to pay for music lessons and high school seniors. To date, the CGMA has awarded 114 scholarships to students since 2005 varying in amounts of $100.00 to $500.00 each.
Tickets are now on sale ($15 adults, $10 students) and may be purchased from any CGMA member. Advertisement in the commemorative souvenir book and sponsorship packages is still available.
For more information, please call Cynthia Goodloe Palmer, 601-918-7809, CantonGospelMusicAssociation@gmail.com, Erma Cole (601) 859-5002 or Jearlean Jones (601) 668-8563.