14th ANNUAL BACK TO SCHOOL SCHOOL SUPPLIES GIVE-AWAY!!!! Please share with your friends, family, staff, and colleagues…. <SPAN
About this event
Please share with your friends, family, staff, and colleagues….
A Child's Dream-CA in partnerhip with Allies for Every Child is hosting its' 14th Annual Back to School Outreach on Saturday, August 14, 2021. We will be providing:
FREE Backpacks for 800 students filled with school supplies and essential items! K-12 students only – Children MUST be present to receive (no deliveries).
Groceries for the Whole Family (while supplies last)
The event details are as follows:
Title: A Child's Dream- CA and Allies for Every Child presents
BACK TO SCHOOL DRIVE-THROUGH
Date: Saturday, August 14, 2021
Time: 11:00 am until 2:00 pm
Place: Allies for Every Child
12120 Wagner Street
Culver City, California 90230
Cost: FREE
Proof of registration is required.
THIS IS A FIRST COME, FIRST SERVE
Details and additional information may be found on:
www.achildsdream-ca.org , (424) 209-2352 or (310) 846-4100
If you are interested in donating, volunteering or becoming a partner email info@achildsdream-ca.org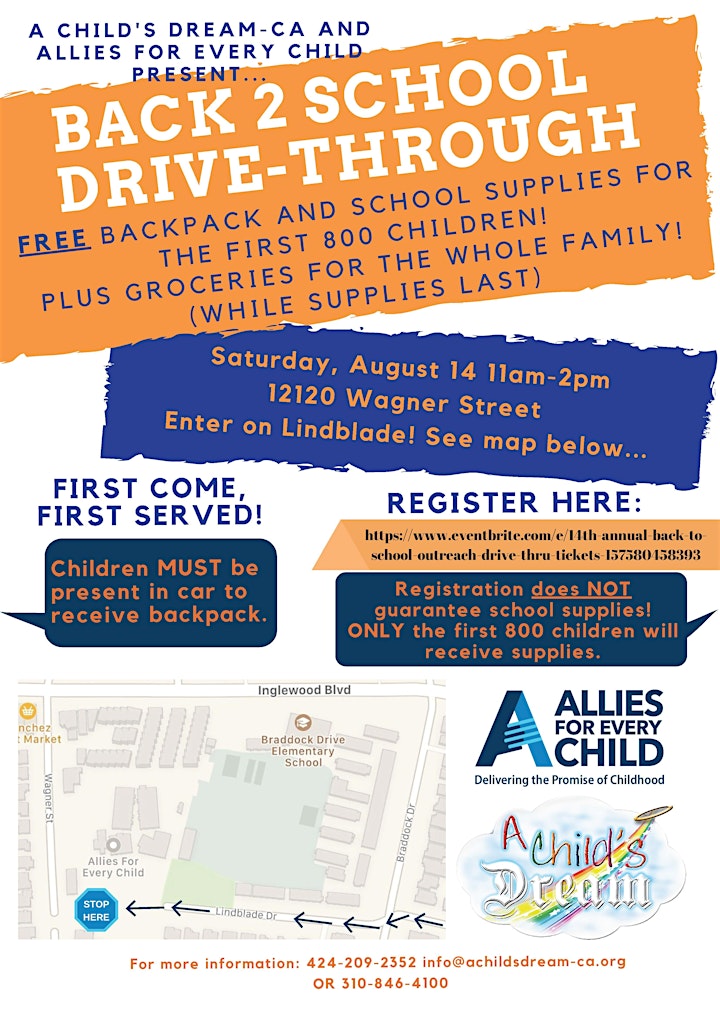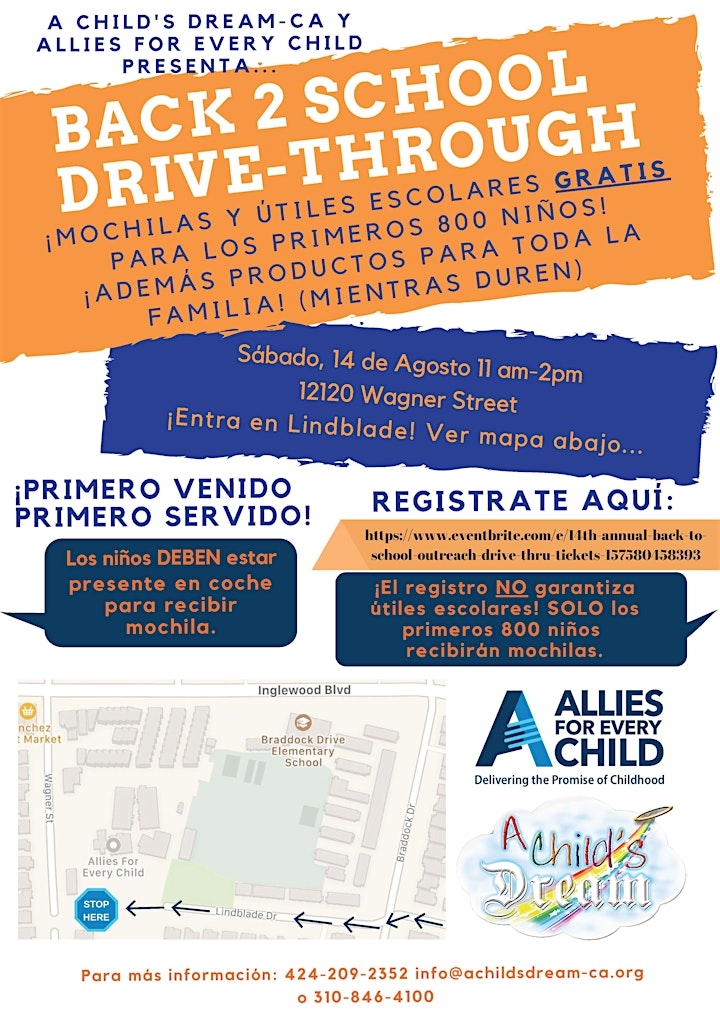 Organizer of 14th ANNUAL BACK TO SCHOOL OUTREACH – DRIVE THRU 2021
"A Child's Dream-CA is an extension of Living Waters-West L.A., " says Founder/CEO, Cassandra Steptoe-Sampson, "we must continue to realize the needs of our underserved communities and maintain compassion for our children." A Child's Dream-CA continues to harvest relationships and transparency in order to gain trust and support from our sponsors which help enable our efforts.
"What we could not do alone--We do Together". Collectively, we are able to maximize our outreach efforts which gives us the ability to connect to those in need of spiritual and tangible enrichment; while simultaneously continuing to build a strong network of faith-based affiliates, sponsors and community partnerships.

"El Sueño de un Niño es una extensión de la organización sin fines de lucro de Living Waters-West LA", dice Cassandra Steptoe-Sampson, Fundador / CEO, "debemos seguir dándonos cuenta de las necesidades de nuestras comunidades desatendidas y mantener la compasión por nuestros hijos". Para cosechar las relaciones y la transparencia con el fin de ganar la confianza y el apoyo de nuestros patrocinadores que ayudan a permitir nuestros esfuerzos. 
"Lo que no podíamos hacer solo - Hacemos juntos". Colectivamente, somos capaces de maximizar nuestros esfuerzos de extensión que nos da la capacidad de conectarnos con aquellos que necesitan enriquecimiento espiritual y tangible; Al tiempo que continúa construyendo una sólida red de afiliados basados ​​en la fe, patrocinadores y asociaciones comunitarias.