Based on true events- A professor comes under suspicion at a Nazi Finishing School in England.
About this Event
Drive-In Lot Opens 5:00 pm, Film Screens 7:30 pm (ish)
SIX MINUTES TO MIDNIGHT
Summer 1939. Influential families in Nazi Germany have sent their daughters to a finishing school in an English seaside town to learn the language and be ambassadors for a future looking National Socialist. A teacher there sees what is coming and is trying to raise the alarm. But the authorities believe he is the problem.
CHOOSE FROM:
- BYOChair- Bring your own chair for an up close and personal outdoor "reclined" experience.
- BYOChair + Camp Chair Rental- No fuss over finding those camp chairs in storage- we'll provide the relaxing seat for the duration of your experience!
- Picnic Tables- Seat you and your close friends and family outside near the screen at a picnic table- comes with an FM Radio. Tables seats 6 comfortably. Does not include a parked car viewing spot- cars must be parked on side lot where directed on arrival.
Front Row Car Spots- Park your car in the front two car rows. FM Radio not included- $5 FM Radios available for rent.
Standard Car Spots- Park your car in the middle two car rows. FM Radio not included- $5 FM Radios available for rent.
DRIVE-IN LOT OPENS AT 5:00 pm. FILM SCREENS 7:30 pm. Come early and take advantage of our full concessions- including popcorn and frozen sweetie treaties!
FOR THE HEALTH AND SAFETY OF ALL OUR PATRONS PLEASE ADHERE TO OUR POSTED SOCIAL DISTANCING RULES. THOSE WHO FAIL TO DO SO WILL BE ASKED TO LEAVE THE EVENT.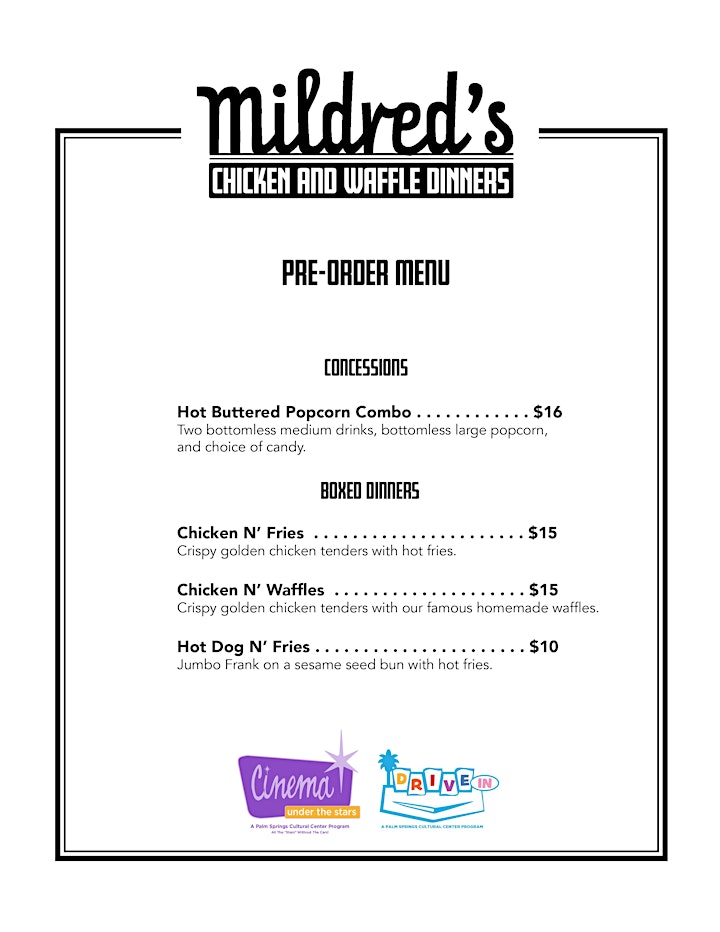 PLEASE READ:
- If you are exhibiting any of the COVID-19 symptoms and/ or are waiting on test results from a possible Covid-19 exposure- DO NOT ATTEND THE EVENT-a full refund will be issued for the event once you have let us know.
- FM Rentals are 1 per car/ table.
- Reservations are for a section ( such as picnic table/ premium etc.) Upon arrival- when you check in with an attendant you will choose your spot within that section appropriately physically distanced from another vehicle. Physical spots will fill in on a first come- first serve basis within the section you purchased.
- Please be considerate of other attendees view path when choosing your vehicle size.
Space is limited- Reserve your experience today!