Description
YOUR INVITATION
In the classical industrial paradigm, big leaps in corporate performance of more than 100% per year have been very unusual. Nowadays, in our hyper connected and dynamic world, for more and more organizations exponential growth rates have become the new normal.
That growth is only possible due to high complexity and non-linear interdependency, so that it is too much for analogue management in the old school way. Only smart digital solutions in new patterns can keep up.
The GAFA (Google, Amazon, Facebook and Apple) have become the fifth largest economy after the USA, China, Japan and Germany with 900,000 employees only. With over 3 trillion market cap, their EBITA is larger than Austria's GDP. Out-performing the rest of the world with less than 1 million employees is unprecedented in human history.
Out-performing the rest of the world with less than half of the population of Vienna, has never been done or known before in human history. How is that possible? How can this be useful for other organizations? What is the impact on your leadership and management?
If you are intrigued by disrupting the economy and creating the future paradigm, join us at the: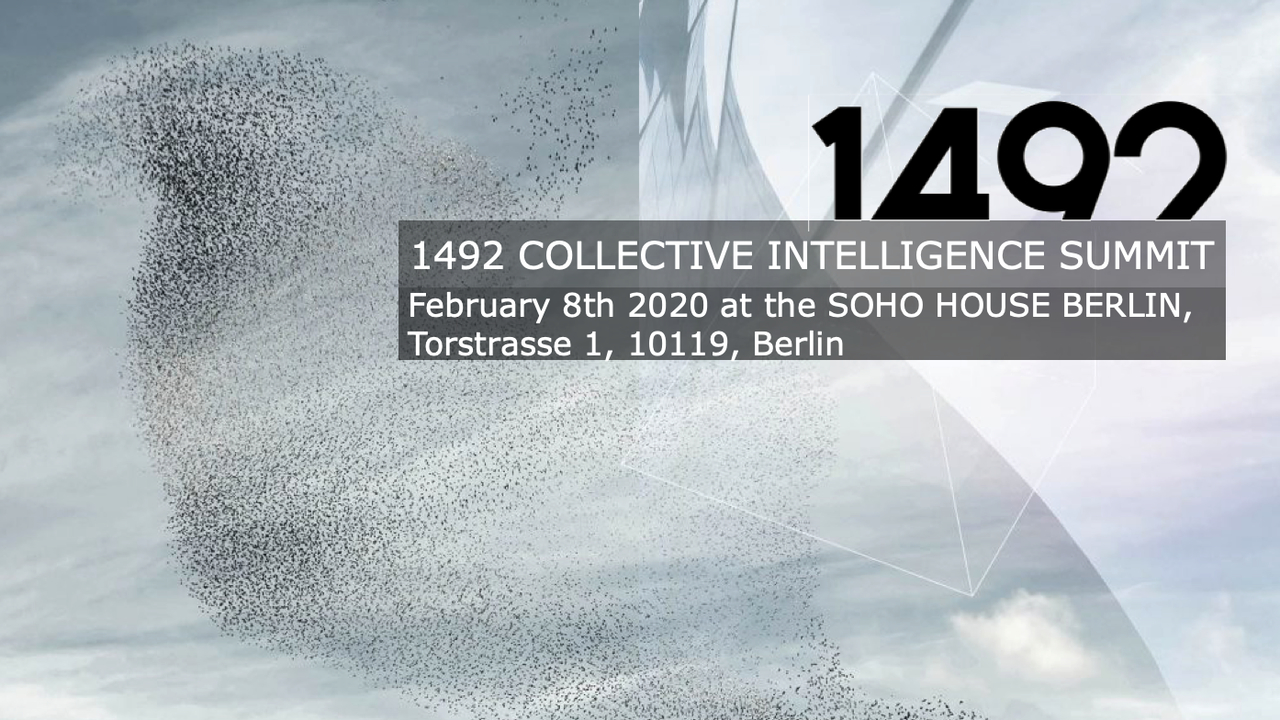 At the 1492 Collective Intelligence Summit, we will share with you several use cases of technology enhanced behavioral transformation based on the wisdom of crowds. We will discuss the critical success factors how CI-algorithms in combination with AI in the future will disrupt the world of management systems. And you will have many opportunities to network and interact with diverse, high-level professionals and experts coming from industry, public services and the private equity sector. 1492 will be joined in our intimate setting by prestigious guest speakers, including Dr. Dean Radin from the Institute of Noetic Sciences.
Corporate consciousness enhancement

– how to evolve leadership
Resonance for cultural change

– how to shake up large systems
Algorithmic decision making

– how to make better decisions faster
Data driven business models

– how to qualify for the end game
We are looking forward to meeting you and growing our network together.

Let's go beyond.
Team 1492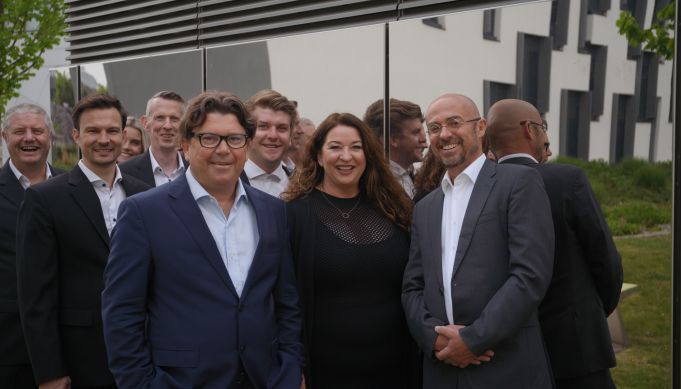 DETAILED SESSION OVERVIEW


Session 1: Corporate consciousness enhancement – how to evolve leadership
All artificial intelligence and algorithms will fail if leadership and top-management are not at the top of their game. It takes tremendous resilience to keep a cool head, still trust your gut feelings and carefully watch over the purpose of your business without losing focus.
Individual mindfulness and collective consciousness need to go together for ground-breaking organizational performance. Based on the latest neuro-scientific research, this will propel collaboration and co-creation in your teams dramatically.
Learn and discuss how to upgrade personal and collective emotional intelligence for more torque in your workforce.
Session 2: Resonance for cultural change – how to shake up large systems
Are you agile enough? Do you dare to make corporate experiments to learn? Do you share the same high-performance values? Do you trust each other? These questions need a hearty yes for lasting success in the new paradigm.

Corporate culture is the fundamental asset of any modern organization. Without the right corporate "operating system" no organizational evolution for the better is possible.

Learn and discuss how to engage your employees in cultural change driven by 1492 tools. Based on technology collective intelligence, you can find the neural hot spots and topics of your organization for maximum effect with minimal effort.
Session 3: Algorithmic decision making – how to make better decisions faster
Usually organizations are aware of time as a critical resource for the right value-to-market and time-to-market. Nevertheless, the speed of decision-making in large corporations is way too slow in our fast-paced environment.

Additionally, the speed of implementation is even slower. So decisions are not executed and are constantly under revision.

Learn and discuss how to speed up your corporate decision-making digitally, combining the wisdom of crowds, decentral empowerment, and smart algorithms.
Session 4: Data driven business models – how to qualify for the end game
Don't ask your customers what they want. Know what they want. When, where and how much they want it. And how much they are willing to pay for it.

All successful platform businesses have the big advantage that they know their customers, aggregating data to predict purchase behaviour.

Learn and discuss how you can use internal and external data to improve or change your business model and your value chain.
---
AGENDA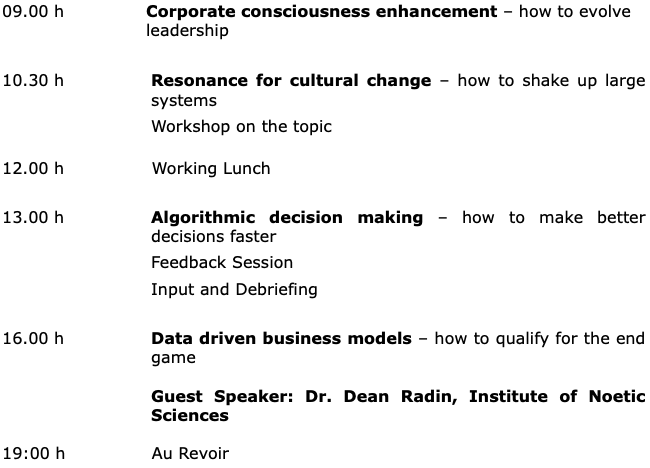 //Hospitality is included in the ticket price. (Including healthy lunch and beverages throughout the day).
We are looking forward to co-creating with you.
Team 1492
---
LOCATION
SOHO HOUSE BERLIN
TORSTRASSE 1
10119
BERLIN
GERMANY
Brief description of the location:
Soho House, an exclusive members' club and hotel is appropriately located in a renowned building situated in the heart of the city just few steps away from Rosa-Luxemburg-Platz. A Jewish-owned department store when it opened in 1928. In 1945, the Allies handed control of East Berlin to the Soviet Union and 1 Torstrasse became the seat of the Communist Party's Central Committee, home to party top brass such as Walter Ulbricht and Wilhelm Pieck. With the collapse of the Berlin Wall in 1989, the descendants of the original Jewish owners succeeded in having the building returned to them under the reparations act. Now it's a club and 40-room hotel echoing the gentrification of what used to be East Berlin. If one building reflects 20th-century German history, this is it.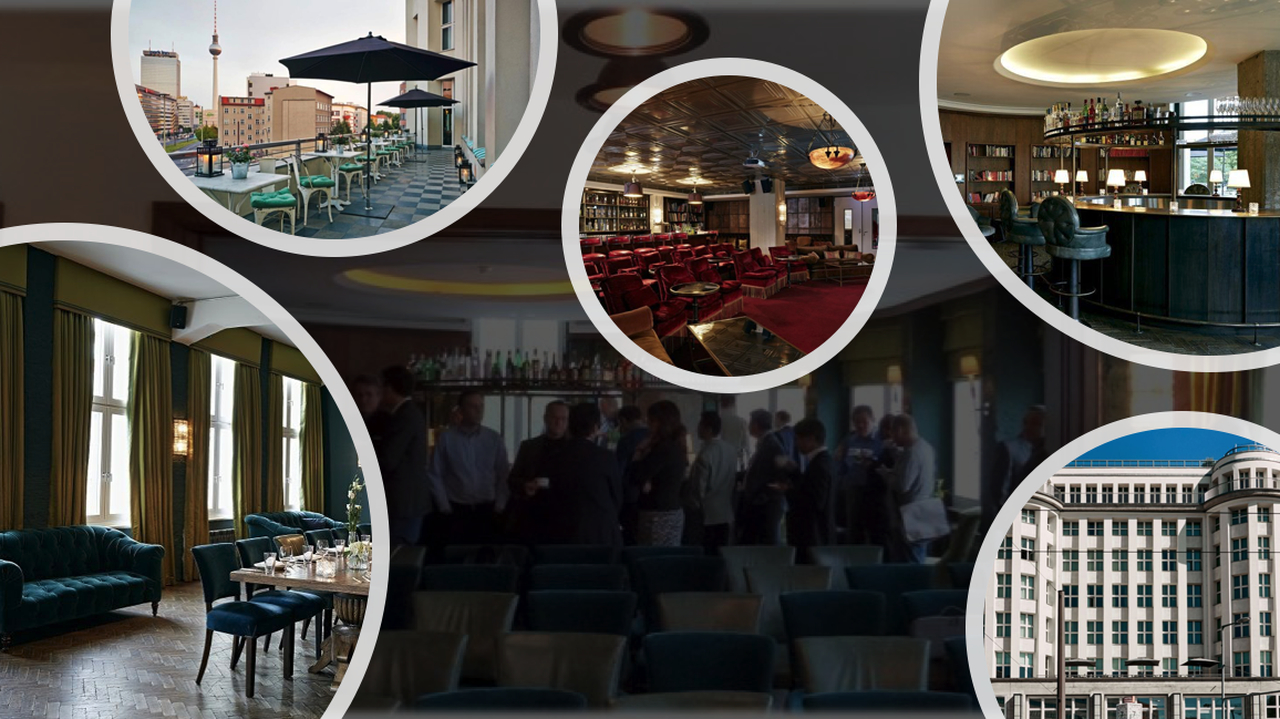 FAQs
Where is the nearest accomodation?
There are rooms available (unless booked) at the event location SOHO HOUSE BERLIN.
The next accomodation in walking distance would be: Ibis Hotel Berlin Mitte, MEININGER Hotel Berlin Alexanderplatz, H4 Hotel Berlin Alexanderplatz, Leonardo Royal Hotel Berlin Alexanderplatz
What are the closest stations to Soho House Berlin, Torstraße 1?
You can get to Soho House Berlin, Torstraße 1 by Bus, Subway, Train, Light Rail or S-Bahn. These are the lines and routes that have stops nearby - Bus: 142, 200 Train: RB14, RE7 Subway: U2, U8 Light Rail: M2, M8
Nearest aiports?
Tegel Airport (TXL) : 30-40 min by car
Schoenefeld Airport (SXF): 40 min by car

Parking?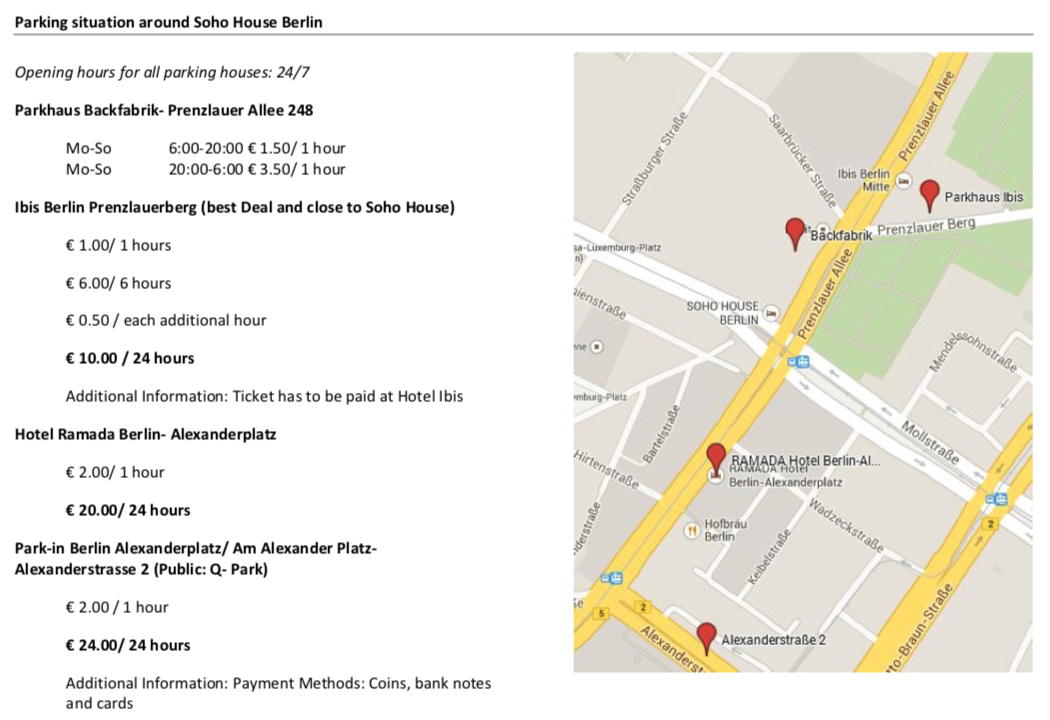 How can I contact the organizer with any questions?
For more information you can visit our website www.1492.org

When you have organizational questions please email: contact@1492.org
For further information, please contact: mh@1492.org
What's the cancelation policy?
Any cancellations received at least 4 weeks in advance of the Summit will receive full reimbursement. Cancellations received 2 weeks in advance will receive 50% of the fee. Any cancellations less than 2 weeks in advance of the Summit will not be reimbursed. Tickets can however be transferred to another name. In case you have any questions, please email: contact@1492.org