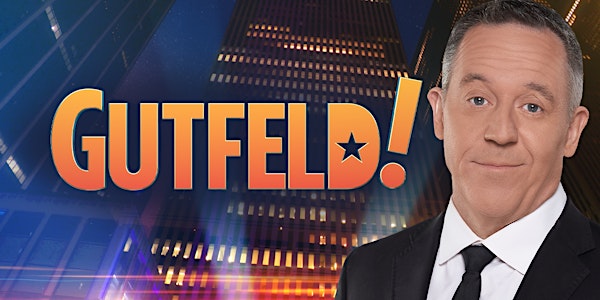 Thank you for submitting your request to be an audience member at GUTFELD! (the "Recording").
About this event
TO ACCESS THIS TICKET, PLEASE ENTER THIS ACCESS CODE: GUTFELD
Please note: Greg Gutfeld will not be hosting from August 22nd-August 26th.
Monday, August 22nd – Kat Timpf will be guest hosting.
Tuesday, August 23rd – Tyrus will be guest hosting.
Wednesday, August 24th – Brian Kilmeade will be guest hosting.
Thursday, August 25th – Dana Perino will be guest hosting.
Friday, August 26th – Pete Hegseth will be guest hosting.
WHERE:
-The News Corp Building: 1211 Avenue of the Americas, New York, NY 10036.
-Please form a line in the back of the building in the breezeway (midblock between 6th and 7th Avenues).
CHECK-IN:
- All guests must have their ticket and a government-issued photo ID. Name on ticket must match name on ID.
-All guests must be at least 16 years old to attend.
- Please note: More tickets are issued than the studio can hold to ensure each show has a full audience. Seats limited to people who register, but please note that registering does not guarantee admission and, if necessary, seats will be assigned on a first-come, first-served basis.
ARRIVAL TIME:
-Check-in process begins at 4:45pm ET Monday-Thursday and 12:45pm ET Friday.
-It is important to arrive no later than 5:30pm ET Monday-Thursday and 1:30pm ET on Friday.
-Studio taping begins approximately 6:30pm ET Monday-Thursday and 2:30pm ET on Friday and ends an hour later.
STUDIO RULES:
- Cell phones must be off before entering the studio for taping.
- No cameras allowed in the studio.
- Luggage, large bags and backpacks are not permitted.
- No signs or advertisements of any kind allowed in studio.
SECURITY:
- All guests are required to go through security screening before entering the building.
- FOX News Media has the discretion to refuse admission to this event to any person for any reason.
SPECIAL ACCOMMODATIONS:
-If you have any special accommodations, please email gregshow@fox.com and let us know ahead of time.
BY ACCEPTING THIS INVITATION AND ATTENDING THE RECORDING, YOU AGREE THAT OFFICERS, DIRECTORS, EMPLOYEES, MEMBERS AND AGENTS OF THE FOX NEWS NETWORK, LLC AND ITS PARENT, SUBSIDIARY OR AFFILIATE COMPANIES (COLLECTIVELY, THE "ORGANIZERS") SHALL NOT BE RESPONSIBLE OR LIABLE FOR ANY LOSS, DAMAGE OR INJURY RESULTING FROM YOUR ATTENDANCE AT THE RECORDING.
By attending the Recording, you hereby grant the Organizers, and those acting under their authority, the right to film or photograph your attendance and activities at the Recording and use such footage or photographs, including your name, voice, likeness or activities as they appear therein, to directly or indirectly publicize and promote the Recording and/or any other project produced by the Organizers in all media now known or hereafter discovered, worldwide and on the Internet, in perpetuity, without notice, review, approval or compensation. You agree to comply with all directions of Organizers and security personnel. The Organizers respectfully reserve the right to refuse admission and to revoke the personal license this registration grants at any time for disorderly/offensive conduct or failure to comply with the Recording rules or applicable laws.
Check-in and taping times are subject to change. If they do all guests will be contacted by gregshow@fox.com. Please make sure you check your email for updates week-of and day-of taping should there be changes.
Frequently asked questions:
Are tickets free? Yes, all tickets are free and non-transferrable.
What is the minimum age to attend the taping? You must be 16 years or older to attend the taping.
How long is the taping? The taping usually lasts an hour. Guests can expect to wait up to 45 minutes before the taping begins.
Will guests have to go through security? All guests are required to go through security screeners before entering the building.
Are there restrooms? There are restrooms in the audience waiting area that can be used before the taping.
What should I wear? Appropriate attire. Nice casual.
Are food and drinks allowed in the studio? We do not permit food and drinks in the studio.
Is the studio wheelchair accessible? Yes, we are able to accommodate guests who require special attention.