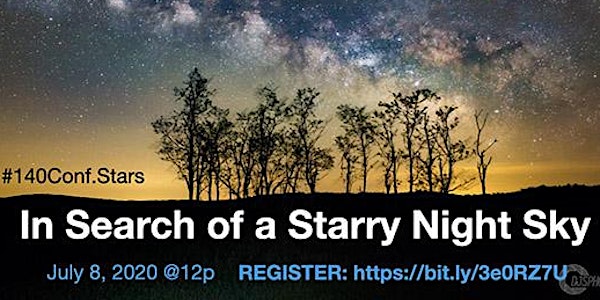 #140Conf Stars: In Search of a Starry Night Sky
#140Conf Stars: In Search of a Starry Night Sky
When and where
Location
Your computer Via Zoom Anywhere, You Are.
About this event
#140Conf-style, each talk will be short and focused. There is no charge to attend this experience. Jeff Pulver and Shanil Virani are co-hosting #140Conf Stars: In Search of a Starry Night Sky. We are looking forward to having: Shanil Virani, Paul Bogard and Daniel Stein as our speakers. (see bios below). Click here to request your Zoom access.
The Zoom doors for open at 11:45 AM (Eastern) on July 8th, with talks and networking scheduled from 12:00 PM to 2:00 PM (Eastern). After the talks, networking will follow. Click HERE to request the ZOOM Link for the event.
We are looking forward to connecting with you on July 8th.
Jeff Pulver and Shanil Virani
----
Our speakers:
Shanil Virani
Shanil Virani is an award-winning scientist, a passionate science educator, & co-author of "Daughter of the Stars", a photo-book about light pollution and the loss of night. He did his graduate work at Yale University where he studied supermassive black holes lurking at the centers of galaxies in the nearby and distant Universe. Prior to Yale, Shanil spent 5+ years at the Harvard-Smithsonian Center for Astrophysics as part of the Science Team of the Chandra X-ray Observatory, NASA's flagship space-based X-ray mission. He received 7 group achievement commendations either from NASA or from The Smithsonian Institution for his contributions to the mission. In 2009, he was awarded the Chambliss Astronomy Achievement Award medal by the American Astronomical Society for exemplary research as a graduate student. Shanil also created and hosts #OurIslandUniverse, a weekly online podcast that looks at all things space and how what goes on "up there'' affects our life "down here''. The central theme is to promote the public understanding of science, our exploration of the natural world, and how modern science is really a continuation of our species' natural desire to understand the cosmos and our perspective within it.
Paul Bogard
Paul Bogard is the author of The End of Night: Searching for Natural Darkness in an Age of Artificial Light, published in North America by Little, Brown, and in the UK and around the world by 4th Estate/Harper Collins. The End of Night has been translated into German, Spanish, Japanese, Chinese, and Korean, and is available in hardcover, e-book, paperback, and audiobook. His articles and essays have appeared in The New York Times, Slate, Salon, Los Angeles Times, Outside, Audubon, Conservation, Reader's Digest, National Geographic, Creative Nonfiction, and elsewhere. A native Minnesotan, Paul grew up exploring the forest and watching the stars near a lake in the northern part of the state. He has lived and taught in New Mexico, Nevada, Wisconsin, and North Carolina, and is now associate professor of English at James Madison University in Harrisonburg, Virginia, where he teaches creative nonfiction and environmental literature.
Daniel Stein
Daniel Stein is a talented astrophotographer and co-author of "Daughter of the Stars", a photo-book about light pollution and the loss of night. Daniel is a passionate nightscape photographer working full time in the greater New York City Area. His haunting mosaics of the Milky Way, deep sky objectis, constellations and planets are often shared via social media. On Instagram alone he has more than 15,000 followers. He has traveled around the world in search of darkness, and in finding it, photographing it.