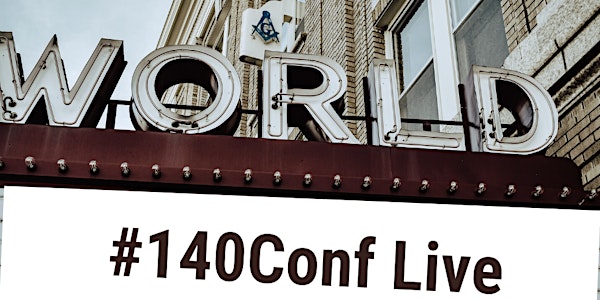 #140Conf Live - "Faith, Wonder and Love"
#140Conf Faith, Wonder & Love
When and where
Location
Your computer Via Zoom Anywhere, You Are.
About this event
NOTE: IN ORDER TO ATTEND TODAY, YOU MUST REQUEST ZOOM ACCESS. USE THIS LINK.
----------------------------------------------------
This #140conf Live is theme is Faith, Wonder and Love.
#140Conf-style, each scheduled talk will be short and focused. There is no charge to attend this experience. We are grateful to be having: Brad Wetzler, Dakota Brown, Sue Heilbronner, Rosie Stamp, Tracey Lee Wallace and George Lange as our speakers.
#140Conf Faith, Wonder and Love topics:
- The Faith We Find (Brad Wetzler)
- The Warriors Path: Transformation Through Truth (Dakota Brown)
- The Unlikely Connection Between No-Bullshit Truth Telling & Love (Sue Heilbronner)
- The Courage To Heal (Rosie Stamp)
- How To Tell Your Hero Story (Tracey Lee Wallace)
The Zoom doors for "Faith, Wonder and Love" open at 11:45 AM (Eastern) on July 7th, with talks and networking scheduled from 12:00 PM to 2:30 PM (Eastern). After the talks, networking will follow. Click HERE to request the ZOOM Link for the event.
We are looking forward to connecting with you on July 7th.
Jeff Pulver & Erica O Grady, co-hosts: Faith, Wonder and Love.
----
Our speakers:
Brad Wetzler, Author Have you ever:
- wanted to travel the world? - Go Surfing with Christian Cult Leaders in Indonesia ? Walk the Jesus Trail from Nazareth to Capurnium along the sea of Galilee ? Have a Spiritual Awakening while on a Meditation retreat in India ? And call it work?
Brad Wetzler has done just that. As an award winning travel writer, and the former editor of Outside Magazine - Brad has traveled the world capturing stories of adventure and faith for publications like The New York Times, Newsweek, Men's Journal, Travel & Leisure, Wired, GQ, and more. Today, he teaches workshops on memoir & travel writing while finishing up his next memoir - Chasing Jesus, Finding God. Brad is a certified Yoga teacher, and lives in Boulder, Colorado with his dog Tommy.
Talk Topic: The Faith We Find
Dakota Brown, Founder - Spirit WarriorsDakota Brown is a curious wanderer who has journeyed 43 years on this tiny planet in an infinite cosmos. He has spent much of that time living day to day as a father, a husband, a carpenter, tech professional, entrepreneur, outdoorsman and martial artist. He has struggled, mightily at times, with his faith, yet faith has always been an integral part of his life.
He has made some good choices, and many not so good choices throughout his life; the latter having provided great lessons and an unseen chipping away at his protective shell to reveal a more authentic way of living. Having struggled to find a traditional path that seemed to fit, he decided to surrender to the reality that the shell must be broken and allow the path to unfold before him. With fear and wonder, along with help from those placed along his journey, he founded spiritwarriors.life with the following purpose; to guide and explore with others the path of authentic living where masculinity and vulnerability meet to unleash true potential and bless others.
"We are each warriors of our own times. When we step out of our protective shell, we each encounter forces much more powerful than we are." Kilroy J. Oldster
Talk Topic - The Warriors Path: Transformation Through Truth
Sue Heilbronner, Founder - MergeLane
Sue is a sought-after speaker, startup CEO, mentor, adjunct professor of entrepreneurship, facilitator, strategic advisor, Conscious Leadership coach, co-founder of the MergeLane investment fund, creator of the Leadership Camp training program for high-potential leaders, former federal prosecutor, and a direct and fearless catalyst for change.
Sue has the privilege of bringing her speaking, TED and TEDx-style speaker coaching, facilitation, coaching, Conscious Leadership, and consulting expertise to companies around the world. She's worked with teams and leaders from Facebook, G2, Salesforce, Gainsight, Kiva, Uptake, Oracle, and more. Sue is a certified coach and trainer with the Conscious Leadership Group.
Talk Topic: The Unlikely Connection Between No-Bullshit Truth Telling & Love
Rosie Stamp, Mother. Seeker. Stronger. Weaker. Poet. Baker. Witch. Creator. Foul Mouthed. Fluent. Wounded. Healer. Angel. Demon. Believer. Heathen.(Lifetime connection to The Who).
Talk Topic: (Working Topic) The Courage To Heal
Tracey Lee Wallace, Founder Self-Love Movement
Tracey Lee, Self-Love Master Coach and creator of The Self-Love Movement, is a wise and articulate spiritual teacher and mystic. Tracey Lee's genuine, loving, direct, no-holds-barred style facilitates a healing tidal wave of Love. She powerfully guides her clients to shift out of darkness and illusion into the light of their phenomenal true self.
Tracey Lee is an empathic change agent for those who are truly ready for their lives to be different. In addition to working with a small number of 1 on 1 clients, Tracey Lee teaches a twice a week Self-Love Masterclass. An intuitive facilitator, Tracey Lee only works with clients deeply committed to their own healing.
Talk Topic: How To Tell Your Hero Story
--
Click HERE to request your Zoom access to this event.