14 T-SQL Functions You May Not Know
Description
14 T-SQL Functions You May Not Know
Newer releases of SQL Server have introduced many new functions developers may not know or use. This includes functions for type conversion, date/time calculation, enhanced logic, and string manipulation. In this session we'll cover the ins and outs of these new functions, in addition to some best practices for using these functions..

Presenter: Sam Nasr, Sr. Software Engineer - NIS Technologies
Bio: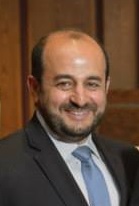 Sam Nasr has been a software developer since 1995, focusing mostly on Microsoft technologies. He's a Sr. Software Engineer with NIS Technologies where he consults and teaches clients about the latest .Net technologies. Sam has achieved multiple certifications from Microsoft (MCSA, MCAD, MCTS, MCT), and is the leader of the Cleveland C#/VB.Net User Group since 2003. In addition, he's the leader of the .Net Study Group, an author for Visual Studio Magazine, and a Microsoft MVP since 2013. When not coding, Sam loves spending time with his family and friends or volunteering at his local church.

Meeting Sponsored by:

Networking: 6:00pm - 6:30pm
Presentation: 630pm - 7:30pm
Wrap-up: 7:45pm - 8:00pm