SPECIAL Event 14 HOUR MARATHON Life drawing Session / 7 Models - one Donation, September 19 2021 Time: 7.15 AM -10.45 PM NY (EDT)
About this event
Let's have a fun day!!
I will host a Life Figure Drawing marathon. You will be able to draw 7 models with one donation
The event will start
7.15 AM EDT New York time and end 22.45 PM EDT New York time
We will have a 10 min break during every session and a 15 min break in between the model.
Each model with pose in a 2 hour session with a 10 minute break.
We will have the chance to share a little of the art during that break. After each model session we will not have time to share because I will need to switch all to the next model.
When you make your donation, please consider that I have to pay 7 models. Recommended Donation minimum 15.00 US$ (Thank you!)
Because of technical reasons there will be a Zoom Link for each session
It might look a bit complicated, but its not.
You will receive an email with all the links and in addition: during the ongoing session I will always post the next Zoom link.
You will be able to leave the sessions and reenter . I will give you access.
please be so kind to pay attention to your time Zone:
EDT Time New York Model on Instagram
07:15 AM - 09:15 AM Anna IG @flowing.anna
09:30 AM - 11:30 AM Poppy IG @poisonouspoppies
11:45 AM - 01:45 PM Maud IG @maudarte @maudeloviva
02:00 PM - 04:00 PM Adrian IG @modbodadrian
04:15 PM - 06:15 PM Emily IG @emilymetalskin
06:30 PM - 08:30 PM Frankie IG @floorlengthfrankie
08:45 PM - 10:45 PM Luisina IG @luisina_modelovivx
PDT Los Angeles/CA Model on Instagram
04:15 AM - 06:15 AM Anna IG @flowing.anna
06:30 AM - 08:30 AM Poppy IG @poisonouspoppies
08:45 AM - 10:45 AM Maud IG @maudarte @maudeloviva
11:00 AM - 01:00 PM Adrian IG @modbodadrian
01:15 PM - 03:15 PM Emily IG @emilymetalskin
03:30 PM - 05:30 PM Frankie IG @floorlengthfrankie
05:45 PM - 07:45 PM Luisina IG @luisina_modelovivx
London Time it's September 18th and partly September 19th early in the morning
BST Time London Model on Instagram
12:15 PM - 14:15 PM Anna IG @flowing.anna
14:30 PM - 16:30 PM Poppy IG @poisonouspoppies
16:45 PM - 18:45 PM Maud IG @maudarte @maudeloviva
19:00 PM - 21:00 PM Adrian IG @modbodadrian
21:15 PM - 23:15 PM Emily IG @emilymetalskin
23:30 PM - 01:30 AM Frankie IG @floorlengthfrankie
01:45 AM - 03:45 AM Luisina IG @luisina_modelovivx
Berlin / Amsterdam Time it's September 18th and partly September 19th early in the morning
CEST Time Berlin/Amsterdam Model on Instagram
13:15 PM - 15:15 PM Anna IG @flowing.anna
15:30 PM - 17:30 PM Poppy IG @poisonouspoppies
17:45 PM - 19:45 PM Maud IG @maudarte @maudeloviva
20:00 PM - 22:00 PM Adrian IG @modbodadrian
22:15 PM - 24:15 PM Emily IG @emilymetalskin
00:30 AM - 02:30 AM Frankie IG @floorlengthfrankie
02:45 AM - 04:45 AM Luisina IG @luisina_modelovivx
https://www.instagram.com/judithyaws/
https://www.instagram.com/lifefiguredrawing/
https://www.lifefiguredrawing.com/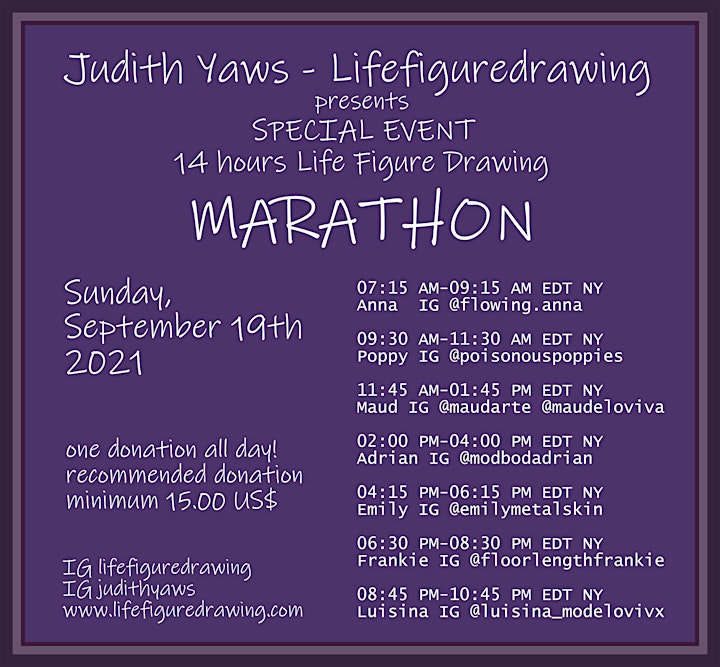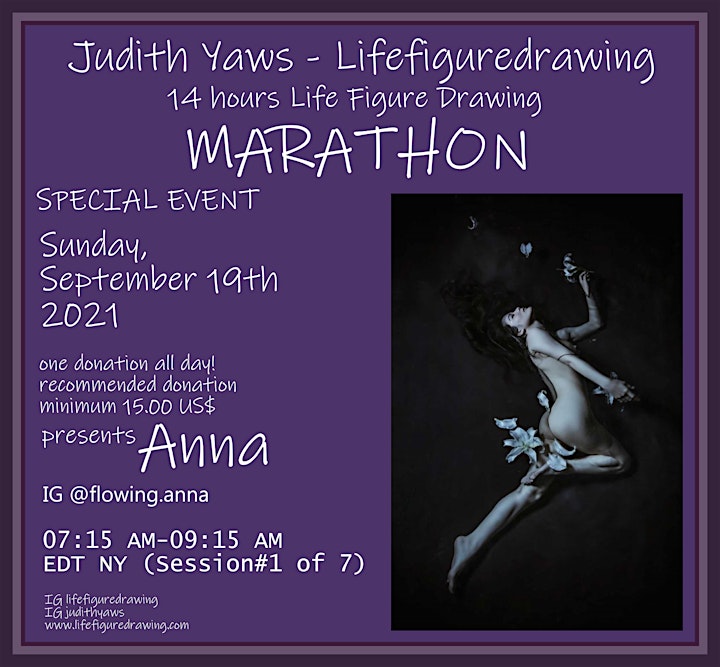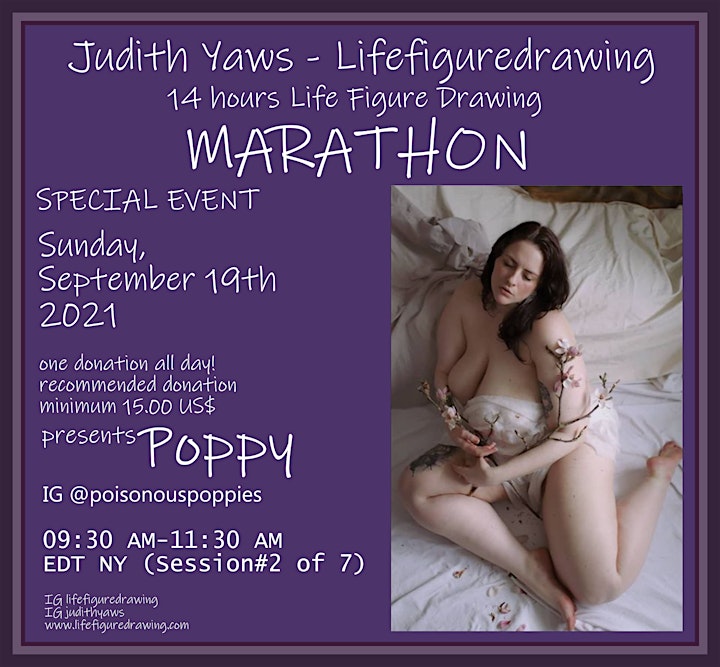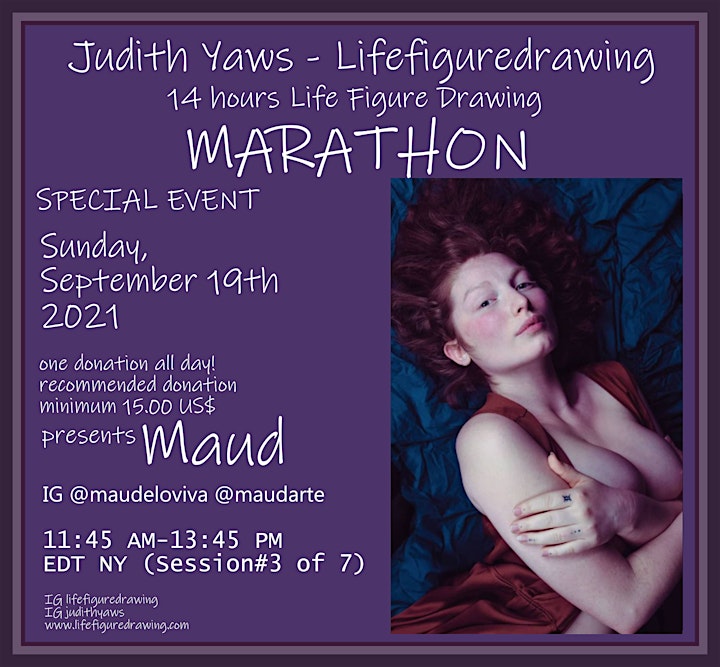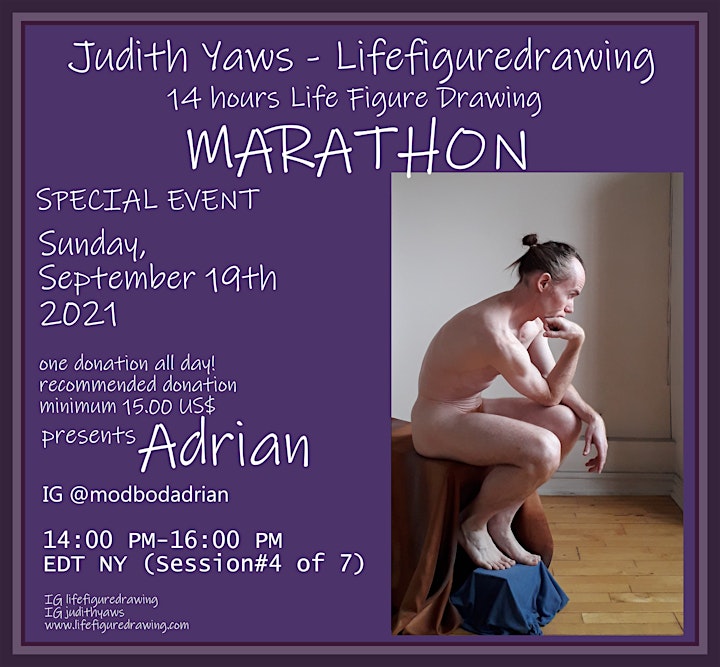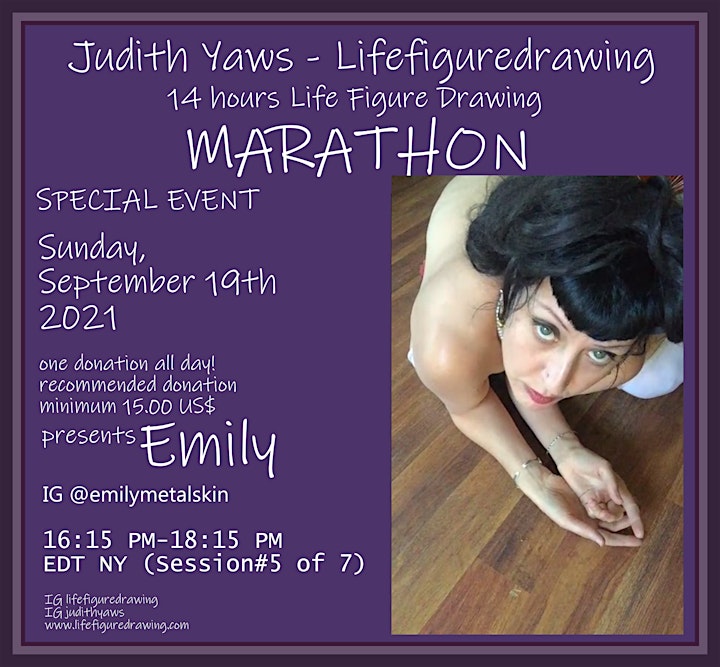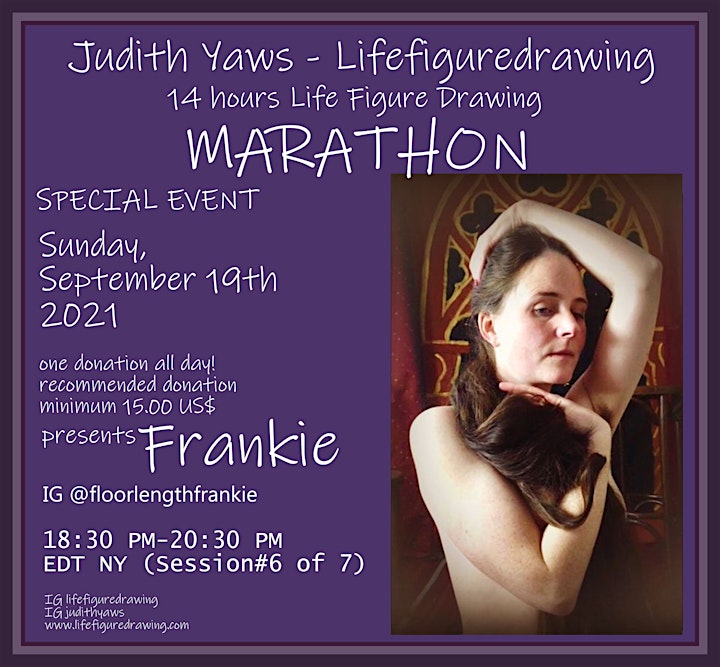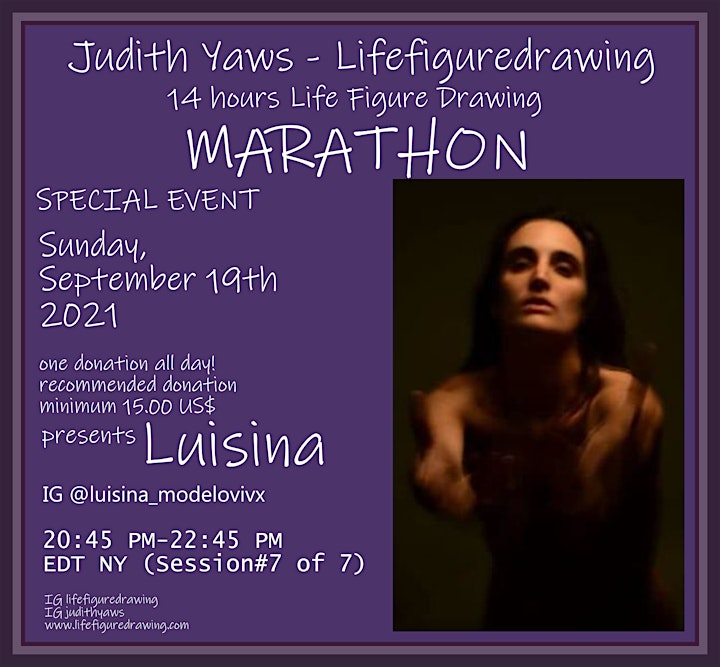 Organiser of 14 HOUR MARATHON Life drawing Session / 7 Models - one Donation