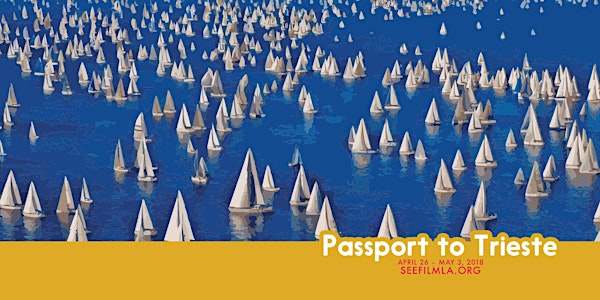 13th Edition South East European Film Festival #SEEfest18
Description
The 13th annual South East Europe Film Festival kicks off in Los Angeles on April 26
"Passport to Trieste" is 8 days of film screenings, gala opening, and closing events, international speakers, Q&A with filmmakers, parties and networking with industry professionals and fans of South East European films. The Festival begins on April 26 and continues through May 3.
Stay up to date on SEEfest news as it unfolds at SEEfilmla.org
Venues
Writers Guild Theater - 135 S Doheny Dr, Beverly Hills, CA 90211
Laemmle Music Hall - 9036 Wilshire Blvd, Beverly Hills, CA 90211
West Hollywood Library campus - 625 North San Vicente Boulevard, West Hollywood, CA 90069
MiMoDa Studio Theater - 5772 W. Pico Blvd., Los Angeles, CA 90019
About the SEEfest 2018 Theme:
In 2018 SEEfest looks to Trieste, a picturesque port city in northeast Italy that maintains a distinctly Mitteleuropean flavour to this day. As a crossroads between Austrian, Italian, Slavic and Jewish cultures on the peripheries of Habsburg Austria, modern Italy, and the Balkan Peninsula, Trieste has been defined by its proximity to borders erased and redrawn with unusual frequency.
Contested and contemplated by poets, scholars, novelists, and filmmakers, it has been depicted as a microcosm of plurinational civility, an uncanny non-place or as a site of mystery and political intrigue, in works of narrative fiction and non-fiction that blur the line between myth and reality.
SEEfest invites you to reflect on this city as a metaphor for the ironies, uncertainties and possibilities that characterize not only the South East European experience, but many facets of our global age; shifting and disappearing borders, fervent nationalisms, placeless places and the multiplicity of identities that are confluent, and sometimes conflicting, in us all.

This year marks the 100th anniversary of the end of World War I and the 2018 festival will be a journey to a bygone era, painting another layered and multi-national portrait of South East Europe for Angeleno audiences.
More details to come…
FAQs
How can I contact the organizer with any questions?
Send an email to info@seefilmla.org
Where can I get info about the Festival?
Go to http://seefilmla.org/
The 13th Edition of South East European Film Festival kicks off on April 26.
Join SEEfest as a CineFan member and get 20% all Festival tickets!