Description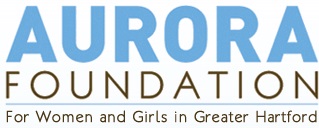 Join us for the Aurora Foundation's 13th Annual Signature Breakfast, where over 500 attendees will gather to support the women and girls of Greater Hartford. Net proceeds will support Aurora's community grantmaking, focused on college completion programs that propel women and girls in Greater Hartford to earn a college degree.
This year's event will feature Jennifer Openshaw, founder of Girls with Impact, an organization equipping girls to become the next generation of women leaders. "As the daughter of a single mother who worked two full-time jobs, a mom of two young girls myself, and an entrepreneur, I know first-hand how difficult it is for women to get ahead – and stay ahead."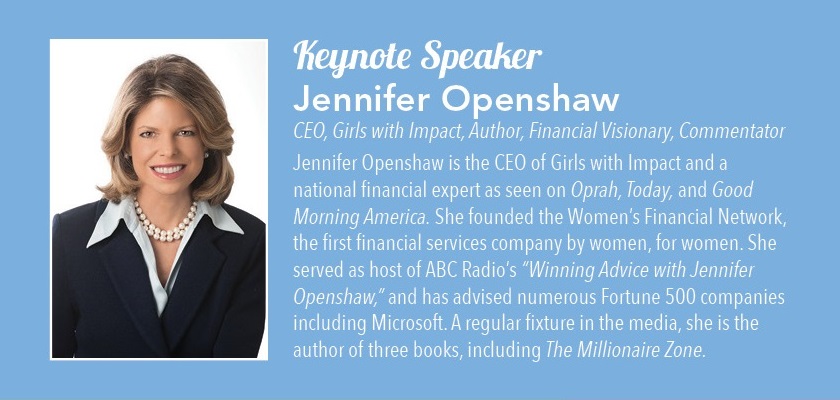 The Signature Breakfast will also honor Aurora's Young Philanthropist of the Year, Neha Jonnakota (Glastonbury High School), and Philanthropist of the Year, Susan Rottner. Both Neha and Susan will be recognized for their outstanding volunteerism, civic leadership and dedication to bettering their communities.
Emerging Young Philanthropists Grace Bergin (Miss Porter's School), Elisabeth Helmin (Ethel Walker School) and Olivia Rotter (Hall High School) will also be recognized.
Special thanks to our major sponsors and Table Hosts: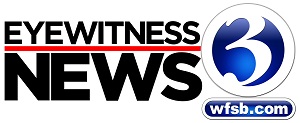 Table Hosts (as of 8/13/18): Alera Group, Lindsay Baghramyan, Kathy Binder, Lisa Bonner, Ellen M. Brown, Isabel Ceballos, Susan Clemow, Connecticut Children's Medical Center, Kyra Dorsey, Kate Farrar, Janet Bailey Faude, Friends of Girl Scouts, Girls on the Run Greater Hartford, Carolyn Gitlin, Moraima Gutierrez, Carolyn Hoffman, Karen Jarmoc, Evelyn Johnson, Dana Keller, Kingswood Oxford School, Eileen Lagasse, Elaine Leshem, Estela Lopez, Becky Lowry, Mickey Mattei, Jan-Gee McCollam, Amy Miller, Marissa Mounds, Jennifer Pennoyer, Gilda Roncari, Judith Rosenthal, Ruel Ruel Goings & Britt, Jennifer Steadman, Ann E. Thomas, Watkinson School, Maggie Willard, YWCA
For Corporate/Business Sponsorships and Table Host opportunities and/or general questions, please call (860) 881-4926 or email Laurie@aurorafoundation.org.
THANK YOU!