13th Annual San Francisco International Ocean Film Festival

Thursday, March 10, 2016 at 4:00 PM

-

Sunday, March 13, 2016 at 7:00 PM (PST)
Event Details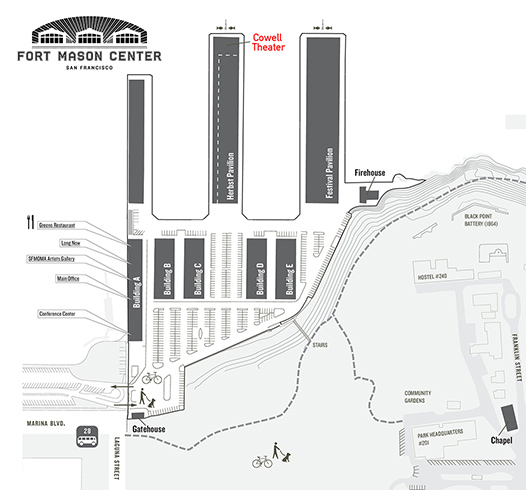 LOCATION
Cowell Theater is located in the Herbst Pavilion of Fort Mason Center, located on Marina Boulevard at Buchanan Street, along the northern waterfront between Aquatic Park and Marina Green. 
PARKING
All funds generated from parking revenue are allocated for the preservation and restoration of this National Historic Landmark. The Fort Mason Center parking lot will be available for guests attending the film festival. Vehicles can enter the lot at any time, however overnight parking is not permitted and the parking meters are enforced 24 hours a day.
Parking fees are in effect from 7:00 am to midnight daily. 
Weekday Rates
0-1 hour = $2.00

1-2 hours = $5.00

2-3 hours = $7.00

3-2 hours = $10.00

4+ hours = $12.00
Weekend Rates
0-1 hour = $2.00

1-2 hours = $5.00

2-3 hours = $8.00

3-4 hours = $12.00

4+ hours = $14.00
Bike Racks
Bike racks are located throughout the campus with the generous support of REI. At this time there are no indoor racks.
Public Transportation
Cowell Theater is served by the MUNI bus line 28.
Box Office
Tickets will be available at the door, one hour prior to the beginning of each program.

 

Cowell Theater will have a concession stand available with water, soft drinks, wine, cookies, small plates, and popcorn to purchase but cannot be taken into the theater. 

Panel Discussions (Please scroll down for more info)
Panel Discussion 1 || Art & Action: Communicating Conservation through Media




Saturday, March 12 - 3:30 PM




Fort Mason - Buildling C, Classroom 205




Panel Discussion 2 || Sustainable Seafood
Saturday, March 12 - 5:30 PM
Fort Mason - Building C, Classroom 205


---

13th Annual San Francisco International Ocean Film Festival
Program Lineup


** = Filmmaker is expected for Q&A
PROGRAM 1
Thursday, March 10 -  4:00 PM
Beneath Wallace's Line (USA), Nick and Cheryl Dean** || 19 min
Wallace's Line is the demarcation in Indonesia separating Asian from Australian terrestrial species. Less well known is The Coral Triangle on the ocean floor in the same area. As on the land above, there is an incredible abundance and diversity of life under the sea: beautiful corals and marine species unmatched elsewhere on earth. —JCO
Two Miles Deep (USA), James Toomey || 27 min
Syndicated cartoonist Jim Toomey ("Sherman's Lagoon") dives to the bottom of the Gulf of Mexico. Through live action film and animation, we discover a world full of beauty and complexity. —KH
Little Ray of Hope (Australia), Mark Jones || 11 min
The underwater world is seductive, and photographer Mark Jones is thoroughly seduced. He has now become an advocate for preserving the beauty, abundance and fragility of all sea life. His films are made in the hope that they will help convince the landlocked, those of us who will never see these sights firsthand, why we must protect the oceans. —KH
Life on the Reef (Australia), Nick Robinson || 56 min
The Great Barrier Reef, stretching 1,500 kilometers across the northeast edge of Australia, is rich and beautiful, but is seriously impacted by warming oceans and coastal development. Visits to Raine Island and Osprey Reef in remote stretches of the reef show how much beauty remains for now. —JCO


PROGRAM 2
Friday, March 11 - 1:00 PM
Whale Sharks of the Maldives (Australia), Ashley Kelly** || 17 min
Whale sharks are found year round in the Maldives. Learn how the Maldivian people evolve from hunting sharks to banning their slaughter. Creating an alternative source of income through wildlife tourism, they find out that whale sharks are worth much more alive than dead. —SM
A Plastic Sea (USA), Justin Lewis & Michelle Stauffer || 12 min
In the Sargasso Sea and around Bermuda, fragments from the breakdown of plastics, especially single-use plastics, are accumulating in sea life, and we are all responsible. The issue of the impact of plastic in the oceans is gaining increasing attention and this film succinctly presents the problems – and hints at a solution to reversing some of them. —ST
A Love Affair (USA), Nick and Cheryl Dean** || 5 min
You want diversity?  The bright green and yellow Jolly Green Giant chromodorid is just one of 2,300 known species of nudibranchs that live in our oceans. You want sexual creativity? Nudibranchs are hermaphroditic, able to change sex overnight. And if you want color?  These shell-less mollusks, also known as sea slugs, are right up there with Birds of Paradise. ––SJPH
The Legend of the Great Auk (USA), Rachel Price || 5 min
A rascally murre chick decides he's ready to go to sea on his own.  A ghost of the extinct Great Auk gives him other ideas, reminding him that the ghost's kind was abundant on the same island until humans wiped them out. The murre tyke heeds the wise specter's words about his world's many dangers. ––SJPH
Antarctic Edge: 70 Degrees South (USA), Dena Seidel** || 72 min
A look at life aboard a research vessel demonstrates the importance and hazards of Antarctic science. Over 20 years, scientist Oscar Schofield has seen the period of winter ice coverage diminish by three months, temperature rise by 11° F, and the collapse of the Ross Ice Shelf become inevitable. In the beauty of the Antarctic summer, studies of phytoplankton, krill, Adélie Penguins, seals and whales reveal changes in weather and biology. —JCO


PROGRAM 3
Friday, March 11 - 4:00 PM
Ocean Stories: Greg Stone (USA), Patrick Creadon** || 31 min
"The Ocean is telling us it doesn't need us, we need it. And we better stop abusing it…. Our condition is far more vulnerable." Greg Stone reminisces about his life as an ocean scientist, explorer and marine conservationist. His romantic fascination with the ocean as a young boy became his life work. Now that science has identified the ocean's problems, Stone challenges us to find a solution. —ST
Home at Dawn (Peru), Billy Silva & Guille Isa || 5 min
Ceviche is perhaps the most popular seafood trend around the globe right now. While it is a featured Peruvian dish in five-star restaurants, it is also the critical catch of some of Lima's humblest fishermen. —AB
The Weekend Sailor (Mexico), Bernardo Arsuaga || 75 min
In 1973, the first ever Whitbread Round the World Yacht Race, now the Volvo Ocean Race, was won by an unlikely competitor from a country with no sailing history. The captain of this venture also had no boat and barely a crew. Competing against experienced sailors from around the world, Ramon Carlin is the perfect skipper, and the perfect leader – getting the best out of his crew through respect and example. —AB


PROGRAM 4 - Surfing Program
Friday, March 11 - 7:00 PM
Stoked Steves (USA), Stephen Emery || 3 min
An animated journey from the surf to the sun leaves our heroes riding cosmic waves. —DM

A Small Surfer Makes Big Waves (Australia), Scott Gamble || 7 min
Check out this six-year-old surfer, who doesn't let her size or her medical condition deter her from shredding the waves and the skate park. —SM
El Chino (USA), Max Esposito || 12 min
Jon Wong is the oldest son of a Chinese family that has owned a Boston grocery store for four generations. When his father suddenly dies, Jon is expected to take his place.  His love of surfing, however––even in New England winters––offers a richer world and has led him to success as a surfboard maker.  Tradition vies with personal goals in this strong film. ––SJPH
Rail to Rail (Australia), Joel Sharpe || 5 min
In a small village on the coast of El Salvador, Zancudo, Spanish for mosquito, develops his own style of surfing in the most unexpected way – on a bodyboard. Though good enough to compete in traditional surfing competitions, he forgoes the opportunity, opting to surf his own way. —AB
Great Highway: Journey to the Soul of San Francisco Surfing (USA), Mark Gunson** || 88 min
More than just three miles of heavy waves on Ocean Beach, the Great Highway is part of the early history of California surfing and beach life. This film covers it all; from the Sutro Baths, to the former six million gallon saltwater Fleishhacker pool, once lifeguarded by Olympians and big wave legends, to the champions of today.
—DM


PROGRAM 5
Saturday, March 12 - 10:00 AM
The Fantastic Fur of Sea Otters (USA), Josh Cassidy || 3 min
How do sea otters stay warm in cold Pacific waters? Sea otter fur is surprisingly complex. This KQED science production takes an in-depth look at sea otters' fur—at up to 1 million hairs per square inch, it's the densest fur of any mammal on Earth. —ST
Domoic Acid Attack (USA), Steve Segal, Lesley Wisley-Padien, & David Feiten** || 3 min
You might have heard about the impact of domoic acid on the west coast's crab season this year. Learn more about the effect of domoic acid on the plankton, fish and sea lions of the Bay Area. With help from the Marine Mammal Center, you can also learn what to do when you see a stranded or sick sea lion. —SM
Santa Cruz del Islote (USA), Luke Lorentzen || 19 min
On a tiny Caribbean island—the most densely populated on Earth—peace and tranquility reign. No crime exists because "Whatever happens to one family happens to everyone…this island is like one heart." But their once-thriving tuna industry is gone and their subsistence way of life is in jeopardy. A fisherman and a young boy speak to this challenge as they move into an uncertain future. —MJS
Whale Aware (USA), Lauren Gilbertson** || 8 min
The waters off the Golden Gate are teeming with great whales. Several institutions have united to keep the whales safer from ship strikes. Apps are available to anyone with a smartphone who from land or sea might sight a whale on the California coast. Download Whale Alert 2.0 or Spotter Pro from the App Store so you can report a whale sighting. The location, movement and aggregation of whales will be reported in nearly real time to advise ships to take evasive action. —JCO
I am Morgan: Stolen Freedom (New Zealand), Heiko Grimm, Carlos Godo Borras, Irene Buesa Garcia || 5 min
Close your eyes. Imagine the exuberance of freedom in the sea, the companionship of your true whale kin, the thrill of the hunt, the indefinable spirit of being "orca." Now imagine living each day in the glass and concrete coffin in which you will die. For killer whales in captivity this is reality. (The only language you'll hear in this film is orca). —MJS
Fish (Iran), Saman Hosseinpuor || 4 min
In some societies, clean water is not easily come by. Sometimes one needs to improvise, finding happiness in small ways. —KH
Sonic Sea (USA), Michelle Dougherty & Daniel Hinerfeld || 55 min
Our oceans are awash in man-made noise, and it is killing marine life. Sonic Sea recounts the complicated mystery behind a mass whale stranding. In seeking an answer it explores an ocean's delicate acoustic habitat where creatures feed, find mates, navigate, communicate, and cope with the sudden, dramatic changes our species has wrought. Featuring Ken Balcomb, Christopher Clark, Sylvia Earle and Sting – this film offers solutions, and underscores how the ocean's destiny is indeed our own. —MJS


PROGRAM 6 - Shark Program
Saturday, March 12 - 1:00 PM
Changing Seas – Grand Cayman's Famous Stingrays (USA), Alexa Elliott** || 27 min
You've probably seen pictures of tourists posing with stingrays, but what if you knew that interacting with the stingrays might actually be harming them? How do you balance eco-tourism with animal safety? Find out how the Grand Caymans developed a plan to meet the needs of the stingrays, scientists, government and tour operators. —SM
FINconceivable (USA), Lily Williams** || 4 min
What happens if sharks disappear? This animated film explores the importance of sharks to the marine world, and the dire consequences if the appetite for shark fin soup should cause the extinction of the fiercest ocean predators. —KH
Cute Sharks on the Hook in Borneo (Malaysia), Aaron Bertie Geronski || 8 min
Like large iconic oceanic sharks, small cat sharks and dog sharks are on the menu. In an investigative series from Borneo, Shark Stewards from San Francisco Bay joins with Malaysian partners to track down these elusive elasmobranchs in reefs, fish markets and restaurants. —GC
How Do Sharks and Rays Use Electricity to Find Hidden Prey? (USA), Josh Cassidy || 4 min
Sharks and rays have a "secret sense" that detects animals' bioelectric fields, so concealment by prey is ineffective, resistance is futile (well … sometimes.) "You can run, but you can't hide." We've just begun to understand this unique mechanism. Could this help us coexist with sharks, keeping them out of our nets, and away from our surfers? —MJS
Shark Shepherd (Canada), Benjamin Von Wong** || 2 min
If fashion models can help sell cars, maybe they can help save sharks. An underwater photographer places a terrestrial shepherdess under the sea watching over threatened sharks—KH
On the Brink: Unchartered Waters (USA), Vincent Soberano** || 54 min
Whale sharks were fished and then overfished. Now thousands of tourists take special trips to swim with them. The whale sharks are protected, and all feels good. But could we be loving our whale sharks to death? —GC


---

PANEL DISCUSSION 1: Art & Action: Communicating Conservation through Media
Saturday, March 12 - 3:30 PM
Fort Mason - Building C, Classroom 205

Participants:
Ian Hinkle Producer || Reaching Blue
Media & Strategic Communications, Global Reef

Kip Evans
Kip Evans Photography, Mission Blue

Lily Williams, Animator and Author || FINconceivable
Lily Williams Art 

Neela Eyunni, Producer || On the Brink, Uncharted Waters

Benjamin Wong, Photographer
Shark Shepherd

Moderated by David McGuire, Director
Shark Stewards 


---

PROGRAM 7 - Sustainable Seafood Program
Saturday, March 12 - 4:00 PM
Saving Our Tuna (Australia), Patrick Fries || 23 min
Mankind consumes 4.5 million tons of tuna annually. Half of this catch is taken from the waters around the island nations of the Western Pacific. In many places, this is the only industry that supports the local Pacific Islanders. These nations have joined together to use advanced satellite, sonar and aerial technologies to work toward sustainability, prevent illegal fishing, and develop sound principles of ecosystem management. —JCO
Thailand's Seafood Slavery (UK), Charlie Johnson || 14 min
Filming undercover, the Environmental Justice Foundation exposes the abusive and corrupt employers and officials in Thailand operating with impunity in Malaysian and Indonesian waters. Workers trapped in an endless cycle of debt, exploitation and brutal abuse risk death if they try to escape. The boats catch "trash fish" – small species and juvenile fish unfit for human consumption but vital to the food web, to create fishmeal to feed Thai shrimp for export. —KH
Restoring Hope (USA), John Antonelli** || 4 min
Hurricane devastation and extreme poverty have forced Haitians to cut their mangrove forests to make charcoal and to overfish their island waters.  After two decades of political work and citizen participation, Jean Wiener's foundation persuaded the government to establish Haiti's first Marine Protected Area to safeguard these mangroves and reefs, both nursery areas for juvenile fish. This act together with work by local people to replant mangroves are bringing back the depleted fisheries. —SJPH
Of the Sea (USA), Mischa Hedges** || 56 min
Few California fishing families remain. In 1981, there were nearly 7,000 families; today there are only 1,800. To revive a fading way of life, Bay Area fishermen and entrepreneurs are exploring ways to support sustainably produced seafood. —DM
 
---
 
PANEL DISCUSSION 2:  Sustainable Seafood
Saturday, March 12 - 5:30 PM
Fort Mason - Building C, Classroom 205

Participants:
Jenn Kemmerly, Director
Monterey Bay Aquarium's Seafood Watch Program
Alan Lovewell, Founder
Real Good Fish
John Mellor and Khevin Mellegers, Fishermen

Chef Bruce Hill
Fog City, Picco Restaurant, Zero Zero
(To be confirmed)
Moderator
TBD


---

PROGRAM 8
Saturday, March 12 - 7:00 PM
Zoe and Her Adventures (Italy), Patricia Marti Puig || 3 min
Zoe is a fish with a mission: she undertakes a perilous voyage through the Mediterranean, venturing far from the safety of her Eden-like "no-entry" (for humans, that is) Marine Protected Area, into gradually less-protected waters. They're fraught with dangers: nets, propellers, sinister intruders. Far away, in another MPA, her paramour awaits. Discover how her journey unfolds. —MJS
Speechless – The Polar Realm (New Zealand), Richard Sidey || 44 min
From images of millions of seabirds swirling about nests on sheer island cliffs, to vistas of blue-white glacial landscapes, to close-ups of grunting walruses in beach wallows, this film explores both the lands and seas of the polar realm and its remarkable creatures. Miriama Young's graceful music reinforces a pace that allows us the time to see what the images gloriously offer. At the film's end a double exposure of a polar bear's ghostly figure ambles through its threatened Arctic world. ––SJPH
You Are Not Hallucinating. That's Just Squid Skin (USA), Josh Cassidy || 3 min
Do you know what a chromatophore is? This film explains why and how squid and octopus skin has the amazing ability to change its camouflage to match its surroundings as a means of protection. —ST
SILA and the Gatekeepers of the Arctic (USA), Corina Gamma** || 70 min
To the Inuit of Qaanaaq, 1,200 miles above the Arctic Circle, "Sila" is the weather, the sky —", "all that is out there."  From a remarkable opening sequence to interviews with Inuits, whose language sounds like it has been chipped from ice, director and cinematographer Corina Gamma uses superb images, restrained but forceful editing, and Jorge Corante's music to show us a world where Sila is slipping out of balance, while a team of international scientists tries to find out why, the Inuit struggle with its consequences. –– SJPH

PROGRAM 9 - Student Film Competition (FREE - Please register on Eventbrite )
Presented by Cordell Bank National Marine Sanctuary
Sunday, March 13 - 10:00 AM


PROGRAM 10 - Canada Program
Presented by the Consul General of Canada of San Francisco & Silicon Valley and Destination BC
Sunday, March 13 - 1:00 PM 
Tallurutiup Tariunga - Lancaster Sound (Canada), Carlyle Paetkau || 4 min
In Canada's far north, Lancaster Sound is home to both the world's largest population of narwhals, and a healthy community of Inuit who live off the sea's bounty. It is also the eastern entrance to the Northwest Passage. As the Arctic ice melts, giving way to new shipping routes, the narwhals' migratory patterns, and the lives and culture of the people are threatened. —KH
Reaching Blue: Finding Hope Beneath the Surface (Canada), Ian Hinkle & Andy Robertson** || 45 min
The Salish Sea around Vancouver Island forms a labyrinthine marine ecosystem where massive humpbacks and porpoises surge through emerald waters teeming with prey; where fisher folk have harvested its bounty since time immemorial. Exquisite cinematography captures this coastal lifestyle, now under threat, but an oyster farmer, a writer, and a scientist find hope for the future in stories of our past. —MJS
The Cook, The Hunter, The Whales and Their Watchers (Canada), Gord More* & Steve De Neef || 5 min
Iceland has a dilemma. Two types of vessel lie at anchor in the bay off Reykjavik. Some boats set out full of tourists eager to see whales in their natural environment. Their neighbors carry harpoons, and return to port with whales strapped to their sides, passing whale watchers on their way. While the fin meat is exported to Japan, minke flesh supplies the domestic market. —KH
The Hand of Franklin (Canada), Frank Wolf || 52 min
Warming climate in the Arctic has made possible a great expansion of human activity. Four men team up to examine these changes by rowing the Northwest Passage. In addition to a great adventure, they report on current and historic conditions in the far northwest of Canada using their firsthand experience as well as the knowledge of Nunavut elders who have seen great changes in their lifetimes. —JCO


PROGRAM 11
Sunday, March 13 - 4:00 PM
Changing Seas – The Secret Sex Life of Fish (USA), Alexa Elliott** || 27 min
Two fish walk into a bar. One says to the other "Wanna hook up?" The other says, "I'm not sure, what sex are you? " No problem, sexuality is à la carte in the world of fish. —GC
Reflections of an Underwater Cameraman (Ireland), Ken O'Sullivan || 5 min
Philosophical musings of an underwater cameraman explain his fascination with the underwater world and why he wants to document what he observes. Time slows down as he captures images of the undersea world of the Atlantic. —ST
The Great Wide Open (Ireland), Ciarán Dooley || 10 min
"He lives in the 'Great Wide Open, my granddad. The 'Great Wide Open' at the bottom of our garden". A story of a granddaughter helping her grandfather make his boat seaworthy again. —SM
We Live Underwater (Germany), Hendrik S. Schmitt || 7 min
German divers join an Indonesian conservation effort to rebuild in an innovative way a coral reef. To continue diving and exploring ocean beauty, we must give something back. —DM
Ocean Driven (USA), Nadia Tarlow, Adrian Charles, Sean Dewil, & Chris Bertish** || 55 min
South African big wave surfer Chris Bertish doesn't let a fractured knee, broken ribs or near drowning interfere with his ten-year goal of making it into the Mavericks Big Wave Invitational. Bertish's persistence, training, and drive help him master the big waves of Mavericks, Waimea Bay, Todos Santos, and Jaws on Maui. —SM

When & Where

Herbst Pavilion/Cowell Theater
Herbst Pavillion/Cowell Theater
2 Marina Boulevard
San Francisco, CA 94123


Thursday, March 10, 2016 at 4:00 PM

-

Sunday, March 13, 2016 at 7:00 PM (PST)
Add to my calendar
Organizer
Widely acknowledged as the largest and most attended ocean destination event of its kind, the International Ocean Film Festival (IOFF) is an exciting four-day film festival featuring more than 50 independent ocean-inspired films from around the globe. Through the powerful medium of film, IOFF screens the most current independent films that inform audiences about key issues affecting the ocean today and possible solutions to help protect it, while entertaining, educating, and engaging everyone to become ocean stewards.
The 16th Annual IOFF will take place on March 7 - 10, 2019 at Cowell Theater in Fort Mason Center for Arts and Culture in San Francisco. The festival is expected to draw more than 5,000 people, and provide free film programs to more than 1,500 Bay Area middle school and high school students as part of the 13th Annual Free Student Education Program, and feature than 100 submissions from the 8th Annual Student Film Competition. 
Join us!