Location
Trussville Entertainment District
101 Beech Street
Trussville, 35173
Join us for the 13th Annual Paws for a Cause fundraiser, benefitting the Trussville City Schools Foundation and the Athletic Foundation!
About this event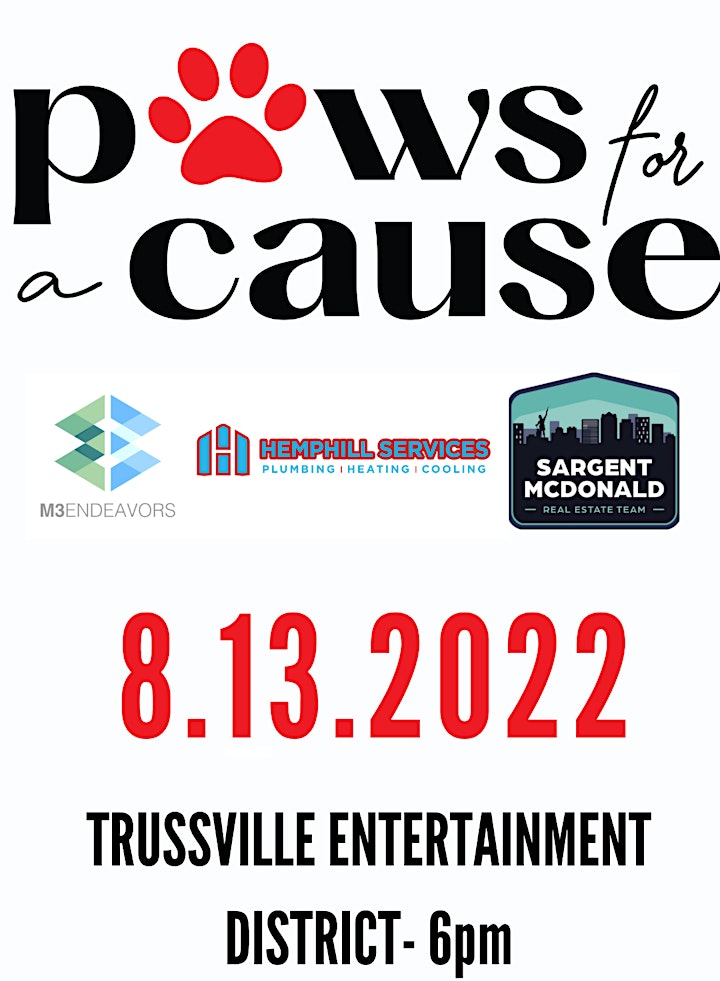 Additional Details:
Individual tickets into $10K drawing: Early bird $100// Walk-Ups $125
Bingo: Early Bird 8 Rounds of Bingo $100// Walk-Ups 8 Rounds of Bingo $125
*Bingo wins = entry into the $10K drawdown
TED, Ferus, Mexicali Blues and Pizzeria will all be open to the general public, only the Drawdown and Bingo are limited to ticket holding Gala patrons.
Please plan to eat in the downtown area before the event, and Ferus, Mexicali Blues, Pinchgut Pies will be open for food and drink orders. There are other restaurants in walking distance to the TED, we encourage you to eat at as well.
MUSIC: At 6pm, Trussville grown Dixie Krystal will perform. Dixie Krystal has 2 recent HTHS graduates, Ethan Womack and Paul Copus, along with HTHS Senior Garrett Long and Trussville student Hudson Reid.
SILENT AUCTION:
We are collecting items, valued at $75 and up to be auctioned off online using a silent auction app. Please contact Leslie Armstrong, at 205.228.3050 or by email at director@tcsf.org if you have an item you would like to donate. Silent auction will go live Thursday evening, August 11th at 6:30 pm. Website will be announced to view and bid.
BINGO:
Alan Taylor will be overseeing Bingo night and emceeing the event.
VIRTUAL OPTION:
HuskyFast will be airing this event on HuskyFast Network and virtual option is available for $10K drawdown only and not Bingo.
Together we can make a difference! Thank you to our sponsors, ticket holders, silent auction donators and buyers, and to the Trussville community for joining with us to make this event a success! GO HUSKIES!!!