Actions and Detail Panel
13th Annual Library Dinner
Tue, April 25, 2017, 6:00 PM – 10:00 PM EDT
Description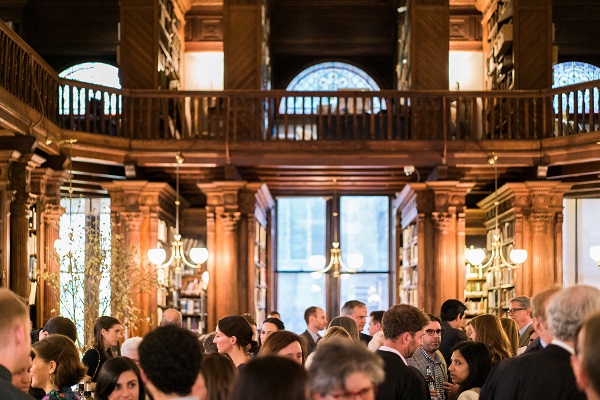 13th Annual Library Dinner
Brooklyn Historical Society
128 Pierrepont Street, Brooklyn, NY
Tuesday, April 25, 2017, 6:00 - 10:00 PM
Honoring
Jim Cramer and Lisa Detwiler are active community philanthropists and generous supporters of Brooklyn Historical Society.
Jim is a former hedge fund manager, best-selling author and currently the host of Mad Money, co-anchor of Squawk on the Street on CNBC, and Founder and Editorial Director of TheStreet.com. Jim graduated magna cum laude from Harvard College, where he was president of The Harvard Crimson, and received his J.D. from Harvard Law School in 1984. Jim also runs the charitable trust portfolio Action Alerts PLUS, which has donated over $1.8 million to numerous charitable organizations.
Lisa has served on Brooklyn Historical Society's Board of Trustees since 2002, and also volunteers her time to numerous charitable organizations in New York City and Quogue, NY. Originally from New York City, Lisa attended Trinity College and earned a B.S. degree in biology, with a concentration in genetics. She is a licensed real estate broker for The Corcoran Group.
With a special presentation from
Nell Irvin Painter is an accomplished artist, educator, and historian. She was the Edwards Professor of American History from 1991-2005 at Princeton University. She was Director of Princeton's Program in African-American Studies from 1997 to 2000. In addition to her doctorate in history from Harvard University, she has received honorary doctorates from Wesleyan, Dartmouth, SUNY-New Paltz, and Yale. In 2011, she received the Centennial Award from the Harvard Graduate School of Arts and Sciences.
As a scholar, Professor Painter has published numerous books, articles, reviews, and other essays. Her most recent book is The History of White People. She has served as an officer of many political organizations. She currently serves on the Executive Board of the American Academy of Political and Social Science and on numerous editorial boards. She has also served on the boards of the American Antiquarian Society, the American Historical Association, the American Council of Learned Societies, the American Studies Association, the Association for the Study of Afro-American Life and History, and the Association of Black Women Historians.
Library Dinner Committee
Joanne Witty, Chair
Michael Adams-Liebman
Constance L. Christensen
Lisa Melmed Cohen
Allison Franco
Lauren Glant
Robin Ottaway
James E. Rossman
Samuel W. Seymour
Brooklyn Historical Society's Othmer Library is a research library comprised of special collections, archives and manuscripts, images, and oral history collections. The library possesses a unique collection of Brooklyn and Long Island materials which provide important insights into our nation's history and heritage. All proceeds from the Library Dinner benefit Brooklyn Historical Society's efforts to preserve, digitize, and make these collections increasingly available to the public.
Date and Time
Location
Othmer Library, Brooklyn Historical Society
128 Pierrepont Street
Brooklyn, NY 11201