13th Annual Fayetteville Shale Scholarship Golf Tournament

Tuesday, August 7, 2018 at 2:30 PM

-

Friday, September 21, 2018 at 7:00 AM
Event Details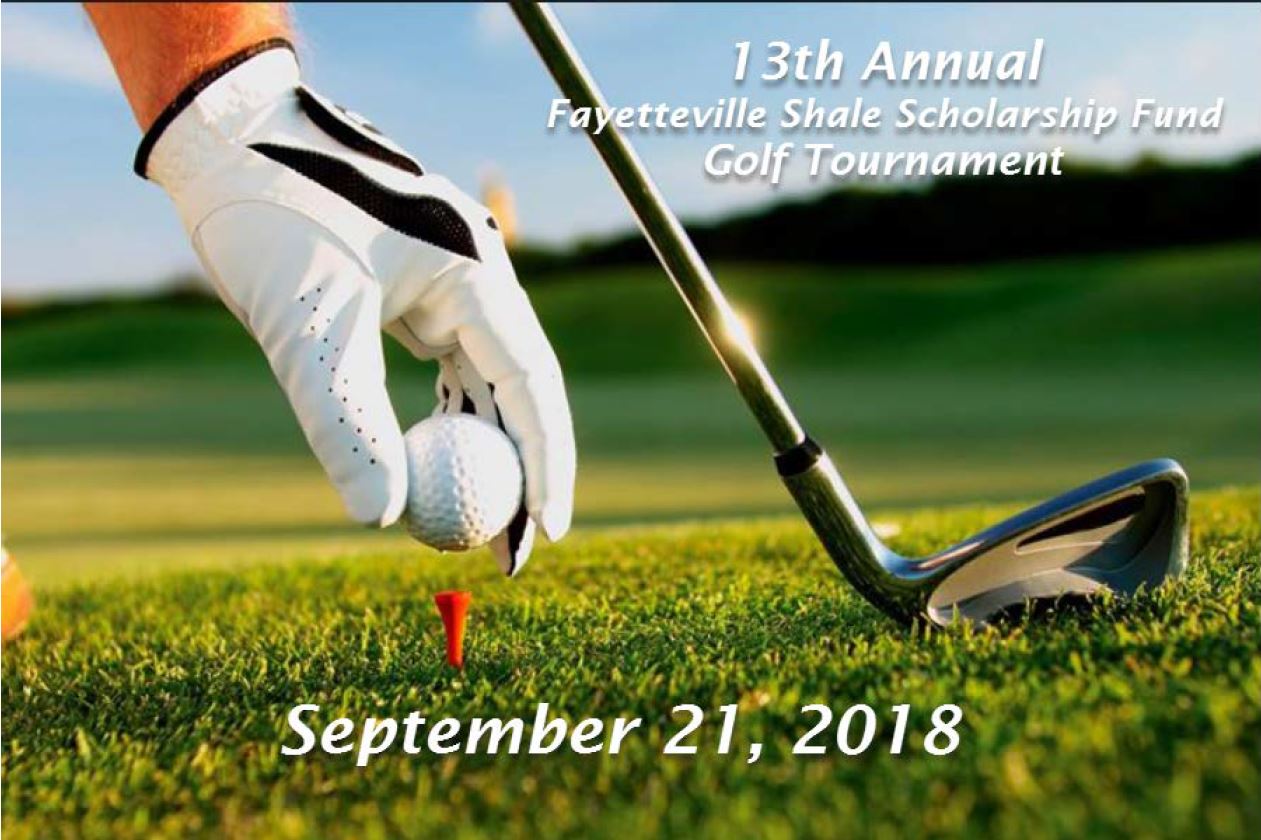 Over the last 12 years, YOU have helped FSSF be a SUCCESS!  
This year, we'd like to thank YOU for your continued support.  
Please join us on Friday, September 21st at Mountain Ranch Golf Course for a day of golf and an evening of celebration.  
We will provide the golf, breakfast, lunch and dinner along with some good entertainment and beverages. 

Our S_CCESS wouldn't happen without…U
Thank YOU!
FSSF Board members
Larry Crossland, President
Charlotte Chandler, Secretary
Sherri Casto, Treasurer
     OUR MISSION 
Established in 2006, the Fayetteville Shale Scholarship Fund is a volunteer organization with members representing companies working in the Fayetteville Shale play. The group's mission is to encourage and enable individuals to pursue educational opportunities that will prepare them for or advance them in jobs in the Arkansas oil and gas industry and other local industries by: 
Providing financial support through scholarships;

Raising awareness for careers in the oil and gas industry and other local industries;

Creating goodwill for the industry and its contributions to local communities and the state.

 
ABOUT US 
The Fayetteville Shale Scholarship Fund has donated over $915,000 to date to assist students enrolled in the UACCM Petroleum Technology program and provides funding toward the Capital Campaign for the new Learning Center.  The UACCM scholarship committee then awards scholarships based on financial need and grade point average. Scholarship money is provided by an annual Fishing Tournament and Golf Tournament. The Fayetteville Shale Scholarship Fund, along with UACCM faculty and staff members have adjusted their mission by supporting those who have been dismembered from the Arkansas oil and gas industry by providing scholarship funding for alternative career paths with technical training such as; welding, electrical, HVAC and others Please help us support a student by your participation. 
When & Where

Mountain Ranch Golf Course, Fairfield Bay, AR
820 Lost Creek Pkwy
Fairfield Bay, AR


Tuesday, August 7, 2018 at 2:30 PM

-

Friday, September 21, 2018 at 7:00 AM
Add to my calendar