The 13th Annual Bushwick Film Festival is thrilled to announce our Virtual Movie Industry Conference!
About this Event
We have assembled talented filmmakers and leading film industry professionals for relevant media conversations and masterclasses. Our live curated panels will address important topics and answer your questions. What will your aha moment be?
Take advantage of this opportunity to invest in your professional development during this historical time. Join the filmmaking community around the world, virtually, at The Bushwick Film Festival Movie Industry Conference.
Featuring
The Streaming Revolution
How To Get an Agent
Meet the Producers
Social Media for Storytellers
From Book to Screen
Conversations with Award-Winning Writers and Directors
Sound from Scratch: A Masterclass on Foley Arts
Conversation with the Creators on HBO
Save your place for two days of learning and discovery!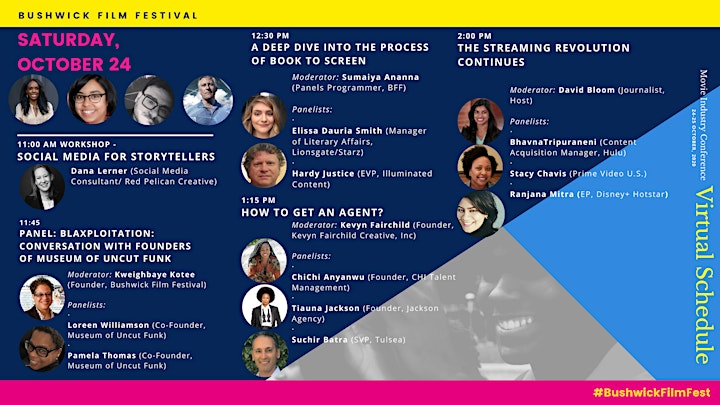 SATURDAY, OCTOBER 24: 11 AM to 3 PM EST
11:00 AM
Workshop: Social Media for Storytellers
Dana Lerner (Social Media Consultant/ Red Pelican Creative)
11: 45 AM
Panel: Blaxploitation: Conversation with Founders of Museum of Uncut Funk
Moderator: Kweighbaye Kotee (Founder, Bushwick Film Festival)
Panelists:
Loreen Williamson (Co-Founder, Museum of Uncut Funk)
Pamela Thomas (Co-Founder, Museum of Uncut Funk)
12:30 PM
A Deep Dive into the Process of Book to Screen
Moderator: Sumaiya Ananna (Panels/Conversations Programmer, BFF)
Panelists:
Elissa Dauria Smith (Manager of Literary Affairs, Lionsgate/Starz)
Hardy Justice (EVP, Illuminated Content)
1:15 PM
How to get an Agent?
Moderator: Kevyn Fairchild (Founder, Kevyn Fairchild Creative, Inc.)
Panelists:
ChiChi Anyanwu (Founder, CHI Talent Management)
Tiauna Jackson (Founder, Jackson Agency)
Suchir Batra (SVP, Tulsea)
2:00 PM
The Streaming Revolution Continues
Moderator: David Bloom (Journalist/Host)
Panelist:
Bhavna Tripuraneni (Content Acquisition, Hulu)
Stacy Chavis (Prime Video U.S.)
Ranjana Mitra (Executive Producer, Disney+ Hotstar)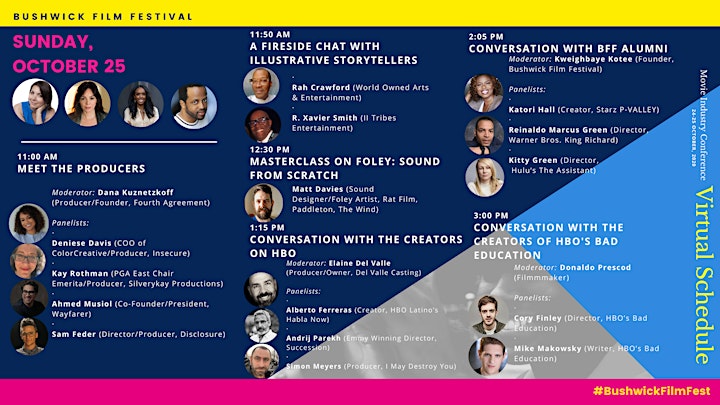 SUNDAY, OCTOBER 25: 11 AM to 3:30 PM EST
11:00 AM
Meet The Producers
Moderator: Dana Kuznetzkoff (Producer/Founder, Fourth Agreement)
Panelists:
Deniese Davis (COO of ColorCreative/Producer, Insecure)
Kay Rothman (PGA East Chair Emerita/Producer, Silverykay Productions)
Ahmed Musiol (Co-Founder/President, Wayfarer)
Sam Feder (Director/Producer, Disclosure)
11:50 AM
A Fireside Chat with Illustrative Storytellers
Panelists:
Rah Crawford (World Owned Arts & Entertainment)
R. Xavier Smith (CEO/Creative Director, II Tribes Entertainment)
12:30 PM
Masterclass on Foley: Sound from Scratch
Matt Davies (Sound Designer/Foley Artist, Rat Film, Paddleton, The Wind)
1:15 PM
Conversation with the Creators on HBO
Moderator: Elaine Del Valle (Casting Director/Owner, Del Valle Casting)
Panelists:
Alberto Ferreras (Creator, HBO Latino's Habla Now)
Andrij Parekh (Emmy Winning Director, Succession)
Simon Meyers (Producer, I May Destroy You)
2:05 PM
Conversation with BFF Alumni
Moderator: Kweighbaye Kotee (Founder, Bushwick Film Festival)
Panelists:
Katori Hall (Creator, Starz P-VALLEY)
Reinaldo Marcus Green (Director, Warner Bros. King Richard)
Kitty Green (Director, Hulu's The Assistant)
3:00 PM
Conversation with the Creators of HBO's Bad Education
Moderator: Donaldo Prescod (Filmmmaker)
Panelists:
Cory Finley (Director, HBO's Bad Education)
Mike Makowsky (Writer, HBO's Bad Education)
MATT DAVIES (he/him)
IG: @sound.department | Twitter: @DeptSound
Matt is a Sound Designer and Foley Artist located in Los Angeles. He is the resident Foley Artist for Sound Department Burbank, in addition to a Supervising Sound Editor. Matt started his career in cinematic storytelling in Baltimore, MD, where he partnered with Studio Unknown to provide immersive sound work for live action features, shorts and animated works. Well versed as he is in genre films and creature design, he is also known for his sensitivity towards storytelling and searching for the emotional threads within films. Matt is an avid birder and field recordist, and greatly enjoys finding discarded materials that gain a second life making sounds for film.
DENIESE DAVIS (she/her)
@msdeniese
COO of ColorCreative, Producer at Issa Rae Productions. Credits include: Supervising Producer on the HBO comedy series INSECURE and Producer on Robin Thede's A BLACK LADY SKETCH SHOW. Alumni of Brooklyn College and AFI.
TIAUNA JACKSON (she/her)
IG: @JacksonAgency | Twitter: @tjagency
Tiauna Jackson is a Talent and Literary Agent for The
Jackson Agency. Headquartered in Century City, California, Ms.
Jackson built her agency from the ground up within the
entertainment industry's most competitive market, Los
Angeles.
Tiauna decided to start her own agency after finding barriers to entry
not only for herself, but for artist and writers of color, LGBTQ+
identifying, and Senior Citizens.
Ms. Jackson made history by becoming the first Writers Guild
of America franchise in Atlanta, Georgia; and is believed to be
the first known Black woman with 100 percent ownership of
her agency to become a WGA franchise in Los Angeles.
With her agency dedicated to the underestimated,
underrepresented, and the underserved, Jackson applies a
"root for the underdog" mentality to fostering the careers of
emerging artists. She looks forward to providing
representation that matters to the exceptionally talented
artists of the world.
RAH CRAWFORD (he, him, his)
@rahcrawford
An artist and creative pioneer, Rah Crawford's artistic talents, personal drive and clairvoyant insights have been driving forces in defining his life's work. Rah's ideas and intellectual property are often new approaches on traditional narratives, systems or processes.
As a designer for DC Comics, Rah handled the rebrand of 'DC Originals', the flagship catalog for all core characters in the DC Universe. As production lead at Viacom, Rah worked with major media brands such as MTV, VH1, Nickelodeon and others.
A natural contrarian, Rah is a storyteller, innovator and disruptor offering new solutions and problem-solving strategies. He believes intuitive insight, inspiration, and creativity are tools for realizing humankind's greatest potential.
DANA LERNER (she/her/hers)
@officialDML
Dana M. Lerner is a Tony Award nominated theater producer and entrepreneur. She is the Founder and CEO of Red Pelican Creative, social media management and brand enhancement company focused primarily in the arts and entertainment spaces. She is a faculty member at the Einhorn School of the Performing Arts, teaching a social media course for artists. Dana is also a co-founder of The Business of Broadway, a new educational venture with the aim of democratizing commercial producing knowledge in an effort to develop more transparency between artists and producers. Dana made her Broadway producing debut in 2017 with Indecent (Tony Nomination) and is a co-producer of the gender-bending revival of Company starring Katrina Lenk and Patti LuPone. Her off-Broadway producing credits include Our Dear Dead Drug Lord, Hundred Days, Far From Canterbury: A New Musical and Application Pending.
ALBERTO FERRERAS (he/his/him)
IG: @albertoferreras_nyc
Alberto Ferreras is an award-winning writer, producer and director. He created the HBO documentary series "Habla" (2003-2020). He wrote the feature "Que Viva La Música", that premiered in Sundance 2015. His award-winning novel "B as in Beauty" was published in the U.S., Spain, and Italy. He is currently writing, directing, and producing "The Lessons", an award-winning series of urban short films. "Lesson #7" was acquired by HBO in 2019. His documentary "Cada Paso del Camino" premiered at the New York Latino Film Festival in 2017. His short films "Verbal Sex" (1999) and "Tómbola" (1997) premiered at the Berlinale, and "Bigger" (2004) at Outfest. For the stage he created the plays "Hamlet in Harlem" (Theater for The New City, 2020) "My Audition for Almodovar" (Teatro IATI 2011). In 2019 he was commissioned a video installation for the Smithsonian Latino Center in Washington D.C.
CHICHI ANYANWU (she/her)
IG: @chitalentmgmt | Twitter: @chi_management
ChiChi Anyanwu founded CHI Talent Management after 10 + years working in talent representation in New York. Anyanwu started off her professional career in the world of casting at Laura Stanczyk Casting and Finnegan/Keller Casting. Working in casting made her discover that her true passion was nurturing and developing aspiring talent.
REINALDO MARCUS GREEN (he/him)
Reinaldo Marcus Green is a writer, director, producer and graduate of NYU Tisch Graduate Film School. Reinaldo participated in the 2017 Sundance Institute Directors and Screenwriters Lab, where he was named a recipient of the 2017 Sundance Institute / Time Warner Fellowship. He was one of Filmmaker Magazine's 25 New Faces of Independent Film (2015). His first feature narrative, Monsters and Men had its world premiere at the 2018 Sundance Film Festival. The film received a Special Jury Prize for Outstanding First Feature and was acquired by NEON for US distribution. Reinaldo directed the first three episodes of the NETFLIX series, 'Top Boy' executive produced by Drake and SpringHill Entertainment. Since, he has completed his sophomore feature 'Good Joe Bell' written by Brokeback Mountain scribes Larry McMurtry and Diana Ossana, starring Mark Wahlberg and Connie Britton. The film premiered at TIFF 2020 and sold to Solstice Studios for $20M - in theaters early 2021. Reinaldo is currently in production directing Will Smith in the upcoming biopic 'King Richard' for Warner Brothers.
KATORI HALL (she/hers)
@katorihall
Memphis-native Katori Hall is an Olivier Award-winning playwright and the showrunner of P-VALLEY, the hit Starz drama based on her play Pussy Valley. She's also the bookwriter and co-producer of West End and Broadway smash, Tina: The Tina Turner Musical.
She is, perhaps, best known for The Mountaintop. The play, which fictionalizes the last night of Martin Luther King Jr.'s life, won the Olivier Award for Best New Play in 2010 before opening on Broadway in October 2011 to critical acclaim. Katori's other works include Hurt Village, Hoodoo Love, Saturday Night/Sunday Morning, Our Lady of Kibeho, The Blood Quilt and The Hot Wing King. She is also the director of the award-winning short, ARKABUTLA.
Katori is an alumna of Columbia University, ART at Harvard University and Juilliard. She's also a graduate of the Sundance Episodic Lab's inaugural class, the Sundance Screenwriting Lab and Ryan Murphy's Half Foundation Directing Program.
KITTY GREEN (she /her)
Kitty Green is an award-winning Australian filmmaker. Kitty's independent feature documentary, 'Ukraine Is Not A Brothel' premiered at the Venice Film Festival in 2013 and screened at over 50 festivals internationally. In 2015, Kitty's documentary short, 'The Face of Ukraine: Casting Oksana Baiul' premiered at Sundance where it was awarded the Non-fiction Jury Prize. Kitty's hybrid feature 'Casting JonBenet' premiered at the Sundance in 2017 and is currently streaming globally on Netflix. In 2018, Kitty was a Sundance Fellow in the 'Art of Nonfiction' initiative. Kitty's first narrative feature, 'The Assistant' was completed in 2019 and premiered at Telluride and Sundance. It was released theatrically in the US in January.
CORY FINLEY (he/him/his)
A film director and playwright, born in Saint Louis, currently in New York. Made his directorial debut with THOROUGHBREDS, released by Focus Features in 2018, and followed it up with BAD EDUCATION, released by HBO this year.
STACY CHAVIS (she/her/hers)
www.linkedin.com/in/stacychavis
Stacy Chavis is a passionate entertainment, media and sports enthusiast with a wide-ranging background in programming, operations, marketing and communications. She enjoys elevating compelling content, engaging audiences, developing and executing strategies through varying campaigns, programs and messaging. In her current role as a digital Marketing and CX Manager for Amazon Prime Video since joining in April, Stacy leads multicultural and diversity marketing, merchandising, content and CX strategy efforts on the Prime Video Storefront. Her goal is to drive strategic and creative initiatives along with solutions across stakeholder teams to address gaps, improving customer engagement. Prior to Amazon, Stacy worked in linear TV at ViacomCBS for 12 years in Marketing and Partner Solutions, Advertising Sales, Advanced Media and Commercial Operations across numerous networks, including MTV, VH1 and Logo. A Houston, Texas native and freelance writer, Stacy holds a Bachelor's degree in Mass Communication - Journalism from Texas State University, and a Master's degree in Public Relations and Corporate Communications from New York University. Due to COVID, she's currently in Austin, Texas with family until her move west from New York to Seattle. She feels blessed to now marry her passion of entertainment with the ever-evolving tech landscape.
KAY ROTHMAN (she/her)
IG: @kay.rothman
Kay Rothman creates original content with established and emerging visionaries for all platforms. These are character-driven narratives focusing on science, technology, social justice, and the arts.
She has 20+ years of industry experience leading multiple teams with a birds-eye view of setting programming strategy, slate development and hands-on producing from research through to delivery.
More specifically, Kay develops, writes, directs and produces documentary, science, technology, lifestyle and arts programming. These projects have involved traditional broadcast venues, streaming/web-based formats, and large-scale live events. Distribution partners include streaming services such as Amazon Prime, The Climate Reality Project, and World Science Festival; networks include Nat Geo, PBS, Discovery, NBC, History Channel, A&E, and Food Network.
Chair Emerita, Producers Guild of America East.
MIKE MAKOWSKY (he/his/him)
IG: mike.makowsky | Twitter: @mike_makowsky
Mike Makowsky is the writer and producer of Bad Education, a true crime dramedy based on a scandal that took place at his real-life childhood school on Long Island, NY while he was a student there. Prior to Bad Education, he wrote the indie films I Think We're Alone Now and Take Me. He graduated from Brown University.
HARDY JUSTICE (he, him)
@hardy.justice
Hardy Justice has recently started the film and television production company Illuminated Content with Liev Schreiber and Matthew Stillman (of Stillking). Previously he was Senior Vice President of Maven Pictures, where he headed up development for the company's New York office. He is an exec-producer on such films as Andrea Arnold's AMERICAN HONEY (winner of the Jury Prize at Cannes Film Festival), a co-producer on Richard Linklater's BERNIE (starring Jack Black and Shirley MacLaine), the Toronto Film Festival selection Berman and Pulchini's GIRL MOST LIKELY (starring Kristin Wiig and Annette Benning and based on the blacklist script), the SXSW genre film WILDLING (starring Bel Powley and Liv Tyler) and the up-coming SKIN (starring Jamie Bell and Danielle McDonald) and HUMAN CAPITAL (starring Liev Schreiber, Marisa Tomei, Peter Scarsgaard, Maya Hawke and Alex Wolff).
Prior to Maven, he headed up the New York development office at Scott Rudin Productions, where he worked on such films as Nora Ephron's JULIE AND JULIA, Wes Anderson's FANTASTIC MR. FOX, Nancy Meyer's IT'S COMPLICATED, Noah Baumbach's GREENBERG and THE SOCIAL NETWORK.
As an executive at Tribeca Productions, Mr. Justice headed up development and production for Robert DeNiro's film company, where he worked on a number of critically acclaimed and box office hits including such comedies as MEET THE FOCKERS (highest grossing comedy of all time with box office of $500MM), MEET THE PARENTS (over $100MM), and ANALYZE THIS/ANALYZE THAT (over $100MM), as well as such varied films as Academy Award Nominated WAG THE DOG, RENT, and THE GOOD SHEPHERD.
He produced the film STAGE BEAUTY for director Richard Eyre and served as primary producer on set for this and other Tribeca films.
He Co-Produced the Academy-Award nominated (Best Screenplay) film ABOUT A BOY, starring Hugh Grant and Rachel Weitz, and has produced projects for television, including movies for Comedy Central, as well as series and mini-series for HBO.
DONALDO PRESCOD (he/him)
@donprescod
Donaldo Prescod is an award-winning filmmaker from Boston, Mass. After receiving his BA in Cinema at SFSU he moved to New York to earn an MA in Acting at The New School for Drama. As an actor Donaldo has appeared in: Angels in America, Lend Me a Tenor, The New York premiere of The Recommendation (Craig Noel Award, Best New Play, 2014 Ovation Best Play) by Jonathan Caren, The Wundelsteipen by Nick Jones, True Bible Tales by Rob Askins, Patrick's Story and The End: When God Gave Up by Golden Globe winner Kyle Bradstreet, Richard III, Burn This, and Dylan directed by Liz Carlson, and The Feast by Cory Finley, directed by Courtney Ulrich. As a writer Donaldo has written numerous plays for the late night episodic #serials@theflea including The 1's and 2's, now a full length which had its NY premiere at The Tank, and 2014 semifinalist for the Eugene O'Neill center's National Playwright Conference. His film Black People Are Dangerous won Best Narrative Short at the Urban Film Festival and the Honorable Mention Award at the 10th Annual Bushwick Film Festival.
DAVID BLOOM (he/him)
@davidbloom
David Bloom of Words & Deeds Media is a senior contributor to Forbes, a columnist for Tubefilter, a frequent contributor to Next TV and TVRev, and producer/host of Bloom in Tech podcast. He is a former VP at MGM, and former administrator and teacher at USC's Marshall School of Business and School of Cinematic Arts.
ELAINE DEL VALLE (she/her)
IG: @elainedelvalledirector
Elaine is a director, producer, writer and casting director. She first garnered critical acclaim with her autobiographical, Off-Broadway stage play, "Brownsville Bred" that chronicles Elaine's true Nuyorican coming-of-age amidst the deteriorating backdrop of Brownsville Brooklyn. Recently adapted into a YA novel, it was recently named "Most Inspirational Young Adult Book" 2020.
​ Elaine's short, "Me 3.769", is currently streaming on HBO/Max.
​As the owner and operator of Del Valle Casting, Elaine has become the go-to person for up-and-coming diverse talent and rising stars for many high profile brands, studios and agencies. Elaine was featured in the PBS documentary "Beating The Odds", alongside luminaries such as Michelle Obama. Ebby Magazine called her a "Tour De Force".
​In 2019 Miami News Times named her as 1 of 5 "Filmmakers to Watch".
Elaine's latest film, "Princess Cut" screened at the Miami & Urbanworld Film Festivals (2020) and was selected for the Latinx Director Showcase at the NALIP (National Association for Independent Producers)Media Summit (2020).
PAMELA THOMAS (SistaToFunky)
@SistaToFunky
Pamela Thomas is the Co-Founder and Co-Curator of the Museum Of UnCut Funk (museumofuncutfunk.com), a virtual museum that celebrates and pays homage to 1970's Black Culture and showcases her extensive collection of Black culture artifacts. She is an avid collector of Black memorabilia and an expert on Black culture of the 1970's. Over the past 20 years, Pamela has pursued her passion for Black history by building an extensive collection of Black culture artifacts, which includes: Animation Art, Broadway Window Cards, Coins, Comic Books, Comic Strips, Movie Posters and Stamps that incorporate Black images. Pamela has appeared on BET tonight with Ed Gordon and Positively Black on WNBC-NY, and her collection has been featured in Essence, King, More, Savoy and Upscale Magazines, in USA TODAY and The New York Times.
Pamela graduated from the City College of New York, where she majored in Black History and Education.
BHAVNA TRIPURANENI (she/her)
Bhavna is a Content Acquisition Manager on Hulu's film team, touching all film on the platform from big budget original productions to indie catalog acquisitions. She feels lucky to marry her love of film with her fondness of data to move Hulu's content strategy forward and best serve subscribers. She began her career in theatrical distribution at Lionsgate and then STX; both experiences are responsible for cementing her deep-felt appreciation for the theatrical experience. Bhavna received her MBA and BS from the University of California Los Angeles.
LOREEN WILLIAMSON (she/her)
@SistaToFunky
Loreen Williamson is the Co-Founder and Co-Curator of the Museum Of UnCut Funk (museumofuncutfunk.com), an avid collector of Black memorabilia and an expert on Black culture of the 1970's. Loreen curated the museum's highly successful traveling exhibitions, featuring unique artifacts from the museum collection. These exhibitions have travelled to major museums across the country and have been seen by 322,459 people to date.
Before establishing the virtual museum, Loreen ran her own marketing consulting company and fine art gallery specializing in Black art and memorabilia. Prior to that, she worked for the largest global media company in the world, different multicultural advertising agencies and major consumer products companies. Loreen graduated from the Wharton School Of Business where she majored in marketing and economics.
DANA KUZNETZKOFF (she/her)
@DanaKuz
Dana is a multi-faceted producer with vast experience in film and television. She is the founder of Fourth Agreement - working with all levels of talent from Oscar-winning Directors, Writers, Producers and Actors to first-timers. She produced such diverse projects from HBO's pilot episode BOARDWALK EMPIRE to their acclaimed series THE WIRE and NBC's SMASH.
Formerly the Head of Media for Avex International, Dana developed new and unique voices in entertainment overseeing a challenging slate of projects. She is currently working with David Gerrold on his epic sci-fi series THE WAR AGAINST CHTORR and is producing THE LAST DIVA, featuring global icon of Afro-Cuban music, Omara Portuondo (the last surviving vocalist and sole female of the Buena Vista Social Club).
Dana is a member of the PGA, NY Women in Film and Television and the DGA. She is on the advisory board of the WGA East and Hollywood International Film Academy in Beijing.
SAM FEDER (they/him)
IG: samfeder_1 | Twitter: @SamFederFilm
Cited by Indiewire as one of the "exciting trans filmmakers shaking up Hollywood", Sam's films explore legacy, conflict, and futures within the queer and trans communities while working towards higher ethical standards in film making.
Sam's films have been programmed by Sundance Film Festival, Tribeca Film Festival, CPH:DOX, MOMA PS-1, The British Film Institute, The Hammer Museum, and in hundreds of film festivals around the world. The Netflix Original Documentary, DISCLOSURE (Sundance, 2020) is an unprecedented, eye-opening look at transgender depictions in film and television, revealing how Hollywood simultaneously reflects and manufactures our deepest anxieties about gender. KATE BORNSTEIN IS A QUEER AND PLEASANT DANGER (2014), a portrait of trans icon Kate Bornstein, was named one of the best documentaries of 2014 by The Advocate, won the James Aronson Award for Social Justice Journalism, and multiple best feature film awards. Sam's work has been supported by Ford/JustFilms, Fork Films, California Humanities, The Jerome Foundation, Perspective Fund, Threshold, IFP Film Week, Good Pitch USA/Doc Society, MacDowell Colony, and Yaddo artist residency.
ANDRIJ PAREKH
Andrij Parekh is of Ukrainian and Indian descent, and was born in Boston, MA in 1971. He studied Media Studies and Sociology at Carleton College (BA 1995- Northfield MN), and cinematography at NYU's Tisch School of the Arts (MFA in 2001), and at FAMU (Prague, 1998). His interest in filmmaking was launched by his travels around the world with a Nikon 35mm and a Super-8mm camera during a hiatus from college in 1992. Over his twenty-year career as a cinematographer, He has shot over twenty features, including Half Nelson' (Director Ryan Fleck), Cold Souls' (Sophie Barthes), Blue Valentine' (Derek Cianfrance), Madame Bovary' (Sophie Barthes), and the HBO miniseries Show Me A Hero. Recent work includes, The Zookeeper's Wife' (Niki Caro), the television pilots' Thirteen Reasons Why(Netflix) & Succession' (Adam McKay for HBO) and the Watchmen' pilot for HBO. As he has transitioned into directing, Andrij has directed three episodes of HBO's Succession (S1 Ep6, S2 Ep2&3), HBO's Watchmen (S1 Ep4) and two episodes of NBC Peacock's Brave New World, based on the Aldous Huxley novel. He won an Emmy for his directorial work on Succession for the 2020 Emmy Awards.
SIMON MEYERS (he/him)
IG: simon_meyers | Twitter @producer_simon
I spent 20 years working as a director - from this I have a gut feeling for script and story, as well as working with actors and the detail of production. I directed more than 30 episodes of UK cop show The Bill, working on everything from farce to tragedy. After that I lead directed some bigger shows including Ballykissangel and Always and Everyone.
When I got the chance to switch to the producing role, I saw it as an opportunity too good to pass up. I enjoying being part of the creative team from early on in the project. It's the difference between shaping what the show actually is, as opposed to just how to achieve it. So I'm an editorial producer as opposed to just a logistical one - for me the edit is just as important as the shoot, if not more so.
I've done several shows that might be seen as targeting a younger audience but personally I never make that distinction. If the script is good, and has something to say, then it's universal.
ELISSA DAURIA SMITH (she/her/hers)
Elissa is the Manager of Literary Affairs at Lionsgate and Starz, scouting books and theater out of NY for the motion picture group, TV and UK divisions. She previously worked in various scouting and film/TV development positions at Maximum Films, JLo's Nuyorican Productions, 3 Arts Entertainment, and Sony TV. She studied cinema and media at Fordham University.
R. XAVIER SMITH (he/him)
https://www.linkedin.com/in/ryonxaviersmith/
R. Xavier Smith: is a self-taught artist, sculptor, mixed media, IP creator, creative director, brand manager, and licensing agent for lifestyle brands, kid TV series, and characters.
Born and raised in Pontiac, MI, by a social worker/special education teacher mother and a draftsman/artist/painter father. Creativity was in his blood. He has modeling clay, silly putty, play-doh, crayons, and pencils in his hands since day one.
II Tribes Entertainment was developed by Xavier to showcase shows with meaning and fun. The company's mandate is to create shows with diversity, multiculturalism, comedy, and unity. Our projects are a kaleidoscope of tribal art, mythology, fantasy, history, ancient times and personal family culture. We strive for intellectual properties with education, self-esteem, eco-friendly themes, and leadership skills. II Tribes develops animated and live action projects dedicated to the classic art of storytelling with the highest caliber of innovation and creativity.
Companies and people Xavier has had the pleasure of working with- past and present.
Past: Paul Lapidus /New Funtiers, Chuckie E Cheese, K-mart, SeaWorld Entertainment Kids, Urban Style Comics, Privateer Press, and Mokko Studio (Montreal Canada)/Syon Studio (Beijing China).
Present: Baboon Animation (New York), African Animation Network (South Africa), Monk Studio (Thailand), Stedman Graham & Associates (Chicago), Planet Hollywood (Las Vegas), and many more.
Today Xavier became a Licensing Agent to help creators, innovators, writers, and artists develop partnerships with corporate and media companies worldwide. "II Tribes goals are about reaching out to companies to emphasize how important it is having characters, mascots and brand ideas for media and products worldwide".
SUCHIR BATRA (him/his)
A graduate of UCLA and Cornell Law School, Suchir Batra began his career in the entertainment industry as an agent trainee in the William Morris Agency (WMA) mailroom. He was promoted to agent in WMA's Beverly Hills headquarters before relocating to the agency's London office, during which time he helped lead WMA's foray into India.
After two years in London, Suchir returned to Los Angeles with his family and became an entertainment lawyer at Greenberg Traurig. He subsequently joined Fullscreen in business and legal affairs before returning to William Morris Endeavor as a business affairs executive.
Suchir joined Tulsea in September 2019 to lead the Mumbai-based management company's international initiatives.
KEVYN FAIRCHILD (he/him/his)
IG: @kevynfairchild
Kevyn Fairchild, Founder and CEO of Kevyn Fairchild Creative, Inc, is an accomplished producer, photographer, and lecturer who approaches his work with a nod to history and a drive for inclusive innovation.
Between 2012 and 2018, he worked extensively with the Producers Guild of America overseeing all the video production for the Guild's New York office. He was also instrumental in successfully bringing the Guild's highly successful Produced By conference to the New York market. During his time at the PGA, Kevyn also launched and hosted the Produced By Podcast, an original content show featuring interviews with Academy and Emmy Award winning producers.
RANJANA MITRA (her)
IG: @mondaydonna
With over ten years of experience in media and entertainment, Ranjana has held different profiles from LA to Mumbai. She started her career as a broadcast journalist, moving onto Produce factual reality and is now developing scripted fiction series as an Executive Producer with India's largest streaming platform Disney+ Hotstar. Her core skills are development and attaching writers uniquely compatible with a concept to flesh it from a mere idea to scripts viable for production. She holds a Master in TV, Radio and Journalism from Newhouse School at Syracuse University where she was trained in script development following that with an internship at Mandalay Films in LA. Ranjana is always exploring culture, food, traditions and narratives that may be uniquely local to a place but a universal appeal. In the future, she is keen to work on international projects bringing together diverse talent and writers to create shows/films that bring communities and practices from across the globe together.
AHMED MUSIOL (he/him/his)
@amusiol
Ahmed Musiol is the founder of Familiar Stranger, a newly formed studio-based film and television production company. Familiar Stranger is on a mission to change the narrative for Muslims in media by championing stories rooted in celebrating and restoring our shared universal values. Prior to Familiar Stranger, Ahmed co-founded Wayfarer Entertainment, serving as executive producer and director on award-winning documentary series such as My Last Days (CW Network) for which he received an Emmy Honors and Man Enough. Earlier in his career, Ahmed worked with a number of major brands producing countless branded content stories over the years. Most recently, he served as a co-producer on the Disney film, "Clouds". Ahmed is a board member of the Wayfarer Foundation and actively supports a number of nonprofit organizations.
KWEIGHBAYE KOTEE
@KweighbayeKotee
Kweighbaye Kotee is a Liberian born, Brooklyn based entrepreneur, writer and filmmaker. She attended public school in Newark, received a Wight Foundation scholarship to attend Blair Academy, and graduated from NYU with a B.S. in Media, Culture, and Communications.
Developing creative platforms that equally include women and other underrepresented voices is a personal mission of hers and significant component of her projects and businesses including Bushwick Film Festival, Bushwick Film Institute and CAE.
She has been featured on NBC, Fox, NY1, Huff Post, and AMNY and was featured in Delta Air Lines and POPSUGAR's 2017 campaign about women committed to making change in their communities.
SUMAIYA ANANNA (she/her/hers)
IG: @iamsumaiyaananna | Twitter: @SumaiyaAnanna
Sumaiya Ananna is a filmmaker and an educator who has completed her Bachelor's from Towson University and a Master's from Johns Hopkins University in Film and Media Studies. She has worked on the sets of House of Cards, The Immortal Life of Henrietta Lacks, The Voice, and several other productions, one of which is currently streaming on Amazon Prime called Lotus Eyes. Her first short film, Changement (shahnzj-mahn') was accepted into multiple film festivals worldwide. Her recent film, Boost - A Stop Motion Animation, which she produced was screened at several international festivals including local film festivals such as Maryland's Ocean City Film Festival and Sweaty EyeBalls. She was selected for Charm City Fringe Festival for 2 consecutive years for which she produced and directed two short films. She has worked with Sesame Workshop, Producers Guild of America, SAG-AFTRA, and the Tribeca Film Institute. Sumaiya is on the screening committee for the Maryland Film Festival and is currently working with Bushwick Film Festival as the Panels/Conversations Programmer.
Date and Time
Location
Refund Policy